Session Information
Session Type: Poster Session D
Session Time: 8:30AM-10:30AM
Background/Purpose: Behçet's disease (BD) is a systemic vasculitis. Neurological involvement, also known as Neuro-Behçet's disease (NBD), leads to great morbimortality. Diagnosis is challenging, since clinical presentation fluctuate greatly and systemic findings may be scarce, even after 2014 Classification Criteria included neurological manifestations. Treatment is based on corticosteroids and immunosuppressants, with azathioprine being widely used and tumor necrosis factor inhibitors (TNFi) as an option in refractory cases. Since access to TNFi is difficult, cyclophosphamide (CYC) may be used in severe NBD cases. However, strong evidence to corroborate its indications and treatment regimens are lacking. Our objective isto describe NBD patients' features, as well as safety and efficacy data of twenty years' experience of CYC use at a tertiary rheumatology center.
Methods: Retrospective cohort with data collected from electronic medical record, from January 2000 to December 2020, using keywords determinants. Treatment regimens allowed were methylprednisolone 1g for 3 to 5 days, followed by CYC 0.5 – 1g/m2 monthly for at least three months and compared to other immunosuppressant regimens (azathioprine, mycophenolate, TNFi). Subjects were divided in CYC and non-CYC groups and chi-square was used for statistical analysis.
Results: Fifty-nine patients were included, 27 in the non-CYC group (55,55% women) and 32 in the CYC group (56,25% women). Mean age at BD diagnosis was 32.48 years in the non-CYC group and 29.75 years in the CYC group (p >0.05). Mean time from BD diagnosis to NBD was 26.85±9 months in the non-CYC group and 22.96±9,8 months in the CYC group (p >0.05). Mean follow-up months were 139.14 ±88 months in the non-cycle group and 78.78 ±43 months in the CFF group. Relapse rate was 14.8% in non-CYC versus 37.5% in CYC group (p >0.05), however relapse rate at 12-months follow-up was 50% at non-CYC group versus 12,5% at CYC group (p >0.05). Mean time for relapse was 30.5 versus 57.9 months at non-CYC and CYC groups, respectively (p >0.05). Mean cumulative CYC dose was 12.09g with an average of 10 infusions. There were 3 serious adverse events in each group (p >0.05).
Conclusion: Lower relapse rate at 12-months follow-up was a tendency in CYC patients in addition to sustained remission for a longer time, compared to other immunosuppressants. CYC use for NBD induction of remission presented a good safety profile, with few adverse effects and acceptable mean cumulative dose. Our study could not reach statistical significance due to small sample analysis and prospective studies are necessary to confirm relapse rates and establish the best CYC therapeutic schemes.
1.jpeg"Acute stage rhomboencephalitis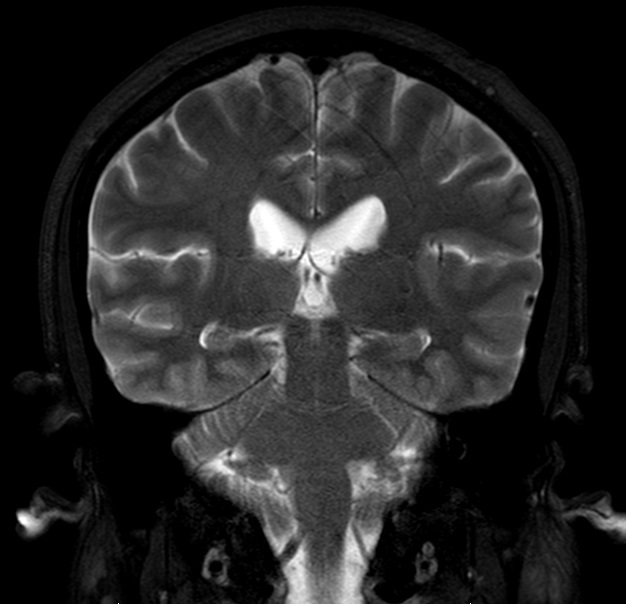 2.jpeg"After three months of treatment
---
Disclosures: P. Fonseca, None; H. Giardini,, None; C. Gonçalves, None; L. Prado, None.
To cite this abstract in AMA style:
Fonseca P, Giardini, H, Gonçalves C, Prado L. Neuro-Behcet's Disease: 20 Years Single Center Experience of Cyclophosphamide for Induction of Remission [abstract].
Arthritis Rheumatol.
2021; 73 (suppl 9). https://acrabstracts.org/abstract/neuro-behcets-disease-20-years-single-center-experience-of-cyclophosphamide-for-induction-of-remission/. Accessed February 2, 2023.
« Back to ACR Convergence 2021
ACR Meeting Abstracts - https://acrabstracts.org/abstract/neuro-behcets-disease-20-years-single-center-experience-of-cyclophosphamide-for-induction-of-remission/