Session Information
The 2020 Pediatric Rheumatology Symposium, originally scheduled for April 29 – May 2, was postponed due to COVID-19; therefore, abstracts were not presented as scheduled.
Session Type: ACR Abstract Session
Session Time: 5:00PM-6:00PM
Background/Purpose: Compared to adults with SLE, young patients with SLE face particular challenges, including more severe disease, more renal involvement and medications side effects like growth restriction, impaired bone health and delayed puberty. Moreover, patients are asked to adhere to multifaceted, long- term treatments. Poor adherence to medications is a recognized problem among patients with chronic disease and is a well-studied issue in adult patients with SLE. Only a few studies have evaluated medication non-adherence in pediatric SLE. The aim of our study was to evaluate adherence to medications among children and young adults with pediatric onset SLE and identify barriers to adherence.
Methods: Adherence to medications among patients with childhood-onset SLE, aged 12 to 25 years of age, was assessed through 3 evaluation tools: The brief medication questionnaire (BMQ) – Self-report tool for screening adherence and barriers to adherence. The tool includes a 5-item Regimen Screen that asks patients how they took each medication in the past week, a 2-item Belief Screen that asks about drug effects and bothersome features, a 2-item Recall Screen about potential difficulties remembering and 2-item access screen (1). Patients were asked to fill the questionnaire at the time of regular clinic visits.    Lupus medication refill data: Data assessing refills over a 3 months period was collected. A cutoff of less than 80% of the scheduled refills was used for definition of non-adherence   Mycophenolate mofetil (MMF) blood levels, non-adherence defined as mycophenolic acid < 1ug/ml.
Results: Among 23 patients who were enrolled to the study, 52% were found to be non-adherent according to at least 1 evaluation method. Twenty eight percent of patients were found non-adherent according to the BMQ regimen screen and 22% had less than 80% of their lupus medications refilled appropriately.  MMF blood levels was assessed for 13 patients, 38% of them were found to have plasma level < 1 ug/ml. Concordance between the 3 evaluation tools was poor, with only four patients meeting criteria for non-adherence by two or more measures concurrently. Reported barriers to patient adherence included difficulty remembering to take medications (28%), problems paying for medications (29%) and avoidance because of reported adverse effects from the medications (30%).
Conclusion: Non-adherence to medications is highly prevalent among childhood onset lupus patients. Medications adverse effects, cost and difficulty remembering to take medications were found to be common barriers to adherence. Medication adherence should be routinely evaluated among adolescents and young adults with SLE, possibly employing more than one evaluation tool.  The barriers to adherence need to be identified and addressed in order to decrease morbidity and improve patient's outcome. 
Reference:
(1) Svarstad BL, Chewning BA, Sleath BL, The Brief Medication Questionnaire: a tool for screening patient adherence and barriers to adherence., Claesson C Patient Educ Couns. 1999 Jun;37(2):113-24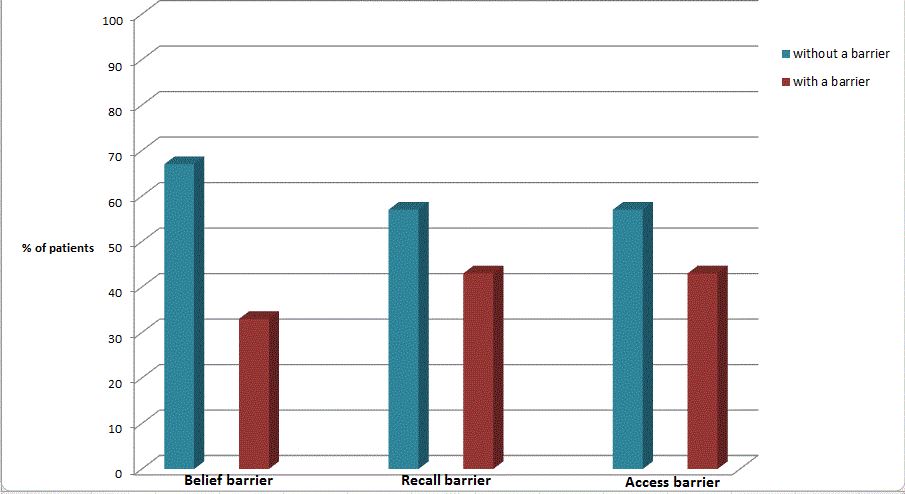 Fig I: The the barrier to adherence according to the BMQ questionnaire
Demographic and clinical characteristics
---
Disclosure: R. Semo Oz, None; L. Wagner-Weiner, None; C. Edens, None; G. Cameron, None; M. Tesher, None.
To cite this abstract in AMA style:
Semo Oz R, Wagner-Weiner L, Edens C, Cameron G, Tesher M. Medication Adherence in Adolescents and Young Adults with Childhood Onset SLE [abstract].
Arthritis Rheumatol.
2020; 72 (suppl 4). https://acrabstracts.org/abstract/medication-adherence-in-adolescents-and-young-adults-with-childhood-onset-sle/. Accessed May 29, 2023.
« Back to 2020 Pediatric Rheumatology Symposium
ACR Meeting Abstracts - https://acrabstracts.org/abstract/medication-adherence-in-adolescents-and-young-adults-with-childhood-onset-sle/