Session Information
Session Type: Poster Session D
Session Time: 9:00AM-11:00AM
Background/Purpose: In our previous work, we discovered that patients with active hand RA have reduced lymphatic drainage of indocyanine green (ICG) from the web spaces adjacent to metacarpophalangeal (MCP) joints visualized by near-infrared (NIR) imaging.1 We also noted an associated decrease in draining lymphatic vessels (LVs) on the basilic surface of the hand as one of many potential mechanisms mediating the impaired lymphatic function.1 While these changes represent important biomarker potential in identifying RA patients with active disease, we wanted to more directly assess MCP joint-specific lymphatic drainage in a pilot study of healthy subjects utilizing NIR-ICG imaging. In addition, we aimed to validate the lymphatic tributaries identified via NIR-ICG imaging using a novel dual-agent relaxation contrast magnetic resonance lymphography (DARC-MRL) technique successful in identifying lymphatic vessels in patients with lymphedema.2
Bell et al. 2020 Arthritis & Rheumatology. https://doi.org/10.1002/art.41311.
Ripley et al. 2017 Radiology. 286(2):705-714.
Methods: All of the experiments were approved by the University of Rochester IRB and the FDA (NCT02680067). A total of ten healthy subjects will be recruited for this pilot study. We conducted lymphatic imaging of the hands and forearms at four visits using different methods of imaging and routes of contrast administration: 1) NIR-ICG web spaces, 2) NIR-ICG MCP joints, 3) DARC-MRL web spaces, and 4) DARC-MRL MCP joints. For NIR-ICG imaging, 0.1 mL of 100 μM ICG was injected intradermally (ID) into the web spaces or intra-articularly (IA) into the MCP joints. To capture the DARC-MRL imaging, subjects received intravenous ferumoxytol diluted in normal saline to 60 mL total volume at 5 mg iron/kg body weight at a rate of 0.1 mL/sec. Subjects were then administered 0.5 mL of gadolinium-diethylenetriamine pentaacetic acid (Gd-DTPA) either ID in the web spaces or IA in the MCP joints.
Results: The results from two healthy subjects thus far indicate that MCP joint-draining LVs travel deep to the superficial LVs associated with the web space (Figures 1 & 2) and may follow novel routes shuttling lymph unexpectedly retrograde from the MCP to the proximal interphalangeal (PIP) joint. In addition, our current methods of DARC-MRL do not have the appropriate resolution or suppression of the blood vessels (BVs) to accurately identify small healthy LVs (Figure 3).
Conclusion: This is the first study to date that has directly visualized MCP joint-draining LVs and performed DARC-MRL in healthy subjects. Our analysis thus far suggests that LVs draining MCP joints represent an entirely distinct lymphatic vascular network than those draining the adjacent web spaces. In addition, improvement in the DARC-MRL technique will provide a valuable understanding of the lymphatic architecture draining MCP joints and alterations in this lymphatic anatomy in patients with RA. As future studies continue to evaluate the joint-draining LVs, and their function during RA progression, we will be able to better define the lymphatic system as a biomarker of active arthritis towards beneficial clinical application.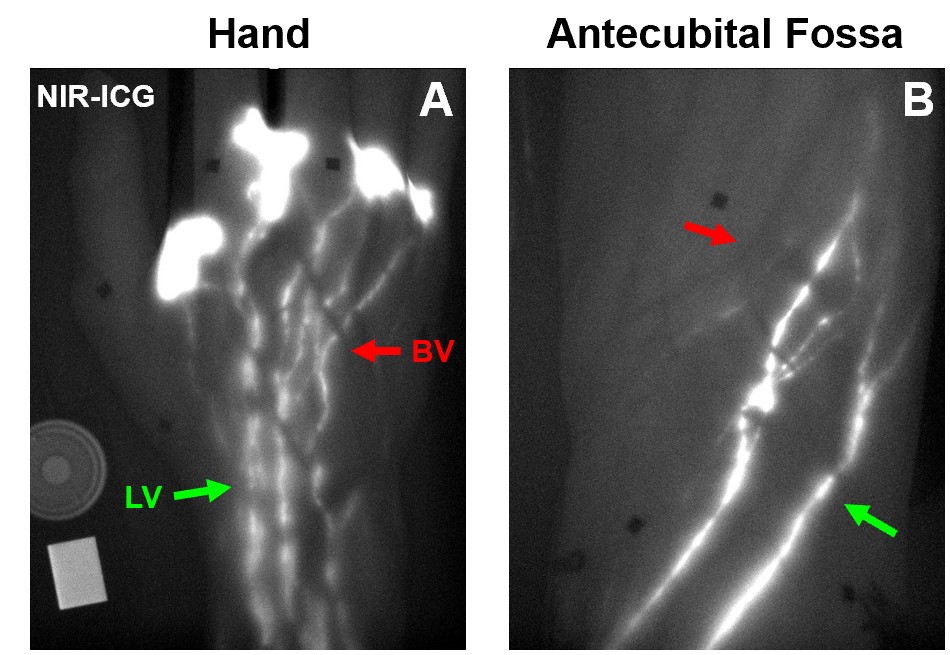 Figure 1. Lymphatic vessels identified by dynamic NIR imaging following ICG web space injections in healthy human hands. Representative images of web space draining lymphatic vessels (white, green arrows) adjacent to blood vessels (dark, red arrows) in the hand (A) and antecubital fossa (B).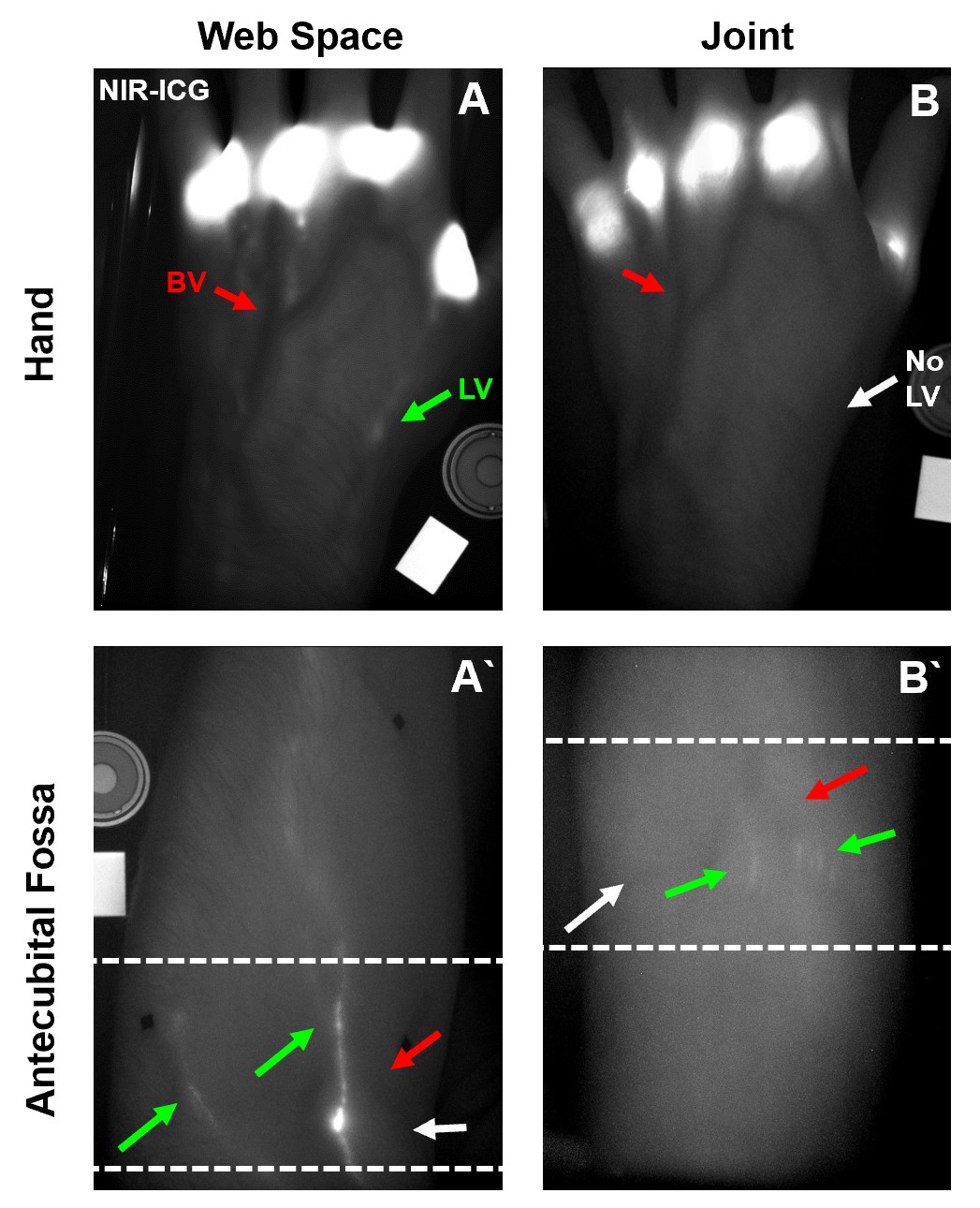 Figure 2. Dynamic NIR-ICG imaging reveals distinct lymphatic vessels draining the MCP joint versus the adjacent web space. NIR-ICG imaging showing verified LVs (white vessels, green arrows) and adjacent superficial BVs (dark vessels, red arrows) in the hand (A) and antecubital fossa (A`, dashed lines) following ID ICG web space injections. In contrast, IA MCP joint injections of ICG show no identifiable LVs (white arrows) in the hand (B) and different draining LVs in the antecubital fossa (B`, dashed lines) of the same subject.
Figure 3. MCP joint draining lymphatic vessels using DARC-MRL. To assess the distinct lymphatic drainage of the MCP joints throughout the hand and forearm, DARC-MRL following IV iron infusion and gadolinium joint injections was performed on the same healthy subject. Prior to the joint injections, intravenous iron was administered and utilized as contrast enhancement to generate a scout image of the blood vasculature. Following the gadolinium joint injections, image sequences were captured at TR 11.2 and TE 8.5; under these conditions, the iron infused blood should quench, while the lymphatic vessels are enhanced by the gadolinium based on previous DARC-MRL methods. Inverted representative images of the hand (A) and of the forearm (A`) in a healthy subject are shown for orientation. Note that the background is white, demonstrating that the sequence was inverted. 3D renderings of the iron scout sequence showing the hand (B) and forearm (B`) demonstrate contrast enhanced blood vessels (red arrows). The images following the gadolinium joint injections indicate successful administration of the gadolinium into the MCP joint space (arrow heads) with contrast enhanced lymphatic vessels draining directly from the joint (green arrows) that are not visualized thereafter in the hand (C) or forearm (C`). The blood vessels remain partially enhanced in this sequence (red arrows) demonstrating incomplete quenching using this method (C, C`). Automated segmentation using thresholding of the contrast enhanced vasculature before (D, D`) and after (E, E`) gadolinium administration to the MCP joint shows the similar blood vessels (red arrows) and the unique lymphatic vessels (green arrows).
---
Disclosure: H. Kenney, None; G. Dieudonne, None; R. Wood, None; E. Schwarz, None; C. Ritchlin, None; H. Rahimi, None.
To cite this abstract in AMA style:
Kenney H, Dieudonne G, Wood R, Schwarz E, Ritchlin C, Rahimi H. Lymphatics as a Biomarker of Joint Physiology: Near-Infrared Imaging of Indocyanine Green Identifies Novel Routes of Lymphatic Drainage from Metacarpophalangeal Joints in Healthy Human Hands [abstract].
Arthritis Rheumatol.
2020; 72 (suppl 10). https://acrabstracts.org/abstract/lymphatics-as-a-biomarker-of-joint-physiology-near-infrared-imaging-of-indocyanine-green-identifies-novel-routes-of-lymphatic-drainage-from-metacarpophalangeal-joints-in-healthy-human-hands/. Accessed June 1, 2023.
« Back to ACR Convergence 2020
ACR Meeting Abstracts - https://acrabstracts.org/abstract/lymphatics-as-a-biomarker-of-joint-physiology-near-infrared-imaging-of-indocyanine-green-identifies-novel-routes-of-lymphatic-drainage-from-metacarpophalangeal-joints-in-healthy-human-hands/