Session Information
Session Type: Abstract Session
Session Time: 2:00PM-3:30PM
Background/Purpose: Biologic agents of diverse molecular mechanisms of action are approved for RA, but we do not have a full understanding of the implications of treatment and we do not know who will best respond to an agent. Abatacept (CTLA4-Ig) was designed to block a co-stimulation pathway involved in T-cell activation, yet other effects have been suspected. We therefore designed the open-label study, RA and memory B cells (RAMBA trial), to investigate the cellular and transcriptomic consequences of abatacept treatment.
Methods: Biologic-naïve patients with seropositive RA were enrolled, and received the standard IV regimen of abatacept that was then discontinued after the month 5 infusion. Clinical evaluation and biospecimen collection were performed at baseline, 3, 6, and 9 months or when a flare occurred. In addition to routine clinical lab testing, autoantibody responses were evaluated in a multiplex assay with IgM-RF, and IgM- and IgG- to 4 ACPA fine specificities including CCP3. PBMCs or samples of negatively selected B-lineage cells were interrogated at a single cell level for high-dimensional surface phenotype and transcriptomic profiles, by Expanded Cellular Indexing of Transcriptomes and Epitopes (ExCITE) sequencing.
Results: 21 enrolled patients had two or more follow-up visits, with 18 completing to 9 months or post-treatment flare.12 patients achieved low disease activity by DAS28-CRP (< 3.2) or CDAI (< 10). Clinical responses were mirrored by reductions in serum RF and/or ACPA levels (not shown). Initial single cell analyses of 7 patients, of 70,790 PBMCs and 33,160 B-lineage cells Abatacept treatments induced increases in naïve CD4+ T cells over time (not shown). CD19+ B-lineage cells were resolved into 8 subsets (Fig.1). Treatment was associated with significant reductions of Naïve-3, and CD19+ sIgD- CD27- (DN2) B cells linked to autoimmune B-cell responses. In contrast, treatment was also associated with significant increases in the accumulation of Naïve-2 B cells, and a trend towards increases in the peripheral accumulation of transitional and Naïve-1 B cells (Fig.2).
Conclusion: Complete clinical response to abatacept in RA was associated with cellular shifts in peripheral B-cell subsets identified based on surface phenotype and transcriptomic profiles, with a return to a state dominated by newly emergent transitional and early naïve B cells. These findings elucidate previously unsuspected aspects of MOA of abatacept, that we postulate reflects a reversion in balance towards the preimmune natural state of clonal ignorance unaffected by autoimmune disease.
Supported in part by funds from BMS.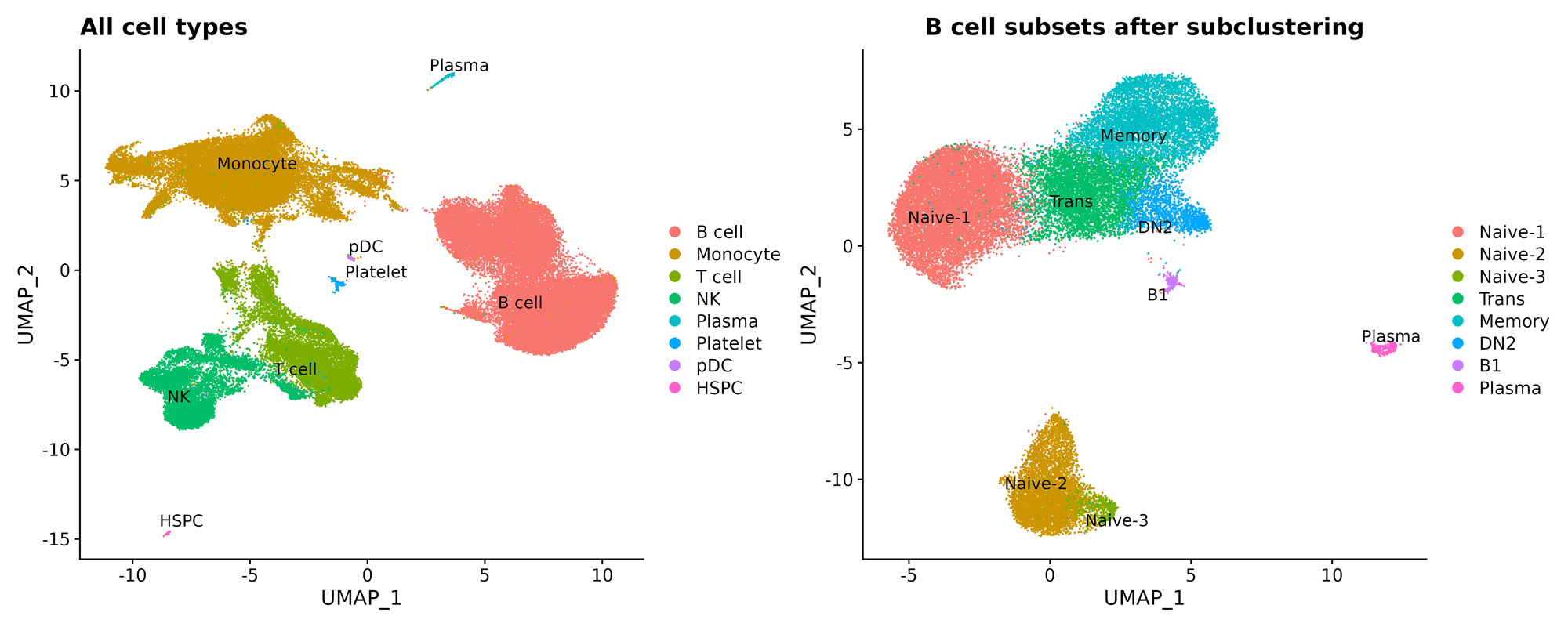 ---
Disclosures: G. Silverman: None; W. Rigby: None; H. Jun: None; J. Shwetar: None; K. Tumang: None; S. Koralov: None; E. Ivanova: None; D. Mieles: None; S. Skopelia-Gardner: None; K. Ruggles: None.
To cite this abstract in AMA style:
Silverman G, Rigby W, Jun H, Shwetar J, Tumang K, Koralov S, Ivanova E, Mieles D, Skopelia-Gardner S, Ruggles K. Longitudinal Multi-Omics Single Cell Analysis Reveals Abatacept Treatment Shifts Peripheral Lymphocyte Subpopulations in Seropositive RA with Reduction of Mature B Cells and Retention of Transitional and Naive B Cells [abstract].
Arthritis Rheumatol.
2023; 75 (suppl 9). https://acrabstracts.org/abstract/longitudinal-multi-omics-single-cell-analysis-reveals-abatacept-treatment-shifts-peripheral-lymphocyte-subpopulations-in-seropositive-ra-with-reduction-of-mature-b-cells-and-retention-of-transitional/. Accessed .
« Back to ACR Convergence 2023
ACR Meeting Abstracts - https://acrabstracts.org/abstract/longitudinal-multi-omics-single-cell-analysis-reveals-abatacept-treatment-shifts-peripheral-lymphocyte-subpopulations-in-seropositive-ra-with-reduction-of-mature-b-cells-and-retention-of-transitional/