Session Information
Session Type: ACR Poster Session C
Session Time: 9:00AM-11:00AM
Background/Purpose:
Treatment with tumor necrosis factors inhibitors (TNFi) during pregnancy may be required to control maternal disease which can be a threat for maternal-fetal well-being. Information about the follow-up of in utero exposed offspring is limited. Aim of this study was to compare health and developmental conditions of children born to mothers with chronic arthritis exposed in utero to TNFi with those of unexposed children born to patients with same age and disease.
Methods:
Clinical characteristics, pregnancy outcomes were analyzed. An ad-hoc created questionnaire was used to collect data on birth and growth parameters, breastfeeding, weaning, developmental milestones, vaccinations and illnesses.
Results:
122 live births in 98 women with chronic arthritis (64 RA, 34 SpA) were observed: 59 pregnancies exposed to TNFi (group A) at conception and 63 pregnancies TNFi-naïve (group B). In 57/59 (group A) pregnancies, TNFi was discontinued at positive pregnancy index as a general measure in our Pregnancy Clinic for patients in remission or stable low disease activity. In 2/59 pregnancies TNFi was mantained throughout pregnancy due to active disease at conception. TNFi was restarted in 16/57 pregnancies (12 etanercept-ETA, 3 certolizumab-CTZ, 1 adalimumab) during the 2nd-3rd trimester due to moderate-severe flare (median exposure 84 days; discontinuation of TNFi between 32-37 gestational weeks). In group B, TNFi (1 ETA, 1 CTZ) was introduced in 2/63 pregnancies during the 2nd trimester due to a severe flare. Three flares in 3/63 pregnancies were managed with an increase of prednisone dosage (max 10mg/day). 7 children, exposed to TNFi during 2nd-3rd trimester, were exposed to TNFi (3 CTZ, 3 ETA, 1 golimumab) also during breastfeeding. To investigate the long-term follow-up of children exposed in utero to TNFi, 20 children exposed during 2nd-3rd trimester (median age 29 months) and 20 unexposed children (median age 43 months) were compared (Table 1). No significant differences in growth parameters and developmental milestones were observed. No excess nor particular pattern of congenital defects/malformations were observed. In both groups, vaccinations were performed according to the national schedule (no live vaccines in the first year of life) without relevant complications.
Conclusion:
One third of women with chronic arthritis who discontinued TNFi at positive pregnancy test experienced a moderate-severe flare during pregnancy and resumed TNFi. Thanks to the control of maternal disease, pregnancy outcomes were comparable to those of TNFi-naïve pregnancies in which the frequency of flares was low. Children exposed to TNFi had normal growth parameters and did not have severe infections during the first year. These data suggest that TNFi during pregnancy is effective in controlling maternal disease and ensures a good pregnancy outcome without complications to offsprings.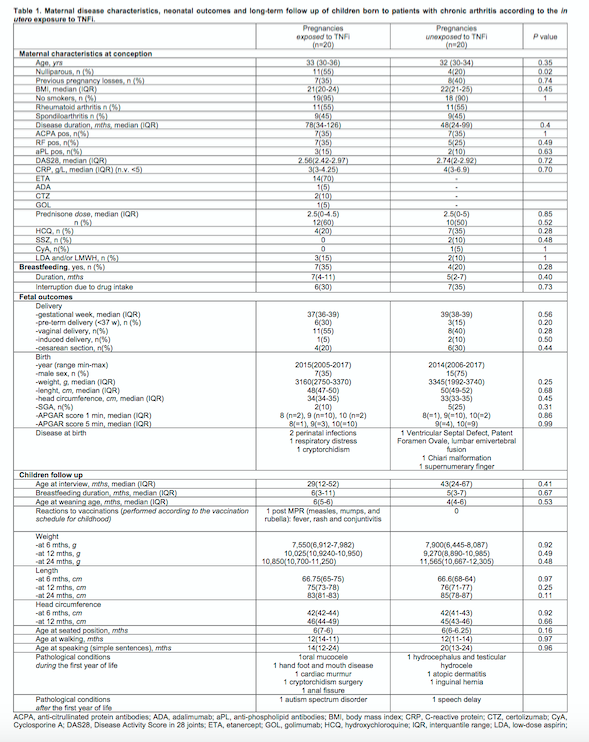 ---
Disclosure: L. Andreoli, None; M. C. Gerardi, None; C. Bazzani, None; M. Filippini, None; M. Fredi, None; R. Gorla, None; M. G. Lazzaroni, None; C. Nalli, None; M. Taglietti, None; A. Lojacono, None; S. Zatti, None; M. Motta, None; A. Tincani, Bristol-Myers Squibb, 2,UCB, Inc., 5.
To cite this abstract in AMA style:
Andreoli L, Gerardi MC, Bazzani C, Filippini M, Fredi M, Gorla R, Lazzaroni MG, Nalli C, Taglietti M, Lojacono A, Zatti S, Motta M, Tincani A. Long-Term Outcome of Children Born to Mothers with Chronic Arthritis and Exposed to TNF-Inhibitors during Pregnancy: A Case-Control Study [abstract].
Arthritis Rheumatol.
2018; 70 (suppl 9). https://acrabstracts.org/abstract/long-term-outcome-of-children-born-to-mothers-with-chronic-arthritis-and-exposed-to-tnf-inhibitors-during-pregnancy-a-case-control-study/. Accessed February 3, 2023.
« Back to 2018 ACR/ARHP Annual Meeting
ACR Meeting Abstracts - https://acrabstracts.org/abstract/long-term-outcome-of-children-born-to-mothers-with-chronic-arthritis-and-exposed-to-tnf-inhibitors-during-pregnancy-a-case-control-study/