Session Information
Session Type: Poster Session B
Session Time: 8:30AM-10:30AM
Background/Purpose: Adalimumab (ADL) can be self-administered every 2 weeks as a subcutaneous (s.c.) injection in patients with rheumatoid arthritis (RA), psoriatic arthritis (PsA), and psoriasis (PsO). Conflicting evaluations of local tolerance to formulations containing citrate buffer have created insecurity among health care professionals and patients.1,2 Here, we evaluated local tolerance of SDZ-ADL (GP2017) a biosimilar ADL with low citrate concentration (1.2 mM), in 466 healthy volunteers (HV) and 408 patients (RA: 177; PsO: 231 including PsA: 52) from 4 phase I pharmacokinetic and 2 phase III confirmatory studies.
Methods: HV evaluated their injection site pain (ISP) using a Visual Analog Scale (VAS) of 0–100 mm. HV received a single 40 mg/0.8 mL s.c. injection and patients received SDZ-ADL every 2 week during 48–51week duration of study. Injection site reactions (ISR) as well as adverse events were assessed by investigators during the clinical studies. Detailed study designs have been reported previously.3–6
Results: Overall, 456 (97.9%) HV did not experience ISR while 10 (2.1%) HV experienced ISR. These were mostly of mild intensity; only 1 (0.2%) had an ISR of moderate intensity. At 1-hour post-dose, 96.6% of HV experienced no pain (VAS score, 0–4 mm) (Figure). In the phase III studies, a low number of mild/moderate ISR/ISP events were observed, which further decreased during the study. Detailed results are presented in the Table. No ISR/ISP led to treatment or study discontinuation in any study.
Conclusion: The proportion of HV and patients experiencing ISR and ISP after administration of SDZ-ADL was low, with no events leading to treatment or study discontinuation. These outcomes challenge the clinical impact of citrate in ADL formulations on the incidence and intensity of ISP/ISR.
References:
Nash P, et al. Rheumatol Ther. 2016; 3:257–70.
NHS. Regional medicines optimisation committee briefing, best value biologicals: adalimumab update 6. July 2019. https://www.sps.nhs.uk/wp content/uploads/2019/07/Adalimumab-RMOC-Briefing-6.pdf.
Blauvelt A, et al. Br J Dermatol. 2018; 179:623–31.
Wiland P, et al. BioDrug. 2020; 34:809–23.
von Richter O, et al. Expert Opin Biol Ther. 2019; 19:1057–64.
von Richter O, et al. Expert Opin Biol Ther. 2019; 19:1075–83.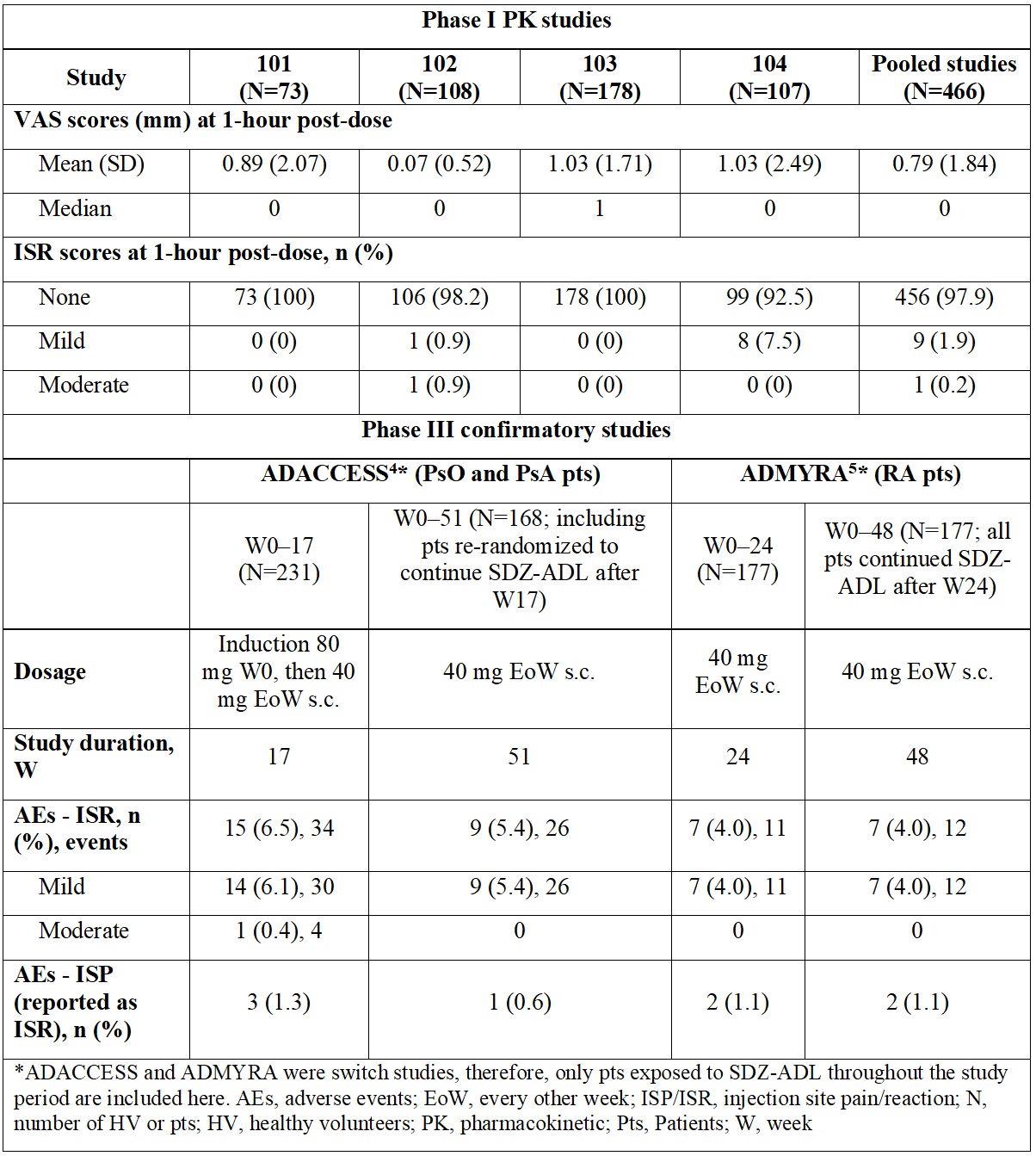 ---
Disclosures: P. Wiland, Celltrion, 1, Celgene, Eli Lilly, Novartis, Pfizer, Sandoz, Sanofi-Aventis, 1; A. Blauvelt, AbbVie, Almirall, Arena, Athenex, Boehringer Ingelheim, Bristol-Myers Squibb, 1, Dermavant, Eli Lilly and Company, Evommune, Forte, Galderma, Incyte, Janssen, Leo,, 1, Novartis, Pfizer, Rapt, Regeneron, Sandoz, Sanofi Genzyme, Sun Pharma, and UCB Pharma, 1; L. Lemke, Hexal AG, 3; O. von Richter, Hexal AG, 3; A. Balfour, Hexal AG, 3; F. Furlan, Hexal AG, 3; N. Gaylis, None.
To cite this abstract in AMA style:
Wiland P, Blauvelt A, Lemke L, von Richter O, Balfour A, Furlan F, Gaylis N. Local Tolerance of GP2017, an Adalimumab Biosimilar with Low Citrate Concentration Formulation, in Healthy Volunteers and Patients with Rheumatoid Arthritis, Psoriatic Arthritis, and Psoriasis [abstract].
Arthritis Rheumatol.
2021; 73 (suppl 9). https://acrabstracts.org/abstract/local-tolerance-of-gp2017-an-adalimumab-biosimilar-with-low-citrate-concentration-formulation-in-healthy-volunteers-and-patients-with-rheumatoid-arthritis-psoriatic-arthritis-and-psoriasis/. Accessed December 4, 2022.
« Back to ACR Convergence 2021
ACR Meeting Abstracts - https://acrabstracts.org/abstract/local-tolerance-of-gp2017-an-adalimumab-biosimilar-with-low-citrate-concentration-formulation-in-healthy-volunteers-and-patients-with-rheumatoid-arthritis-psoriatic-arthritis-and-psoriasis/