Session Information
Session Type: Abstract Submissions (ACR)
Background/Purpose
.
Esophageal involvement is present in 50-70% of SSc patients and it is the most common visceral organ complication. The impact of the esophageal involvement is related with high morbidity and included the association with intersticial lung disease, weight loss and malnutrition, Barretxs esophagus and adenocarcinoma degeneration. Our objectives were characterize motor esophageal impairment in patients with SSc with or without esophageal symptoms using high-resolution manometry (HRM).
Methods .
Observational, descriptive, cross-sectional study. We included SSc patients according to American College of Rheumatology classification criteria of the 1980 and patients with Scleroderma variants with esophageal symptoms; with an age ≥ 18 years old, from a clinic of a tertiary hospital. The demographic data, skin manifestations ,esophageal symptoms and drugs used were recorded. The Carlsson-Dent questionnaire (CDQ) was used to evaluate gastroesophageal reflux disease and dysphagia was graded on a five-point scale according to Mellow and Pinkas. The modified Rodnan skin score (mRSS) was used in the skin evaluation. A standard HRM was performed and the results were classified according to Chicago Classification. In the analysis we categorized the grade of dysphagia, the mRSS and HRM results. We used 2×2 contingency tables and chi-square or Fisher's exact test according of their distribution to establish an association between each variable and HRM result. A p value < 0.05 was classified as statistically significant.
Results .
We included 19 SSc patients, 1 with morphea and 1 with Scleroderma sine scleroderma. Clinical and demographic variables are shown in Table 1. Most of the patients were on normal BMI, had been classified in limited disease, and had used proton-pump inhibitors. The most common symptoms were dysphagia and heartburn. We found an abnormal HRM in 16 (76.2%) patients; the most common abnormality in HRM was absence of peristalsis in 5 (23.8%) patients. Variables analyzed with HRM are shown in Table 2. We did not find association between any variable (Table 1 and 2) and the presence of abnormal HRM.
Conclusion .
We found a lack of association between esophageal symptoms and abnormal findings in HRM. There was not association between CDQ and HRM. Although this study is limited by the number of patients analyzed, we think that due to the large impact of the esophageal involvement in SSc patients, we need to do a systematic esophageal study of this patients with the objective to decrease their morbidity.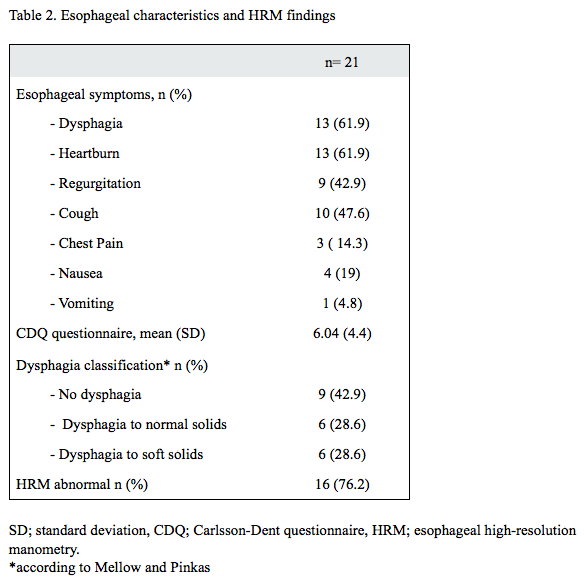 ---
Disclosure:
A. Arana-Guajardo,
None;
M. Villarreal-Alarcón,
None;
G. Torres-Barrera,
None;
D. Vega-Morales,
None;
H. Maldonado-Garza,
None;
M. Garza-Elizondo,
None.
« Back to 2014 ACR/ARHP Annual Meeting
ACR Meeting Abstracts - https://acrabstracts.org/abstract/lack-of-association-between-esophageal-symptoms-and-abnormal-findings-in-high-resolution-manometry-in-a-mexican-mestizo-cohort-with-systemic-sclerosis-ssc/