Session Information
Session Type: Poster Session (Monday)
Session Time: 9:00AM-11:00AM
Background/Purpose: IgG4-related disease (IgG4-RD) presenting in the pediatric age is rare. Natural history and outcomes are not well defined. The aim of this study was to describe the clinical characteristics and outcomes of juvenile-onset IgG4-RD.
Methods: We included patients with juvenile-onset IgG4-RD reported in the English literature that fulfilled de Comprehensive Diagnostic Criteria (CDC) for IgG4-RD and patients followed at two referral centers in Mexico City. Juvenile-onset IgG4-RD was defined as first manifestation of the disease < 18 years. We searched relevant articles on Medline and Pubmed. We extracted variables such as: demographics (sex, age), clinical (number and type of organs involved, clinical phenotype), serological and histopathological data, treatment and outcomes. The juvenile-onset cohort was compared with a published multi-ethnic cohort of adult-onset IgG4-RD patients.
Results: We found 53 articles describing 57 patients with juvenile-onset IgG4-RD. After screening, 49 cases in 46 articles fulfilled the CDC for IgG4-RD. Five new cases from our centers were included. A total of 54 patients with juvenile-onset IgG4-RD were analyzed. Thirty (55.6%) were female. Mean age at presentation was 11.62 ± 4.1 years. Single organ involvement was found in 33 (61.1%). Most frequently involved organs were: orbit (29.3%), lacrimal glands (14.8%), lymph nodes (14.8%), salivary glands (11.1%) and lung (11.1%) (Figure 1). Most frequent clinical phenotype was "head and neck-limited" in 31 (57.4%) patients, followed by "pancreato-hepatobiliary" in 11 (20.4%), "retroperitoneum and aorta" in 5 (9.3%) and "Mikulicz and Systemic" in 2 (3.7%) (Figure 2). Serum IgG4 level were elevated in 33 out of 37 (86.5%) patients tested; the median IgG4 level was 420 mg/dl (range: 4-1650). Forty two (77.8%) were biopsy proven. Forty six (85.2%) patients received glucocorticoids, 9 (16.6%) azathioprine, and 8 each (14.8%) mycophenolate mofetil and Rituximab. Nineteen (35.2%) patients had a surgical procedure. Thirty five (64.8%) achieved total and 12 (22.2%) partial remission. When we compare juvenile-onset VS adult-onset patients, the former were more frequently female, had single-organ involvement, orbital involvement and belonged to the "head and neck-limited" and less commonly to the "Mikulicz and Systemic" phenotype (Table 1).
Conclusion: Juvenile-onset IgG4-RD differs in demographics and clinical presentation compare to the adult counterpart. Juvenile-onset IgG4-RD patients are more frequently female and have a "head and neck-limited" phenotype.
References:
Wallace ZS, Zhang Y, Perugino CA, et al. Clinical phenotypes of IgG4-related disease: an analysis of two international cross-sectional cohorts. Ann Rheum Dis. 2019 Mar;78(3):406-412.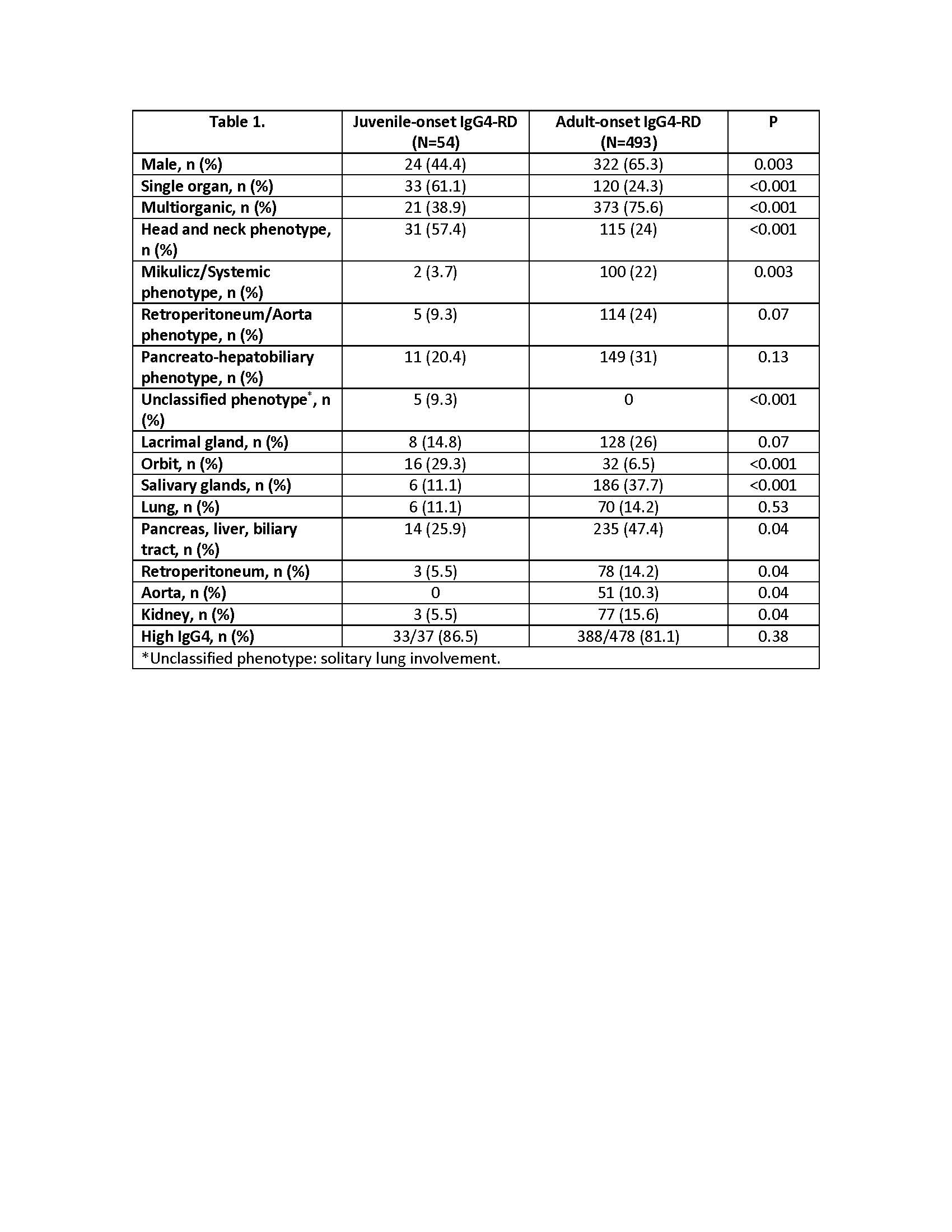 Table 1

Figure1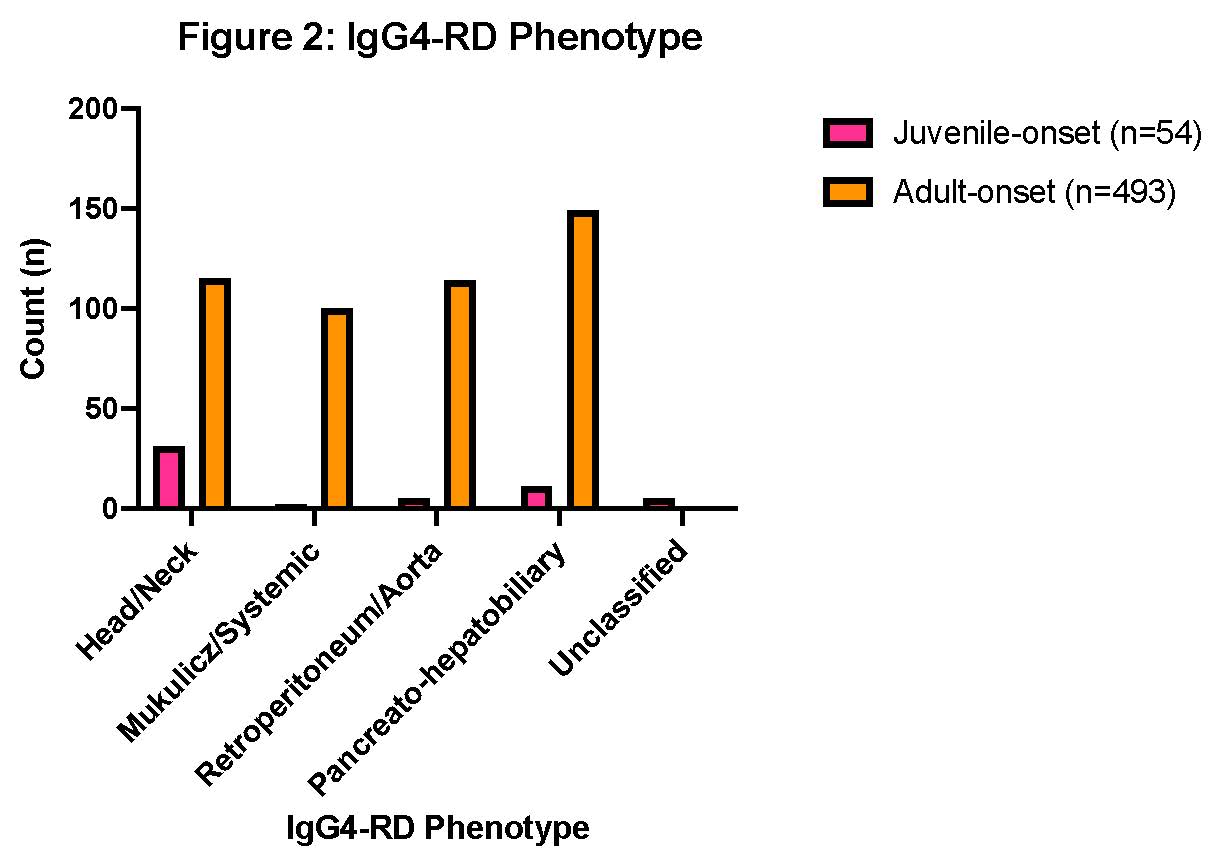 Figure2
---
Disclosure: E. Martin-Nares, None; T. Díaz-Prieto, None; E. Faugier-Fuentes, None; L. Aparicio Vera, None; G. Hernandez-Molina, None.
To cite this abstract in AMA style:
Martin-Nares E, Díaz-Prieto T, Faugier-Fuentes E, Aparicio Vera L, Hernandez-Molina G. Juvenile-Onset IgG4-Related Disease: A Systematic Review [abstract].
Arthritis Rheumatol.
2019; 71 (suppl 10). https://acrabstracts.org/abstract/juvenile-onset-igg4-related-disease-a-systematic-review/. Accessed September 16, 2021.
« Back to 2019 ACR/ARP Annual Meeting
ACR Meeting Abstracts - https://acrabstracts.org/abstract/juvenile-onset-igg4-related-disease-a-systematic-review/