Session Information
Session Type: Poster Session A
Session Time: 8:30AM-10:30AM
Background/Purpose: Excessive and inappropriate production of pro-inflammatory cytokines such as interleukin IL-1, IL-6 or IL-18, is a pathogenic cornerstone in adult and childhood onset Still's disease. Beyond therapies targeting IL-1 or IL-6, Janus kinases (JAK) inhibitors have been proposed for AOSD patients refractory to or intolerant of treatment with biologicals. Recently, it has been suggested that JAK inhibitors might be efficient in refractory AOSD patients.
Methods: This retrospective study was based on a national survey of the departments of rheumatology, paediatric rheumatology and internal medicine in all French hospitals from an online call of the "Club Rhumatismes et Inflammation" (www.cri-net.com). The data were collected using a standardized questionnaire, and analyzed at different time points (treatment initiation, M1, M3, M6 and end of the follow-up). The response to JAK inhibitors was categorized as: complete remission (resolution of all clinical and biologic signs), partial remission (clinical improvement with persistence of a few symptoms) or failure (lack of clinical or biological improvement).
Results: 7 patients (5 adults and 2 children) were recruited (Table). Mean age at treatment start was 39.6 +/- 9.6 years for the AOSD patient and 11.0 +/- 7.07 years for the sJIA patients, and mean disease duration was years. The clinical expression was predominantly systemic in 6 patients and chronic articular in one. Response to corticosteroids, conventional synthetic or biological Disease Modifying Anti-Rheumatic Drugs had been considered inadequate in all patients. Baricitinib was used in 4 patients (of whom one was later switched to upadacitinib), ruxolitinib in 2, and tofacitinib in 1. Steroids were concurrently used in all patients, anakinra in one, methotrexate and anakinra in one who was then switched to colchicine and anakinra. At a mean follow-up of 11.3 +/- 9.3 months, partial response was observed in 4 cases (57%) (patients with ruxolitinib, baricitinib or tofacitinib) and failure in 3 (43%) (patients with baricitinib or ruxolitinib). No patient achieved complete remission. At the last visit, steroids could be decreased but not stopped in all patients. Patients with partial response had an average decrease of 63% (40% for tofacitinib and 80% for ruxolitinib between the start and the follow-up end date) and patients with no response were able to reduce steroids by 65% (Table). JAK inhibitors tolerance was excellent in all but one patient who developed organized pneumonia which led to discontinuation of the treatment.
Conclusion: JAK inhibitors therapy may be helpful for some patients with refractory Still's disease, but not in monotherapy. However, no complete response was observed in this short series of cases. There might be a difference of response between the molecules, although the number of patients is too low to draw conclusions. Additional information is thus needed to evaluate more precisely the risk-benefit ratio of this treatment, and a possible difference in efficacy among the different groups of JAK inhibitors.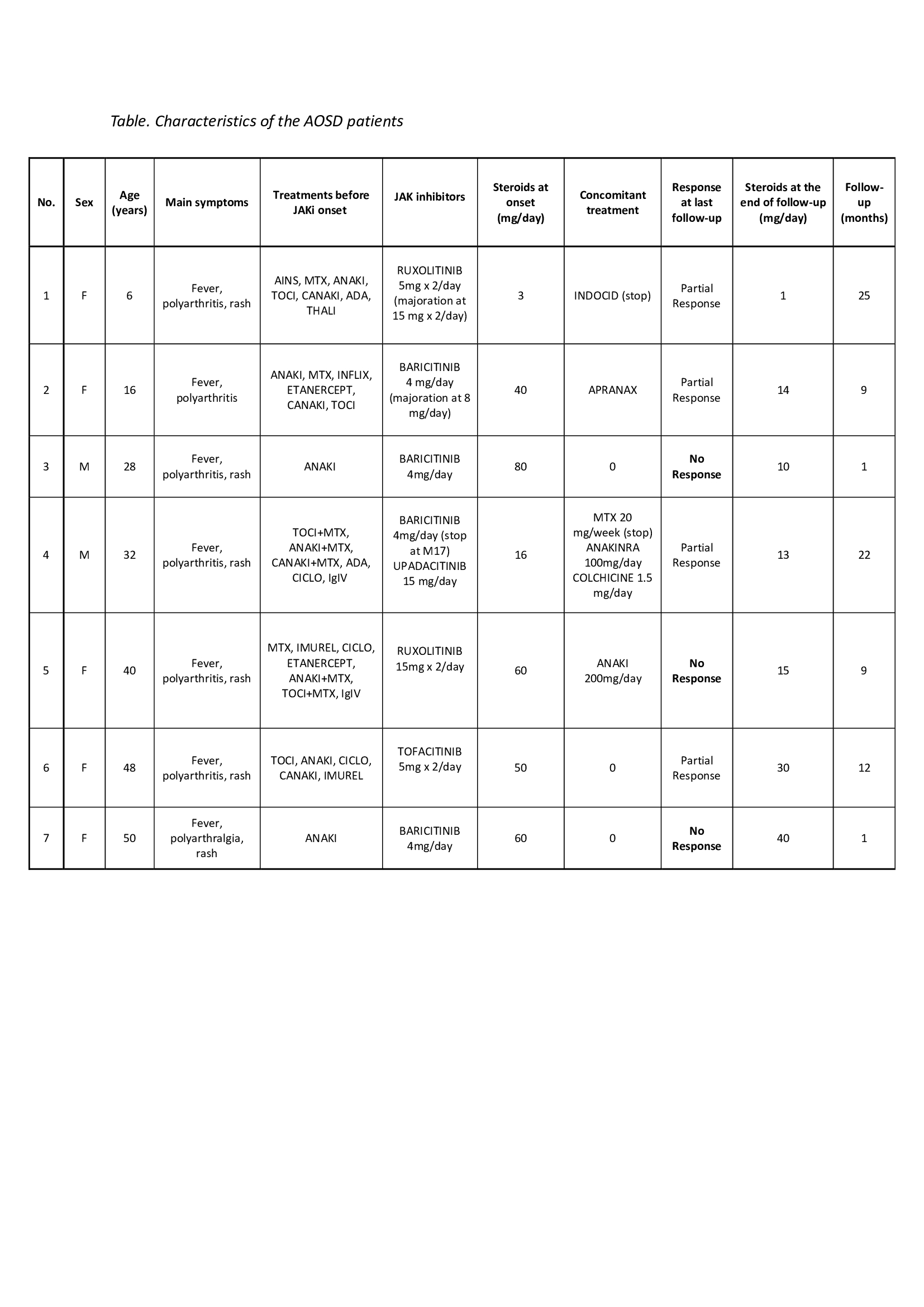 ---
Disclosures: L. GILLARD, None; S. Mitrovic, None; J. Pouchot, None; F. Cohen, None; M. Michaud, None; H. Reumaux, None; I. Kone-Paut, None; B. Fautrel, AbbVie, 5, Pfizer, 5, Janssen, 2, Medac, 2, Novartis, 2, Sanofi-Genzyme, 2, Roche, 2, UCB, 2, Abbvie, 2, Amgen, 2, Biogen, 2, BMS, 2, Celltrion, 2, Fresenius Kabi, 2, Galapagos, 2, Gilead, 2, Lilly, 2, 5, MSD, 2, MSD, 5, Mylan, 2, Nordic Pharma, 2, Pfizer, 2, Sandoz, 2, SOBI, 2.
To cite this abstract in AMA style:
GILLARD L, Mitrovic S, Pouchot J, Cohen F, Michaud M, Reumaux H, Kone-Paut I, Fautrel B. JAK Inhibitors in Refractory Adult and Childhood-Onset Still's Disease [abstract].
Arthritis Rheumatol.
2021; 73 (suppl 9). https://acrabstracts.org/abstract/jak-inhibitors-in-refractory-adult-and-childhood-onset-stills-disease/. Accessed September 27, 2022.
« Back to ACR Convergence 2021
ACR Meeting Abstracts - https://acrabstracts.org/abstract/jak-inhibitors-in-refractory-adult-and-childhood-onset-stills-disease/