Session Information
Session Type: Abstract Submissions (ACR)
Intravenous methylprednisolone pulse therapy in severe inflammatory eye disease. A Multicenter Study.
Background/Purpose
Treatment with high-dose intravenous methylprednisolone (IVMP) pulse therapy has proved to be effective in different inflammatory conditions. Since severe ocular inflammation can lead to rapid and irreversible structural and functional eye damage, we aimed to assess the efficacy of IVMP pulse therapy as a remission induction therapy in patients with severe ocular inflammation.
Methods
Multicenter study of patients with severe ocular inflammation attended at 11 Uveitis Units from Spain. All patients were treated with IVMP pulse therapy for 2-5 consecutive days. MP dose ranged from 0.25 to 1 gram per day. Patients were evaluated at baseline and on days 2-5, 7, 15 and 30 after treatment with IVMP.
Results
104 patients (59 women/45 men; mean age of 42.27±14.42 years [range 8-76 years]) with severe ocular inflammation were included in the study. The most frequent underlying conditions were: idiopathic uveitis (n=21), Vogt-Koyanagi-Harada (n=26), Behçet disease (n=19), spondyloarthritis (n=4), Sjögren syndrome (n=2), psoriatic arthritis (n=2) and multiple Sclerosis (n=2). All the patients had active and severe intraocular inflammation at baseline. The inflammatory ocular patterns were: panuveitis (n=61), posterior uveitis (n=35), anterior uveitis (n=3), scleritis (n=3) and intermediate uveitis (n=2). Bilateral ocular involvement was observed in 65 patients (62.5 %). Following IVMP pulse therapy inflammation in the anterior chamber, vitritis and visual acuity experienced rapid and statistically significant improvement. It was already seen 2 days after the onset of IVMP therapy. However, improvement of retinal vasculitis, choroiditis/chorio-retinitis and macular edema was achieved more gradually, reaching statistical significance from the first week. Optical coherence tomography (OCT) showed a macular thickening (>250μ) in 90 eyes at baseline, with normalization in 30 % of the affected eyes at day 15 and in 50 % of the affected eyes at day 30 (p<0.05). IVMP pulse therapy was well tolerated without remarkable side effects.
Conclusion
Treatment with IVMP pulse therapy decreases rapidly the ocular inflammation, leading to an improvement of all the ophthalmological measurements without important side effects.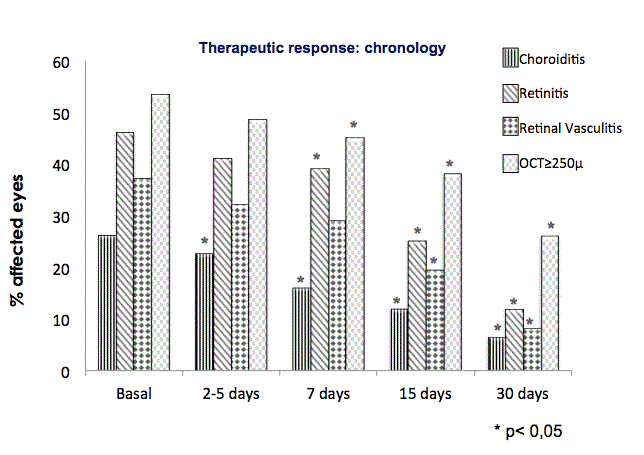 ---
Disclosure:
M. Santos-Gómez,
None;
E. Beltrán,
None;
V. Calvo-Río,
None;
R. Blanco,
None;
N. Ortego,
None;
J. L. García Serrano,
None;
L. Martínez Costa,
None;
A. Fonollosa,
None;
M. Hernández,
None;
E. Valls,
None;
F. Francisco,
None;
M. A. Reyes,
None;
I. Torre Salaberri,
None;
O. Maíz,
None;
A. Blanco,
None;
S. Muñoz-Fernández,
None;
M. M. Esteban,
None;
E. Pato,
None;
M. Díaz-Llopis,
None;
R. Gallego,
None;
M. Cordero,
None;
F. Ortiz-Sanjuán,
None;
J. Cañal Villanueva,
None;
L. Riancho-Zarrabeitia,
None;
M. A. González-Gay,
None.
« Back to 2014 ACR/ARHP Annual Meeting
ACR Meeting Abstracts - https://acrabstracts.org/abstract/intravenous-methylprednisolone-pulse-therapy-in-severe-inflammatory-eye-disease-a-multicenter-study/