Session Information
Session Type: Poster Session (Monday)
Session Time: 9:00AM-11:00AM
Background/Purpose: Several studies have recently revealed the pathological role of endoplasmic reticulum (ER) stress in the pathogenesis of inflammatory diseases. In addition, 4-phenylbutyric acid (4-PBA) was shown to exert potent pharmacological effects, including anti-inflammatory properties, via inhibition of ER stress. However, it is not known whether 4-PBA attenuates the severity of rheumatoid arthritis, which is most the common inflammatory arthritis.
The purpose of the present study was to investigate the effect of ER stress inhibition by 4-PBA on interleukin-1β-induced proliferation and the inflammatory response of rheumatoid synovial fibroblasts (RASFs) and determine whether the inhibition of ER stress by 4-PBA ameliorated experimentally induced arthritis. The potential underlying mechanisms of the therapeutic efficacy of 4-PBA were also investigated.
Methods: The proliferation of RASFs and expression of matrix metalloproteinases were evaluated in the presence of IL-1β with or without 4-PBA. The effect of 4-PBA on the phosphorylation of MAPK and the activation of NF-kB in IL-1β-stimulated RASFs was assessed. In an in vivo study, the effects of 4-PBA were investigated using DBA/1 mice with collagen-induced arthritis (CIA). Assessments of paw thickness, clinical score, micro-computed tomography imaging, histology of tibiotalar joints, and the inflammatory cytokine levels of joints extracts and serum were used to determine the therapeutic effect of 4-PBA.
Results: In vitro, 4-PBA inhibited the proliferation and expression of IL-1β-stimulated RASFs and matrix metalloproteinases (MMP-1 and MMP-3) through the suppression of both the phosphorylation of MAPKs and NF-kB in IL-1β-stimulated RASFs. The intraperitoneal administration of 4-PBA markedly attenuated the severity of arthritis in CIA mice. 4-PBA treatment ameliorated joint swelling, the degree of bone erosion and destruction, and decreased the level of inflammatory cytokines (IL-6 and IL-1β) and matrix metalloproteinases (MMP-3 and Cox-2). Furthermore, remarkable improvements in histopathological findings occurred in 4-PBA-treated mice.
Conclusion: These findings suggested that 4-PBA could attenuate the severity of arthritis in CIA mice through partially blocking the phosphorylation of MAPKs and the activation of NF-κB in RASFs. Thus, through the inhibition of ER stress, 4-PBA may be a potent agent for the treatment of RA.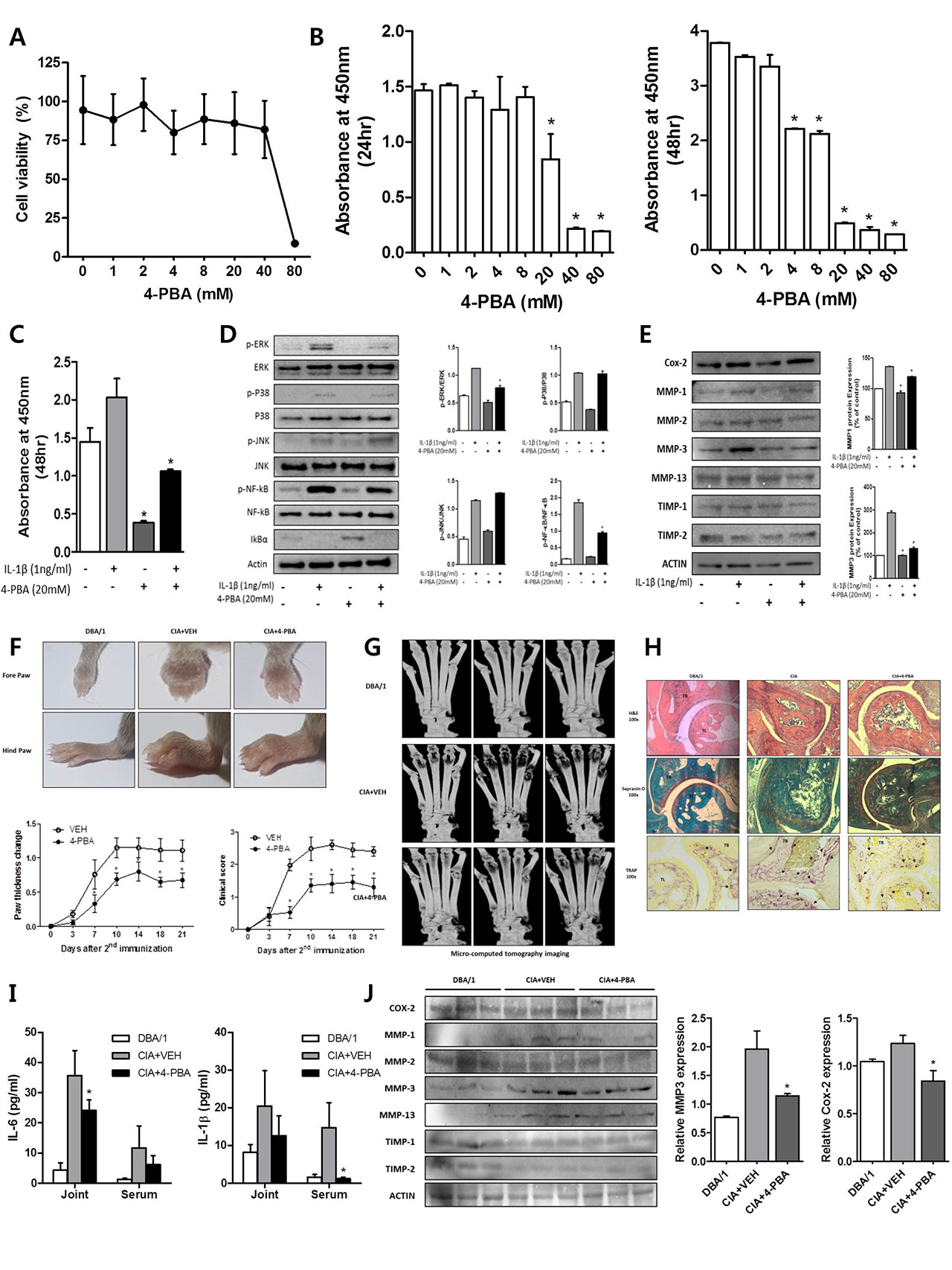 ---
Disclosure: W. Yoo, None; Y. Choi, None; E. Lee, None; C. Lee, None; M. Lee, None.
To cite this abstract in AMA style:
Yoo W, Choi Y, Lee E, Lee C, Lee M. Inhibition of Endoplasmic Reticulum Stress Using 4-phenylbutyric Acid Ameliorates the Severity of Collagen-induced Arthritis in Mice via Attenuation of Proliferation and Inflammatory Responses of Synovial Fibroblasts [abstract].
Arthritis Rheumatol.
2019; 71 (suppl 10). https://acrabstracts.org/abstract/inhibition-of-endoplasmic-reticulum-stress-using-4-phenylbutyric-acid-ameliorates-the-severity-of-collagen-induced-arthritis-in-mice-via-attenuation-of-proliferation-and-inflammatory-responses-of-syno/. Accessed October 17, 2021.
« Back to 2019 ACR/ARP Annual Meeting
ACR Meeting Abstracts - https://acrabstracts.org/abstract/inhibition-of-endoplasmic-reticulum-stress-using-4-phenylbutyric-acid-ameliorates-the-severity-of-collagen-induced-arthritis-in-mice-via-attenuation-of-proliferation-and-inflammatory-responses-of-syno/