Session Information
Session Type: Poster Session B
Session Time: 9:00AM-11:00AM
Background/Purpose: Anti-myeloperoxidase (MPO) antineutrophil cytoplasmic antibody (ANCA) has been implicated in the pathogenesis of microscopic polyangiitis (MPA) and an MPO-ANCA associated glomerulonephritis; both conditions are considered part of the MPO-ANCA associated vasculitis (AAV) spectrum. Recent reports have highlighted that MPO-ANCA AAV can develop during or after an infectious process. We performed a systematic review to identify and describe all infections that induce MPO-ANCA AAV and describe the patients' clinical characteristics and outcomes.
Methods: PubMed/Medline and Scopus databases were searched without any restrictions, from inception to March 2020, in accordance with PRISMA guidelines. Published articles were included, describing the development of MPO-ANCA AAV during or after infection. The data retrieved were including the causative pathogen, patients' clinical features, the reported diagnosis, the therapeutic regimen used, and the patient outcomes. Two authors independently selected the studies, extracted data and assessed risk of bias.
Results: Among the 595 abstracts identified, 17 case reports articles were included, each describing a single patient (Table 1 and 2). The mean age was 53.8 (range 11-80 years), and the majority were female (58.8%). Seven patients (41.2%) were diagnosed with MPA, 7 (41.2%) with MPO-ANCA AAV, and 3 (17.6%) with MPO-ANCA associated glomerulonephritis. The median time between infection and development of vasculitis was 3 months (range: 3 weeks – 10 years).
The most common pathogens associated with the preceding infections were viruses (35.2%), followed by mycobacterial (29.4%) and bacterial infections (29.4%). The viral infections were caused by EBV, CMV, and 1 case by Dengue virus infection. Mycobacterium avium complex was the most frequent mycobacterial species pathogen, and infective endocarditis due to staphylococcus aureus was the common bacterial infection.
Renal involvement was the most frequent clinical manifestation (70.5%) with renal biopsy-proven glomerulonephritis in 53% of cases, followed by respiratory, musculoskeletal, cutaneous, and nerve involvement. Glucocorticoids and anti-infective agents were administered in the vast majority of patients, and cyclophosphamide in 47%. Three (17.6%) patients expired during follow-up. Vasculitis regressed after the resolution of infection in 10/17 (58.8%). MPO-ANCA titers decreased significantly on follow-up in all 10 cases where they were estimated.
Conclusion: Several infectious agents can lead to the development of MPO-ANCA and the clinical manifestations of MPO-ANCA AAV, which appear to regress with the resolution of infection. Clinicians should be alert for the presence of an underlying infection in patients presenting with MPO-ANCA associated vasculitis, as early detection will enable prompt treatment with the combination of anti-infective and immunosuppressive regimens.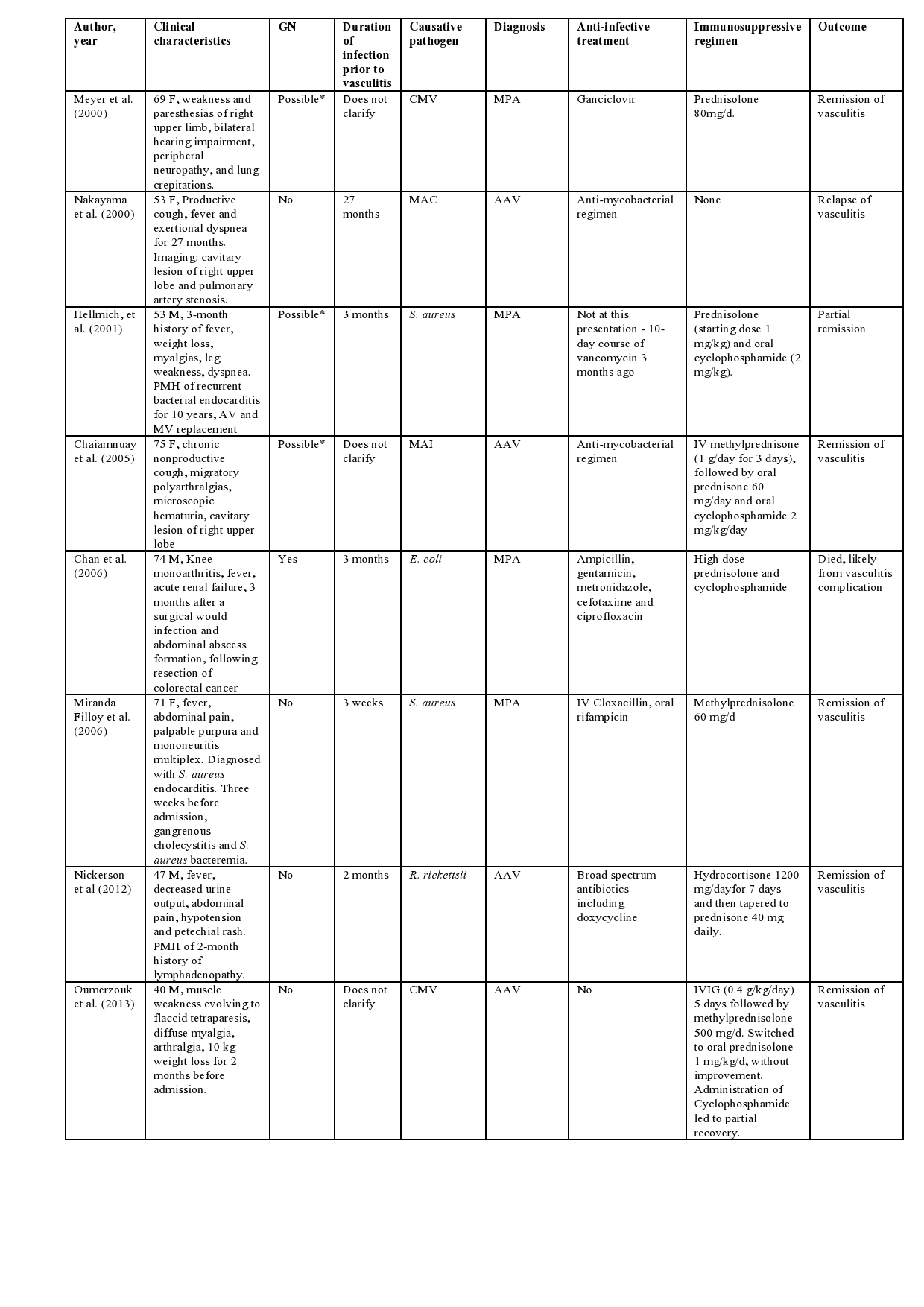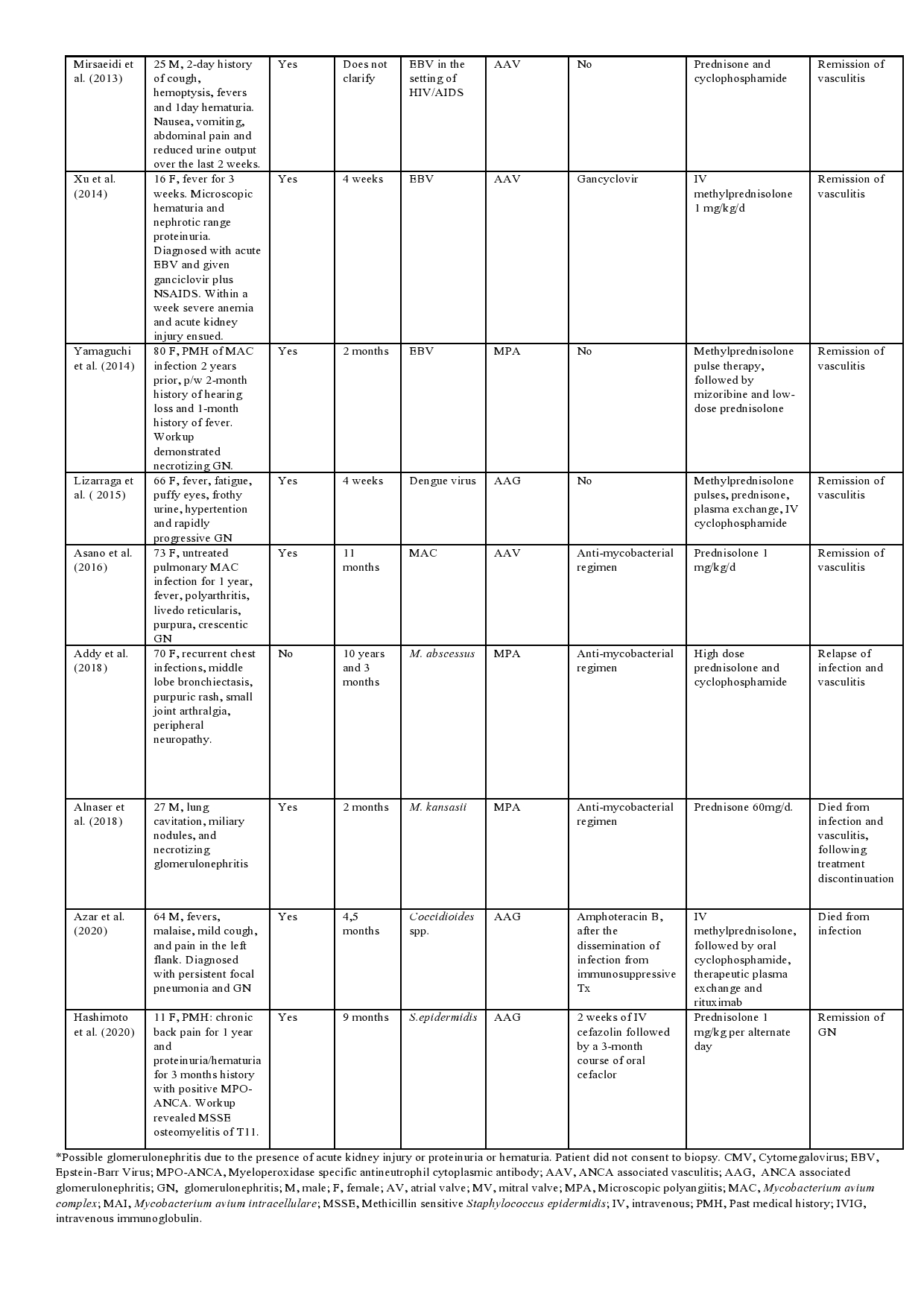 ---
Disclosure: K. Parperis, None; L. Kakoullis, None; E. Papachristodoulou, None; G. Panos, None.
To cite this abstract in AMA style:
Parperis K, Kakoullis L, Papachristodoulou E, Panos G. Infection-induced MPO-ANCA Associated Vasculitis: A Systematic Review of Published Case Reports [abstract].
Arthritis Rheumatol.
2020; 72 (suppl 10). https://acrabstracts.org/abstract/infection-induced-mpo-anca-associated-vasculitis-a-systematic-review-of-published-case-reports/. Accessed November 27, 2021.
« Back to ACR Convergence 2020
ACR Meeting Abstracts - https://acrabstracts.org/abstract/infection-induced-mpo-anca-associated-vasculitis-a-systematic-review-of-published-case-reports/