Session Information
Session Type: Poster Session A
Session Time: 8:30AM-10:30AM
Background/Purpose: The COVID-19 pandemic led to the rapid implementation of telehealth in rheumatology with unknown implications for medication toxicity lab monitoring. The purpose of this quality improvement (QI) project is to evaluate and improve lab monitoring in patients with rheumatoid arthritis (RA) seen by telehealth. This project was led by adult Rheumatology fellows at a single academic institution as part of our QI curriculum.
Methods: We targeted patients with RA (ICD10 M05/M06), taking methotrexate, sulfasalazine, leflunomide, or azathioprine, seen in a telehealth visit, and no aspartate aminotransferase (AST) in the 2 months before the visit. Our primary aim was to increase the proportion of targeted patients with an AST at our institution in the 2 months after the visit from less than 35% to greater than 50%. A secondary aim was to increase scanned external lab results in the two months after the visit from 7% to greater than 15%. Data were obtained with SlicerDicer, an analytic data tool within our electronic health record and validated by manual review of encounters seen by fellows leading the QI initiative from 7/1/2020 – 10/31/2020. Data were monitored throughout the study period. Providers continuously shared resources and best practices. In addition, the following interventions occurred using Plan-Do-Study-Act (PDSA) methodology: (1) standardized process for sending external lab orders to patients electronically (9/15/2020) and (2) letter for patients with detailed instructions on obtaining labs (3/2/2021). Providers in our division were surveyed via Redcap on 2/19/2021 to gather more input on lab monitoring.
Results: There were 1,116 telehealth visits with RA patients targeted by our project from 3/1/2020 – 3/31/2021 (Figure 1). The number of visits declined from a peak of 207 in 4/2020 to 29 in 3/2021. At baseline, patients with an AST performed at our institution in the 2 months after the telehealth visit was 34.5% in 3/2020 and 27.5% in 4/2020. We did not reach our aim of 50% during the study period; the highest proportion was 47.8% in 9/2020. External labs scanned over 2 months at baseline were 7.1% in 3/2020 and 10.6% in 4/2020. Our goal of 15% was reached in half of the months from 6/2020 – 3/2021. PDSA interventions did not substantially impact lab monitoring. The manual chart review included 31 patients; 20 (64.5%) had labs ordered to be done at our institution, 9 (29.0)% externally, and 2 (6.5%) did not have labs ordered. There were 21 (67.7%) without an AST in the preceding two months. Of these, 6/21 (71.4%) had an AST done in the next two months at our institution or externally. The provider survey was sent to 34 providers in our practice; 27 (79.4%) responded. Results are shown in Table 1. Although 23 (85.2%) agreed or strongly agreed that they knew what an "overdue results" in-basket message meant, only 6 (22.2%) "usually" or "always" reacted to these messages. Free text responses on reasons for this discordance are shown in Table 2.
Conclusion: Our study revealed gaps in medication toxicity lab monitoring among RA patients seen via telehealth. Monitoring improved throughout the study period but we have not yet reached our primary aim. An important next step is to develop a standardized process for acting on overdue lab messages.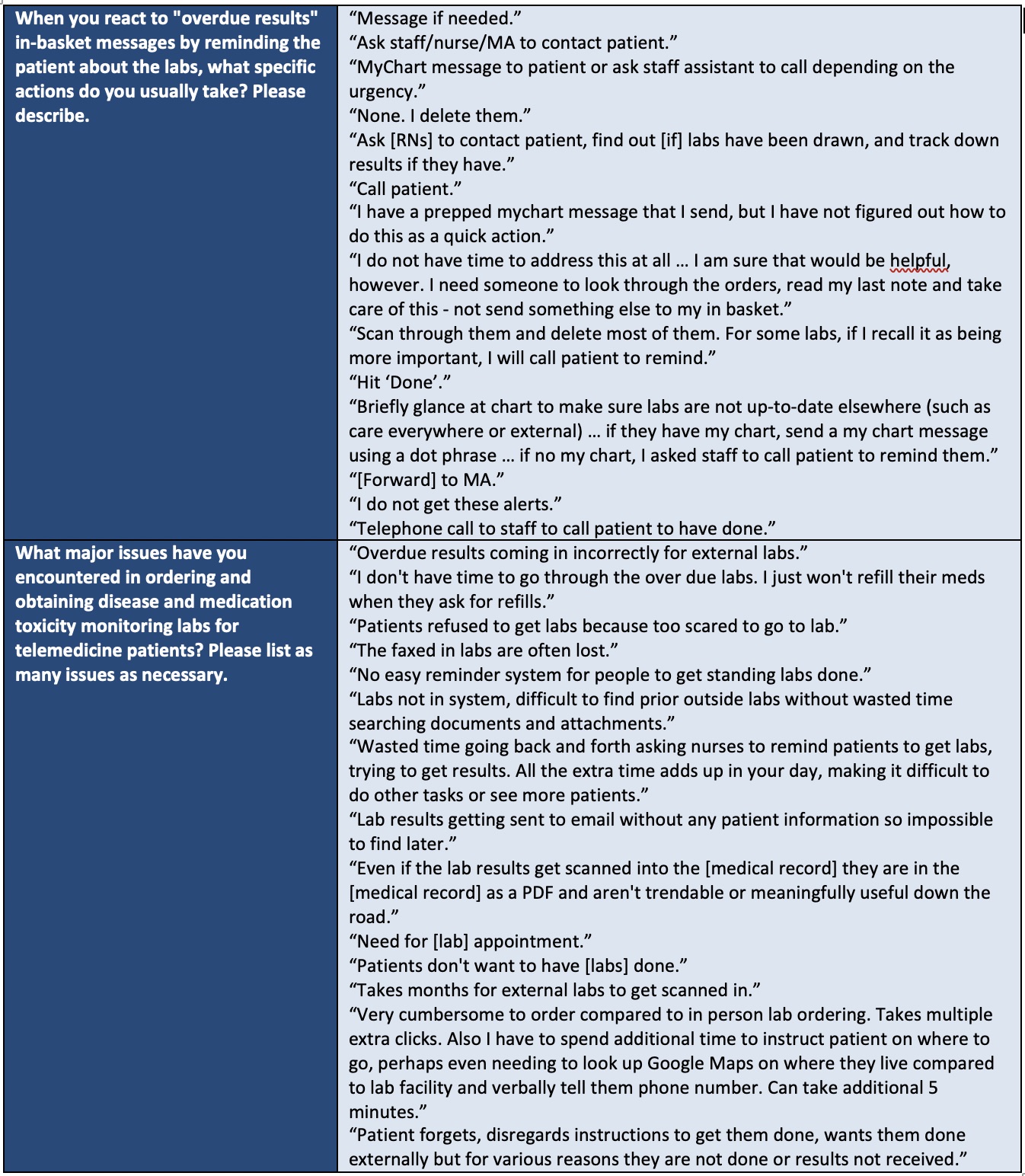 ---
Disclosures: A. Udupa, None; C. Sims, None; P. Apte, None; M. Milne, None; I. Smith, None; D. Anderson, None; M. Maheswaranathan, None; J. Doss, Pfizer, 5; D. Leverenz, Pfizer, 5.
To cite this abstract in AMA style:
Udupa A, Sims C, Apte P, Milne M, Smith I, Anderson D, Maheswaranathan M, Doss J, Leverenz D. Improving Medication Toxicity Lab Monitoring During the COVID-19 Pandemic [abstract].
Arthritis Rheumatol.
2021; 73 (suppl 9). https://acrabstracts.org/abstract/improving-medication-toxicity-lab-monitoring-during-the-covid-19-pandemic/. Accessed January 30, 2023.
« Back to ACR Convergence 2021
ACR Meeting Abstracts - https://acrabstracts.org/abstract/improving-medication-toxicity-lab-monitoring-during-the-covid-19-pandemic/