Session Information
Session Type: Poster Session D
Session Time: 8:30AM-10:30AM
Background/Purpose: The purpose of this qualitative study was to understand the concerns, behaviors, and experiences of adults with autoimmune rheumatic conditions, and to evaluate the impact of the COVID-19 pandemic on their quality of life. Intentional efforts were made to amplify a diverse range of patient voices. Recruitment methods purposefully targeted persons who identify as Black, Indigenous, and People of Color (BIPOC) and/or part of underrepresented and underserved communities.
Methods: Between December 2020 – May 2021, 60-minute interviews were conducted with English- and Spanish-speaking adults, aged ≥ 18 years with self-reported diagnosis of autoimmune rheumatic condition, via phone or videoconference using a semi-structured interview guide. Participants were recruited through social media posts, word-of-mouth, or clinical referral. To ensure rigor while maintaining relevance in response to the changing nature of the COVID-19 pandemic, the research team met regularly to perform preliminary analysis and reflexivity (e.g., acknowledging researchers' pre-conceptions). Ongoing analysis combined methods of phenomenology and content analysis through three steps: 1. Summarizing interviews, 2. Discussing potential units of meaning based on iterative review of transcripts and literature, 3. Axial and selective coding to determine cross-cutting themes.
Results: Participants included 19 adults (40.3 ± 15.1 years old), most reporting a diagnosis of rheumatoid arthritis (52.6%). Demographics included race (52.6% BIPOC), ethnicity (31.6% Hispanic/Latinx), insurance (21.1% Medicare/Medicaid; 15.8% uninsured), employment (26.3% identified as disabled), and representation across U.S. geographic locations. Ongoing analysis produced four preliminary themes (Table 1).
Theme 1: Based on their learned and experiential knowledge of rheumatic disease and its treatment, most participants perceived themselves to be at higher risk for COVID-19 than the general population.
Theme 2: Participants vigilantly worked to balance COVID-19 risk, disease management, and mental health. Participants' decisions of whether, how, and when to engage in activities often centered around trust or distrust in their social circles, local geographic communities, and United States politics and public health response.
Theme 3: Participants felt unsupported by all levels of the healthcare system, from direct interaction with providers to messages received from public health authorities.
Theme 4: Combined, these factors led to a self-reported increase in autoimmune disease symptoms; relapse or exacerbation of established mental health conditions; and/or new symptoms of trauma, depression, and/or anxiety.
Conclusion: Participant interviews during the COVID-19 pandemic revealed critical patient needs for direct and timely communication as well as increased sensitivity to the psychosocial effects of the pandemic on disease symptoms. It is likely these needs will persist post-pandemic.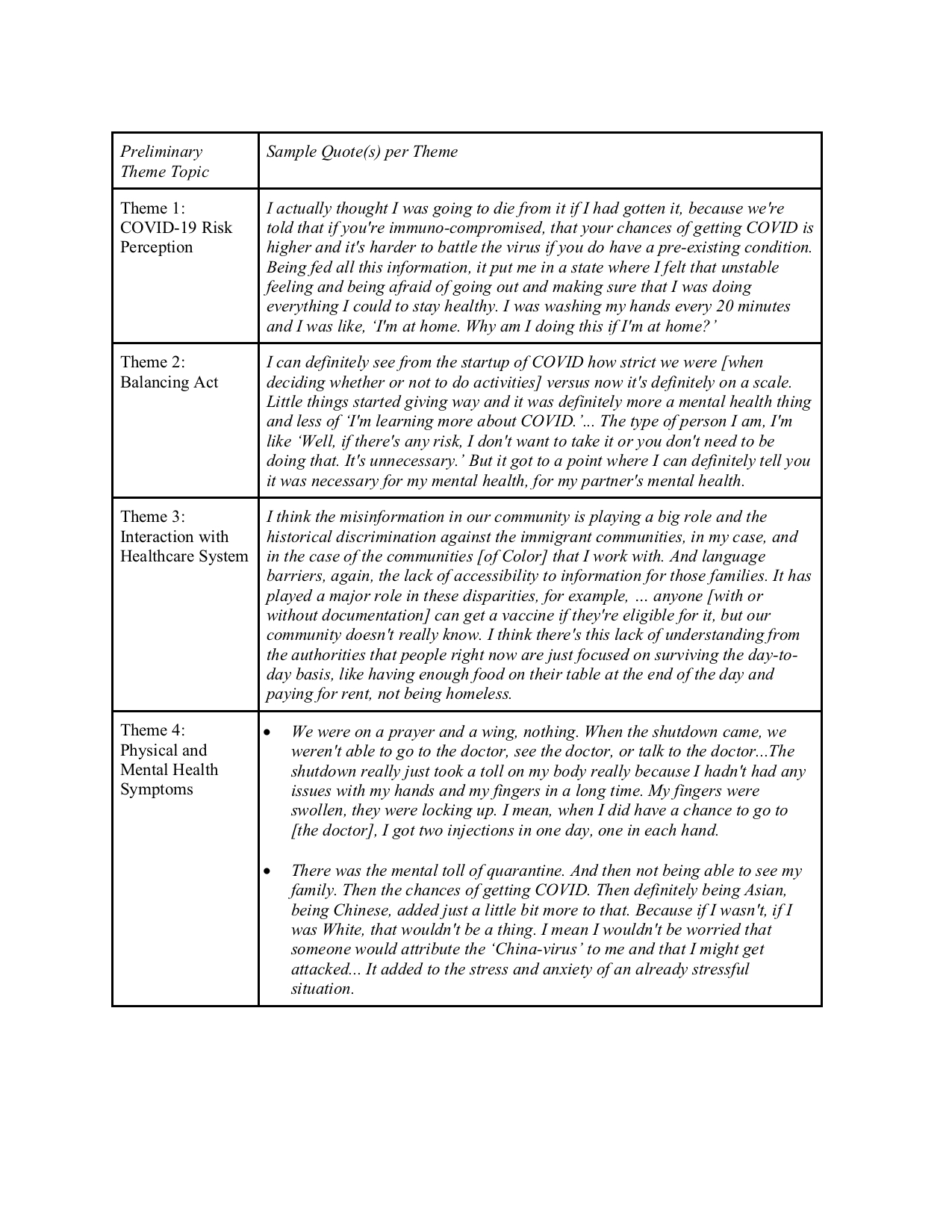 Table 1. Sample Quote(s) per Qualitative Theme
---
Disclosures: C. Wells, None; G. Torres, None; W. Nowell, Global Healthy Living Foundation, 3, AbbVie, 5, Amgen, 5, Eli Lilly, 5; S. Venkatachalam, None; L. Stradford, None; K. Gavigan, Global Healthy Living Foundation, 3; B. Boyd-Floering, None; M. Danila, Boehringer Ingelheim, 5, Amgen, 1, Amgen, 5, AbbVie, 1, Pfizer, 5, Pfizer, 11, Horizon, 5, Novartis, 1, WebMD, 12, writer; K. Carandang, None.
To cite this abstract in AMA style:
Wells C, Torres G, Nowell W, Venkatachalam S, Stradford L, Gavigan K, Boyd-Floering B, Danila M, Carandang K. Impact of the COVID-19 Pandemic on the Quality of Life of Patients with Rheumatic Conditions: A Qualitative Analysis of Perceived Risk and Decision Making [abstract].
Arthritis Rheumatol.
2021; 73 (suppl 9). https://acrabstracts.org/abstract/impact-of-the-covid-19-pandemic-on-the-quality-of-life-of-patients-with-rheumatic-conditions-a-qualitative-analysis-of-perceived-risk-and-decision-making/. Accessed September 30, 2022.
« Back to ACR Convergence 2021
ACR Meeting Abstracts - https://acrabstracts.org/abstract/impact-of-the-covid-19-pandemic-on-the-quality-of-life-of-patients-with-rheumatic-conditions-a-qualitative-analysis-of-perceived-risk-and-decision-making/