Session Information
Session Type: Poster Session D
Session Time: 8:30AM-10:30AM
Background/Purpose: The COVID-19 pandemic has impacted wellbeing of patients with Rheumatic and Musculoskeletal Diseases (RMDs). The aim is to assess wellbeing its associated factors in European RMD patients.
Methods: REUMAVID is an international collaboration led by the Health & Territory Research group at the University of Seville, together with a multidisciplinary team including patient organisations and rheumatologists. The study consists of an online survey gathering data from patients with a diagnosis of 15 RMDs in Cyprus, France, Greece, Italy, Portugal, Spain, and the United Kingdom. 1,800 participants were recruited by patient organisations. Data was collected between April and July 2020. Participants were divided into two groups: 1) Participants with poor wellbeing (World Health Organization-Five Wellbeing Index (WHO-5) ≤ 50), 2) Participants with good wellbeing (WHO-5 >50). The Mann-Whitney and χ2 tests were used to analyse possible relations between sociodemographic characteristics, lifestyle, and outdoor contact with wellbeing during the beginning of the COVID-19 pandemic. Univariate and multivariate binary logistic regression was used to determine the impact of the independent variables associated with poor wellbeing.
Results: 1,777 patients with 15 different RMDs were included. The mean age was 52.7, 80.2% female, 48.7% had a university degree, and 69.7% were married or in a relationship. The most frequent diagnoses were inflammatory arthritis (75.4%). 49.0% reported poor wellbeing. 57.7% of patients who belonged to a patient organisation reported good wellbeing (vs 46.3% who did not, p< 0.001). Compared to those patients who did not, those who did experienced poor wellbeing had higher disease activity (51.4% vs 41.3%, p< 0.001), a higher risk of anxiety (54.3% vs 41.7%, p< 0.001) and depression (57.0% vs 42.1%, p< 0.001), and poorer self-perceived health (53.0% vs 41.8%, p< 0.001). A higher proportion of those who engaged in physical activity presented good wellbeing (54.0% vs 46.5%, p=0.012). 57.4% of the patients who were unable to attend an appointment with their rheumatologist reported poor wellbeing, compared to 48.2% who did attend (p=0.027). Patients who did not walk outside (56.2%) or who lacked elements in their home to facilitate outside contact (63.3%) experienced poor wellbeing (p< 0.001). The factors associated with poor wellbeing were lack of elements in the home enabling contact with the outside world (OR=2.10), not belonging to a patient organisation (OR=1.51), risk of depression (OR=1.49), and not walking outside (OR=1.36) during the COVID-19 pandemic (Table 1).
Conclusion: Almost half of the patients with RMDs reported poor wellbeing during the beginning of the COVID-19 pandemic. The lack of elements in the home that facilitate outdoor contact, not belonging to a patient organisation, the presence of anxiety, and not walking outside during the pandemic increase the probability of poor well-being. These results highlight the importance of environmental factors and the role of patient organisations in addressing the effects of the pandemic and its containment measures.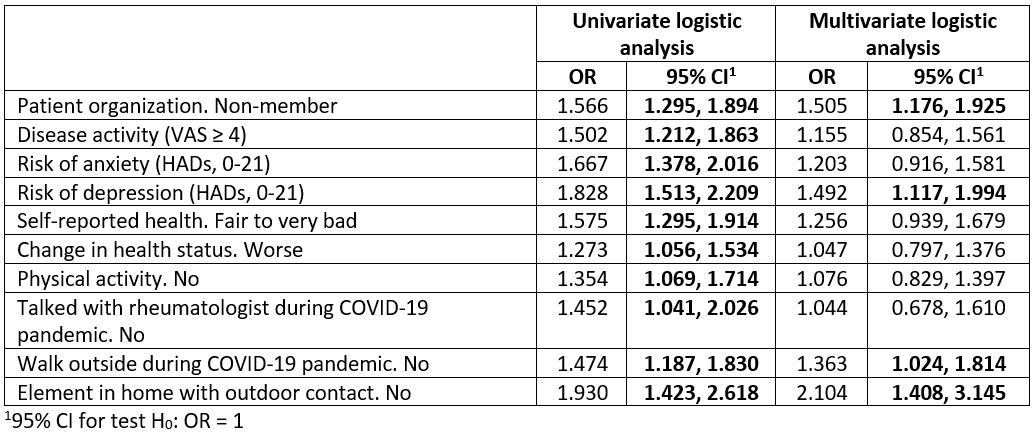 Table 1. Logistic regression. Dependent variable: poor wellbeing (N&#3f1,104)
---
Disclosures: M. Garrido-Cumbrera, None; H. Marzo-Ortega, Janssen, 2, 5, 6, Takeda, 6, Novartis, 2, 5, 6, UCB, 2, 5, 6, Celgene, 2, 6, AbbVie, 2, 6, Lilly, 2, 6, Pfizer, 2, 6; L. Christen, Novartis, 3; J. Correa-Fernández, None; S. Sanz-Gomez, None; P. Plazuelo-Ramos, None; L. Grange, None; D. Webb, AbbVie, 5, Biogen, 5, Janssen, 5, Lilly, 5, Novartis, 5, UCB, 5; S. Irwin, The National Lottery Community Fund, 12, Coronavirus Community Support Fund; C. Jacklin, Abbvie, 5, Amgen, 5, Biogen, 5, Eli Lilly, 5, Gilead, 5, Janssen, 5, Pfizer, 5, Roche, 5, Sanofi, 5, UCB, 5; S. Makri, None; E. Frazão Mateus, Boehringer Ingelheim, 6, Pfizer, 5, 12, Non-financial, Lilly Portugal, 5, Sanofi, 5, AbbVie, 5, Novartis, 5, Grünenthal. SA., 5, MSD, 5, Celgene, 5, Medac, 5, Janssen-Cilag, 5, Pharmakern, 5, GAfPA, 5; S. Mingolla, None; K. Antonopoulou, None; V. Navarro-Compán, Abbvie, 5, Lilly, 5, Novartis, 5, Pfizer, 5, UCB, 5, Janssen, 5.
To cite this abstract in AMA style:
Garrido-Cumbrera M, Marzo-Ortega H, Christen L, Correa-Fernández J, Sanz-Gomez S, Plazuelo-Ramos P, Grange L, Webb D, Irwin S, Jacklin C, Makri S, Frazão Mateus E, Mingolla S, Antonopoulou K, Navarro-Compán V. Impact of the COVID-19 Pandemic and Lockdown on Wellbeing on Patients with Rheumatic Diseases. Results from the REUMAVID Study (Phase 1) [abstract].
Arthritis Rheumatol.
2021; 73 (suppl 10). https://acrabstracts.org/abstract/impact-of-the-covid-19-pandemic-and-lockdown-on-wellbeing-on-patients-with-rheumatic-diseases-results-from-the-reumavid-study-phase-1/. Accessed July 3, 2022.
« Back to ACR Convergence 2021
ACR Meeting Abstracts - https://acrabstracts.org/abstract/impact-of-the-covid-19-pandemic-and-lockdown-on-wellbeing-on-patients-with-rheumatic-diseases-results-from-the-reumavid-study-phase-1/