Session Information
Session Type: Poster Session A
Session Time: 8:30AM-10:30AM
Background/Purpose: Rheumatoid arthritis (RA) is an autoimmune disease characterized by genetic predisposition and associated immunological features including the production of autoantibodies against various epitopes. Several pathways have been implicated in the induction of autoantibodies against novel epitopes through post-translational modifications such as citrullination, carbamylation and acetylation. However, the spectrum of these antibodies and their contributions in the pathogenesis e.g. by the formation of immune complexes in the synovial fluid has not been fully uncovered.
Methods: Synovial fluids (SF) were collected from 17 RA patients and 40 individuals from a disease control (CG) including reactive arthritis and psoriasis arthritis. Paired serum and SF samples were used from 16 RA and 19 CG compared to serum from 70 healthy donors (HD). ELISA kits for anti CCP-IgG, anti-mutated citrullinated vimentin (MCV)-IgG, anti-acetylated Lysine Antibody (anti-HC55)-IgG and anti-carbamylated vimentin (carbVim)-IgG were used to test reactivity against modified proteins. Immune complexes (IC) were purified from sera and SF by applying a technique using purified human C1q, which was immobilised on magnetic tosylactivated microparticles (Dynabeads M-280) according to the manufacturer's recommendations for activation of amine groups. C1q beads were washed and incubated with 20 μL serum or SF in an Eppendorf microliter tube for 1.5 hours on shaker (600 rpm) at 37°C. Antibodies from the C1q-bound IC were recovered in a two-step procedure- first with 0.1 M glycine–HCl, pH 2.5, followed by 25% methanol, pH 11.5. Fractions were neutralized immediately. Extracted antigens from the IC were investigated with Western blot for specific modifications or individual antigens with the corresponding antibodies. Citrullinated and acetylated vimentin was identified as part of IC via mass spectroscopy. Purified anti modified protein antibodies (AMPAs) from serum or SF (isolated from IC or as soluble antibodies) were investigated on a custom-made LineBlot array containing 24 different antigens either citrullinated, carbamylated, acetylated or unmodified/native counterparts.
Results: Titers of anti-CCP and anti-acetylated (anti-HC55) reactivity were higher in SF of RA patients compared to CG. In contrast, no significant differences were detected in the titers of anti-carbVim and anti-MCV in SF of both groups. AMPAs were detected in SF in immune complexes as well as free antibodies. Surprisingly, in addition to citrullinated vimentin, the acetelylated form was also detected in the eluted fractions. Like carbamylated proteins, haptoglobin and fibrinogen fragments were identified in small concentrations. The spectrum of identified acetylated proteins included human proteins such as histones as well as fragments of bacterial filament proteins.
Conclusion: AMPAs recognize different modified antigens and form immune complexes in the SF of RA patients. The higher titers of anti-acetylated protein antibodies and immune complexes in the synovium point to their contribution in the pathogenesis of RA.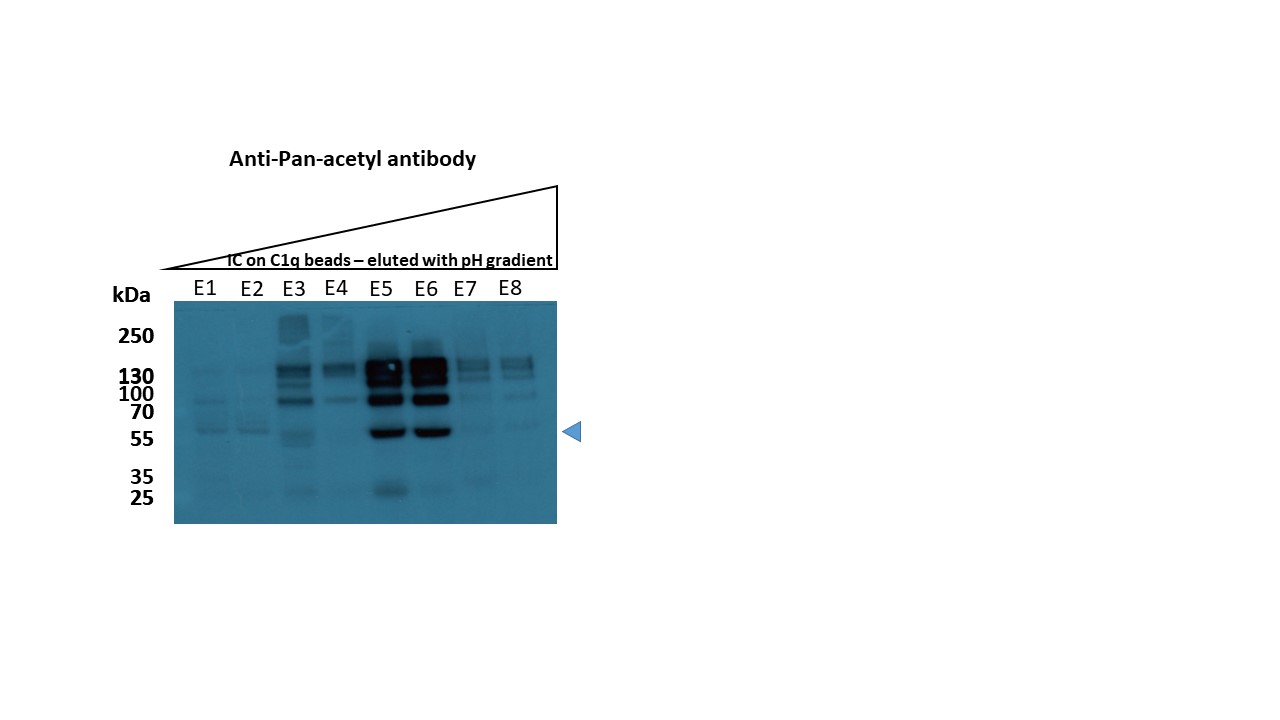 ---
Disclosures: K. Ghannam, None; H. Bang, Orgentec Diagnostika GmbH, 3; T. Häupl, None; E. Feist, R-Pharm, 2, 6, Abbvie, 2, 6, Novartis, 2, 5, 6, Pfizer, 2, 5, 6, AB2Bio, 6, BMS, 6, Celgene, 6, Janssen, 6, Eli Lilly, 2, 5, 6, Medac, 6, MSD, 6, Roche/Chugai, 2, 5, 6, Sanofi, 6, Sobi, 6, UCB, 6; G. Burmester, AbbVie, 2, 5, 6, Eli Lilly, 2, 5, 6, MSD, 2, 5, 6, Pfizer, 2, 5, 6, Roche, 2, 5, 6, Sanofi, 2, 5, 6, UCB, 2, 5, 6, Galapagos, BV, 2, 6, Gilead Sciences, Inc., 2, 6.
To cite this abstract in AMA style:
Ghannam K, Bang H, Häupl T, Feist E, Burmester G. Immune Complexes Contain Novel Acetylated Antigens in the Synovial Fluid of RA Patients [abstract].
Arthritis Rheumatol.
2021; 73 (suppl 9). https://acrabstracts.org/abstract/immune-complexes-contain-novel-acetylated-antigens-in-the-synovial-fluid-of-ra-patients/. Accessed January 30, 2023.
« Back to ACR Convergence 2021
ACR Meeting Abstracts - https://acrabstracts.org/abstract/immune-complexes-contain-novel-acetylated-antigens-in-the-synovial-fluid-of-ra-patients/