Session Information
Session Type: Poster Session D
Session Time: 9:00AM-11:00AM
Background/Purpose: Immune checkpoint inhibitors (ICI) are used to treat an expanding number of cancers. Many cancer patients treated with ICI develop immune-related adverse events (irAE) or flares of pre-existing autoimmune disease. These can be severe and/or refractory and may require treatment with immunomodulators (IM), commonly prescribed by rheumatologists. The aim of this study was to determine the frequency of IM use, specific initial IM drugs used, and involvement of rheumatology in the care of cancer patients treated with ICI.
Methods: We performed a descriptive study of all cancer patients initiating an ICI in a large tertiary academic health care system and cancer center. Patients receiving prescriptions of IM drugs after ICI were identified through an electronic query of prescriptions and clinical encounters. IM drugs were considered a proxy for the occurrence of an irAE or flare of a pre-existing autoimmune disease. We did not study NSAIDs or glucocorticoids since these medications are commonly prescribed for many indications and are non-specific for irAEs or pre-existing autoimmune disease flares. All prescriptions for IM that could also be used for cancer, organ rejection or stem cell transplant indications (methotrexate, rituximab, and mycophenolate mofetil) were manually reviewed to include only patients who received these drugs for treatment of an irAE or autoimmune disease flare. If multiple IMs were prescribed after ICI, we only included the initial IM, to avoid counting a single patient more than once. We also identified all clinical encounters with a rheumatologist in our healthcare system occurring after ICI initiation and reported the proportion and frequency of ICI- and IM-treated cancer patients who were evaluated by rheumatology.
Results: We identified 8,028 cancer patients who initiated an ICI (mean age 64.4 years, female 43%). The most common ICIs were: pembrolizumab (47%), nivolumab (28%), ipilimumab (8.0%) and combination ipilimumab/nivolumab (8.0%), (Figure 1). Among ICI recipients, 6.8% subsequently received a prescription for an IM. Among all patients who received an IM following ICI treatment, the most common initial IMs were: infliximab (32.0%), mycophenolate mofetil (13.6%) hydroxychloroquine (10.8%), and methotrexate (10.3%). Among all ICI recipients, 4.9% (n = 393) were evaluated by rheumatology of which 1.8% (n = 142) received an IM after ICI start. Of all ICI-treated patients who received an IM, 26.1% were evaluated by a rheumatologist (Figure 2).
Conclusion: In this large single-center study, 6.8% of ICI-treated cancer patients had severe/refractory irAEs or underlying autoimmune disease flares that required treatment with IM. While determination of the indication for IM use in these patients is underway, these results provide a summary of which IM are initially considered after glucocorticoids, in cancer patients receiving ICI. While not all types of irAEs require rheumatology involvement, notably, only one-fourth of ICI-treated patients who received an IM were also evaluated by a rheumatologist suggesting that oncologists and other specialists prescribe most IM in these patients.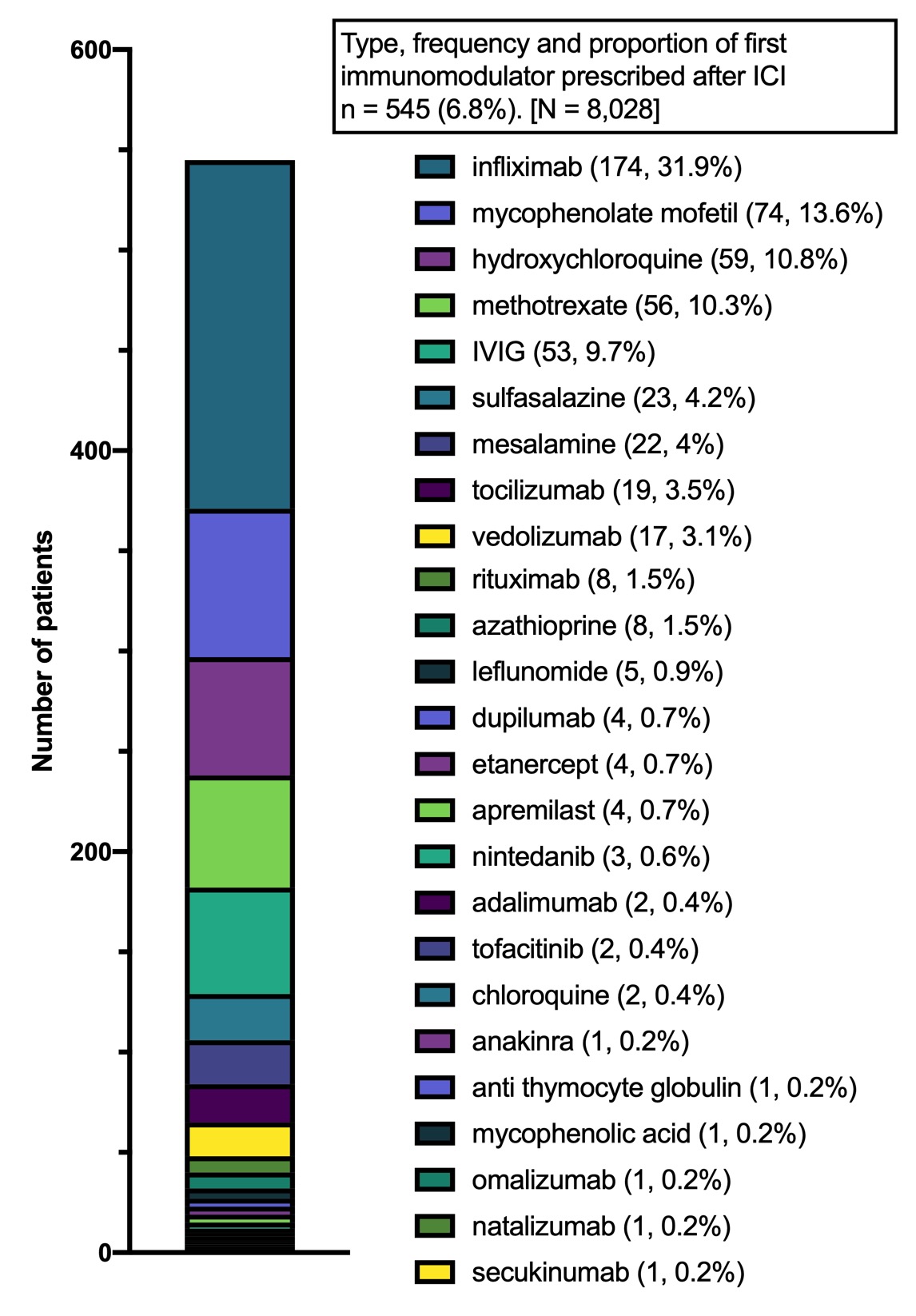 Frequency and proportion of initial immunomodulator (IM) prescribed (n=545).
Frequency and proportion of patients with rheumatology evaluation and immunomodulator (IM) use among immune checkpoint inhibitor (ICI)-treated cancer patients (N=8,028).
---
Disclosure: A. Cunningham-Bussel, None; J. Wang, None; L. Prisco, None; L. Martin, None; L. Gedmintas, None; L. Macfarlane, Flexion, 2, 5, Samumed, 2, Amgen, 2; N. Shadick, None; M. Awad, None; O. Rahma, Merck, 2, 5, Bristol Myers Squibb, 8, Celgene, 5, Five Prime, 5, GlaxoSmithKline, 5, Bayer, 5, Roche/Genentech, 5, Puretech, 5, Imvax, 5, Sobi, 5; N. LeBoeuf, None; E. Gravallese, New England Journal of Medicine, 3, UpToDate, 7, Co-editor of the textbook Rheumatology, 7; J. Sparks, Amgen, 1, Bristol-Myers Squibb, 1, 2, Gilead, 1, Inova, 1, Janssen, 1, Optum, 1.
To cite this abstract in AMA style:
Cunningham-Bussel A, Wang J, Prisco L, Martin L, Gedmintas L, Macfarlane L, Shadick N, Awad M, Rahma O, LeBoeuf N, Gravallese E, Sparks J. Immune Checkpoint Inhibitor Treatment in Cancer: Immunomodulator Use and Evaluation by Rheumatology [abstract].
Arthritis Rheumatol.
2020; 72 (suppl 10). https://acrabstracts.org/abstract/immune-checkpoint-inhibitor-treatment-in-cancer-immunomodulator-use-and-evaluation-by-rheumatology/. Accessed January 20, 2022.
« Back to ACR Convergence 2020
ACR Meeting Abstracts - https://acrabstracts.org/abstract/immune-checkpoint-inhibitor-treatment-in-cancer-immunomodulator-use-and-evaluation-by-rheumatology/