Session Information
Session Type: ACR Concurrent Abstract Session
Session Time: 2:30PM-4:00PM
Background/Purpose: Macrophage Activation Syndrome (MAS) is a life-threatening sepsis-like condition complicating many systemic JIA (sJIA) and Adult-Onset Stills Disease (AOSD) patients. We recently identified that gain-of-function mutations in inflammasome component NLRC4 cause an inflammasomopathy of early-onset enterocolitis, life-threatening MAS, and extraordinary serum IL-18. Similar serum IL-18 levels are also present in sJIA/AOSD patients with a history of MAS.
Methods: We used plate-bound ELISA and custom bead-based multiplex cytokine arrays to characterize IL-18 and related cytokines in a uniquely broad cohort of autoinflammatory patients with and without a history of MAS. We genome-edited a gain-of-function mutation in Nlrc4 into the mouse germline and assessed IL-18 levels in Nlrc4/wildtype bone marrow chimeras.
Results: Extraordinary elevations of serum IL-18, but not its endogenous antagonist IL-18 Binding Protein (IL-18BP) or other related cytokines, uniquely marked patients with a history of MAS but not other inflammasomopathies or IL-1-mediated diseases. Patients with monophasic disease show a slow normalization of serum IL-18 long after normalization of other cytokines and acute phase proteins while patients with early-onset or relapsing disease, including those bearing NLRC4 mutations, showed persistence of extraordinary IL-18. IL-18 in some patients measured serially over several years showed persistence of an abnormally high "set point" even with completely inactive disease (Fig.1). Mice bearing an Nlrc4-T337S point mutation displayed no spontaneous inflammation, but demonstrated chronic elevation of serum IL-18. Elevated IL-18 was present as early as 3 weeks of age and was unaffected by administration of broad-spectrum antibiotics. Elevated IL-18 was dependent on the inflammasome adaptor ASC, suggesting canonical inflammasome activation and cleavage of IL-18. Surprisingly, bone marrow chimeras made from Nlrc4-T337S mice demonstrated that IL-18 hyperproduction derived from non-hematopoietic cells (Fig.2).
Conclusion: Extraordinary high serum IL-18 levels are uniquely associated with the clinical presentation of recurrent MAS and may be a promising diagnostic biomarker and therapeutic target. The main source of IL-18 in Nlrc4-T337S mice is non-hematopoietic and suggests that the serum IL-18 "set point" observed in MAS patients, particularly those with NLRC4 mutations, would be resistant to bone marrow transplantation. This research was supported by the Intramural Research Programs of NIAMS and NIAID of the NIH.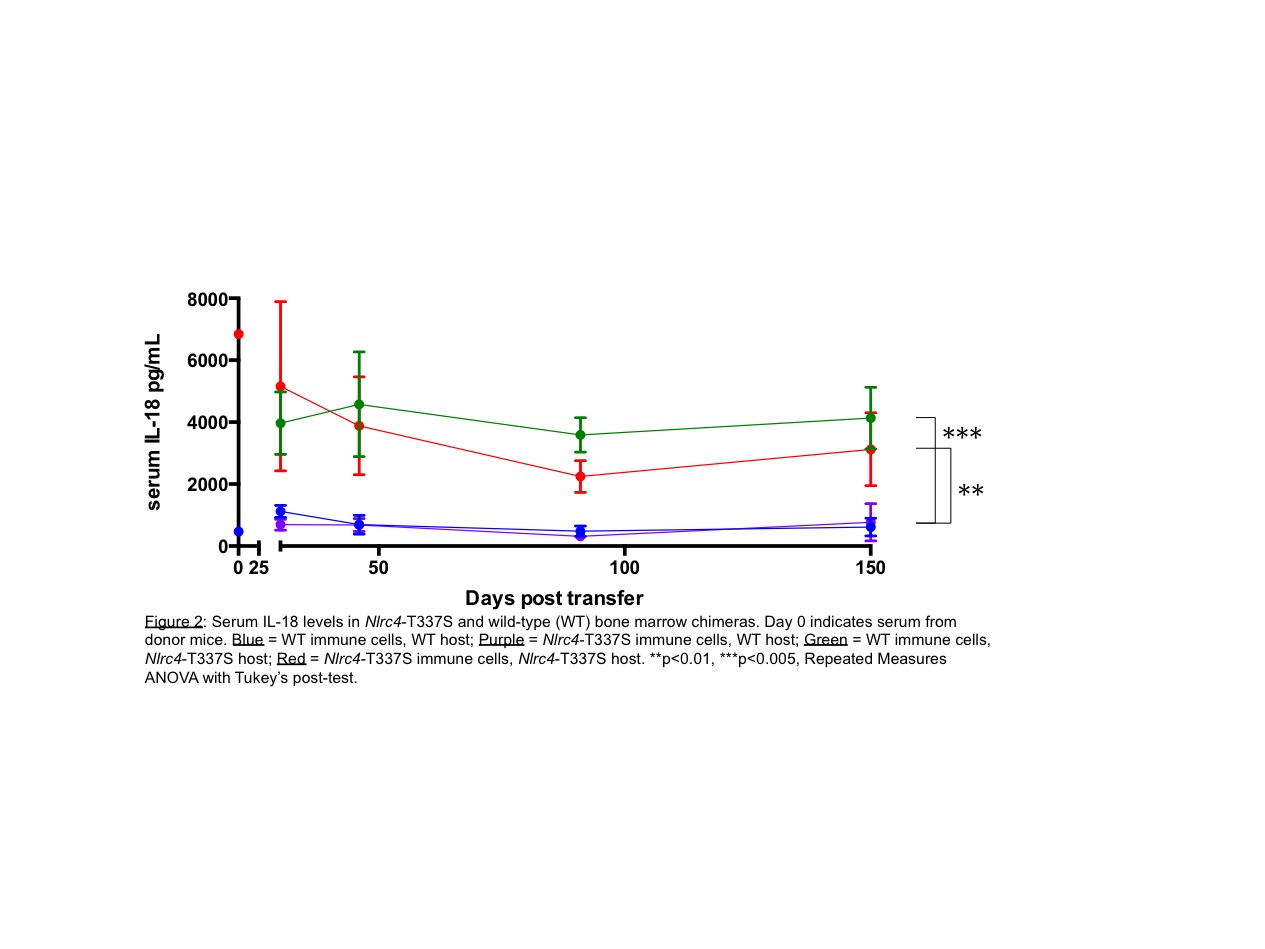 ---
Disclosure: Z. Tariq, None; E. Weiss, None; W. Goodspeed, None; R. Goldbach-Mansky, None; S. Canna, AB2Bio, 6.
To cite this abstract in AMA style:
Tariq Z, Weiss E, Goodspeed W, Goldbach-Mansky R, Canna S. IL-18 Elevation in Macrophage Activation Syndrome: Human Evidence for a Chronic Set-Point and Murine Evidence for a Non-Hematopoietic Source [abstract].
Arthritis Rheumatol.
2016; 68 (suppl 10). https://acrabstracts.org/abstract/il-18-elevation-in-macrophage-activation-syndrome-human-evidence-for-a-chronic-set-point-and-murine-evidence-for-a-non-hematopoietic-source/. Accessed October 25, 2021.
« Back to 2016 ACR/ARHP Annual Meeting
ACR Meeting Abstracts - https://acrabstracts.org/abstract/il-18-elevation-in-macrophage-activation-syndrome-human-evidence-for-a-chronic-set-point-and-murine-evidence-for-a-non-hematopoietic-source/