Session Information
Session Type: ACR Poster Session C
Session Time: 9:00AM-11:00AM
Background/Purpose: The antimalarial drug hydroxychloroquine (HCQ) has been used for decades to treat various rheumatic diseases including systemic lupus erythematosus (SLE). The efficacy of HCQ in lupus is well-demonstrated, and leads to a decreased number of lupus flares. Although multiple mechanisms have been proposed for HCQ, the systemic immunologic effects of HCQ treatment still remains ill-defined in human lupus and may help elucidate the immune mechanisms of HCQ in SLE.
Methods: SLE patients receiving HCQ (n=9) or not receiving HCQ (n=9) were matched and assessed in a cross-sectional design. Single-cell analysis of surface markers were completed by mass cytometry on PBMCs and cellular heterogeneity was visualized using viSNE and manual gating in Cytobank. Further, phospho-specific flow cytometry was used to measure basal levels of pERK, pPLCγ2, pSTAT5 and p38 and expression following CD3/CD28 (TCR) and anti-IgG and IgM (BCR) stimulation. Soluble mediator levels in plasma were assessed using a 51-plex (Affymetrix) and by ELISA (eBioscience). All SLE patients met ACR criteria for SLE classification.
Results: In PBMCs of SLE patients taking HCQ, there was a small non-significant trend towards fewer total cells/mL compared to SLE patients not receiving HCQ (p=0.1200) (Figure 1). There was a significant reduction in the number of B cells (p=0.0269) and CD4+ T Cells (p=0.0124), most significantly transitional B cells (p=0.0053) and effector T cells (p=0.0039) (Th1-type, Th17-type, and Tfh-type) in HCQ patients compared to non-HCQ patients (Figure 1). Cell activation was also reduced in SLE patients receiving HCQ with lower expression of HLA-DR and CD38 on B cells, IL-2 receptor and CCR6 on T cells, and CD86 expression in dendritic cells (p<0.05). Plasma soluble mediators produced primarily by monocyte, platelet and endothelial cells were significantly reduced in patients receiving HCQ, namely PDGF-BB (p=0.0009), MCP-1 (p=0.0041), PAI-1 (p=0.0114), sEselectin (p=0.0118), resistin (p=0.0360) and IL-7 (p=0.0380). No significant differences were observed in TCR and BCR signaling following stimulation, but reduced levels of PLCg in CD4+ effector T cells were found in SLE patients receiving HCQ following BCR stimulation (p=0.0275).
Conclusion: Our results indicate that SLE patients on HCQ have reductions in circulating lymphocytes, HLA-DR expression on antigen-presenting cells, and monocyte and platelet derived soluble mediators compared to patients off HCQ. In addition, reduced T cell signaling following B cell stimulation suggests that the effects of HCQ on T cells may be a result of altered antigen presentation and reduced IL-7 levels. Together these data provide potential insights into HCQ mechanisms of action in SLE patients, while suggesting use lowers the risk of thrombotic events by reducing platelet activation.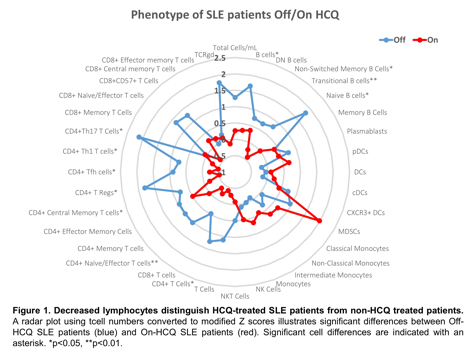 ---
Disclosure: S. Slight-Webb, None; R. Lu, None; H. Chen, None; H. T. Maecker, None; P. J. Utz, None; J. M. Guthridge, None; J. A. James, None.
To cite this abstract in AMA style:
Slight-Webb S, Lu R, Chen H, Maecker HT, Utz PJ, Guthridge JM, James JA. Hydroxychloroquine Use Is Associated with Decreased Dendritic Cell Activation and Thrombolytic Factors in SLE Patients [abstract].
Arthritis Rheumatol.
2017; 69 (suppl 10). https://acrabstracts.org/abstract/hydroxychloroquine-use-is-associated-with-decreased-dendritic-cell-activation-and-thrombolytic-factors-in-sle-patients/. Accessed October 1, 2023.
« Back to 2017 ACR/ARHP Annual Meeting
ACR Meeting Abstracts - https://acrabstracts.org/abstract/hydroxychloroquine-use-is-associated-with-decreased-dendritic-cell-activation-and-thrombolytic-factors-in-sle-patients/