Session Information
Session Type: Poster Session C
Session Time: 9:00AM-11:00AM
Background/Purpose: Social isolation during SARS-CoV-2/COVID-19 pandemic has undermined follow-up of patients with rheumatic diseases. These patients face a critical dilemma between the risk of exposure as a vulnerable population and the need of medical attention. During previous pandemics, factors associated with differential behaviors have been identified, including lack of knowledge and perception of risk. Knowledge, attitudes, and behaviors studies are used to investigate patterns of community reactions to a disease. The aim of this study was to explore the knowledge, attitudes, and behaviors of patients with rheumatic diseases in Latin America during the COVID-19 pandemic.
Methods: We performed a cross-sectional observational study by means of a digital anonymous survey (RedCap®). We included patients over 18 years old from Spanish-speaking PANLAR countries with at least one rheumatic disease (self-reported). We retrieved demographics, comorbidities, rheumatic disease treatment, adherence and self-reported activity prior and during the pandemic, COVID-19 basic knowledge, diagnosis and risk perception, information sources, adherence to precaution measures, impact on daily living, attitudes and behaviors regarding telehealth. We calculated median and interquartile range for quantitative variables and frequencies and percentages for qualitative variables.
Results: Our interim results include 1621 patients from 19 countries. The median age is 46 (37-56), most of them are women (92.4%). The most frequent rheumatic diseases were RA (54%) and SLE (26%). Self-reported disease activity increased during the pandemic (35% [8-60] vs 50% [13.5-70]). Twenty-seven (1.7%) responders were diagnosed with COVID-19. Twenty-three percent suspended at least 1 antirheumatic drug, particularly due to unavailability in pharmacies (34.7%); antimalarials were suspended by 22.2% of patients, mainly for the same reason (60.5%). Almost half reported that their follow-up appointments were cancelled and only 29% were offered an alternative. Twelve percent received telehealth, mainly via telephone (58%) and video call (34%), with a median satisfaction of 90% (62.5-100). Although 84% of responders consider telehealth as a valid strategy during the pandemic, this proportion reduces to 53.9% as a hypothetical alternative after the pandemic. An adequate knowledge on COVID-19 was found in 46%. The most frequent sources of information were television and social networks. Most patients reported a disruption in daily living due to social restrictions. Most responders reported an adequate adherence to general precautions.
Conclusion: Patients with rheumatic diseases in Latin America were negatively affected by the SARS-CoV2/COVID-19 pandemic. An increase in self-reported disease activity, a reduction in medication adherence and hurdles for medical follow-up were reported. Telehealth is perceived as a valid alternative to in-person consults during the pandemic. Attitudes and behaviors towards general precautions in this vulnerable population are reassuring. Our study is still ongoing and we present interim results; it is planned to collect data until July 31th, 2020.
Figure 1. Number of patients filling the survey per country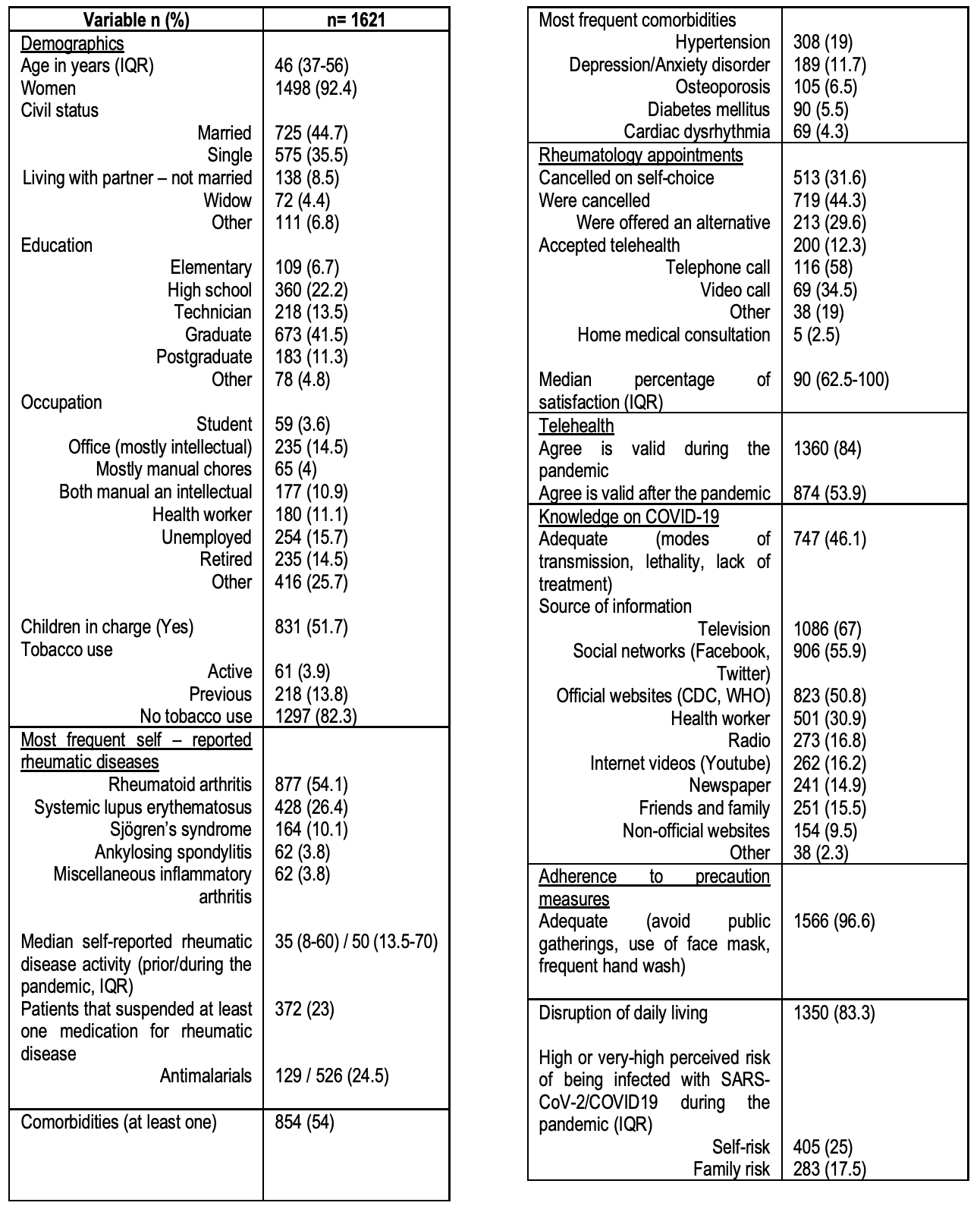 Table 1. Demographics, attitudes and practices prior and during COVID-19 pandemic of patients in Spanish-speaking PANLAR countries.
---
Disclosure: D. Fernández-Ávila, None; J. Barahona-Correa, None; D. Romero-Alvernia, None; S. Kowalski, None; A. Sapag Durán, None; A. Cachafeiro Vilar, None; B. Meléndez Muñoz, None; C. Pastelín, None; C. Ramírez, None; D. Palleiro Rivero, None; D. Jaimes, None; D. Arrieta, None; G. Pons-Estel, None; J. Then Báez, None; M. Ugarte-Gil, Janssen, 2, Pfizer, 2; M. Cardiel, None; N. Colman, None; N. Chávez Pérez, None; P. Burgos, None; R. Montufar, None; S. Sandino, None; Y. Fuentes-Silva, None; E. Soriano, AbbVie Inc., 2, 5, 8, Amgen, 2, 5, 8, Bristol Myers, 2, 5, 8, Celgene, 2, 5, 8, Janssen, 2, 5, 8, Lilly, 2, 5, 8, Novartis, 2, 5, 8, Pfizer, 2, 5, 8, UCB, 2, 5, 8, Roche, 2, 5, 8, Sanofi, 2, 5, 8.
To cite this abstract in AMA style:
Fernández-Ávila D, Barahona-Correa J, Romero-Alvernia D, Kowalski S, Sapag Durán A, Cachafeiro Vilar A, Meléndez Muñoz B, Pastelín C, Ramírez C, Palleiro Rivero D, Jaimes D, Arrieta D, Pons-Estel G, Then Báez J, Ugarte-Gil M, Cardiel M, Colman N, Chávez Pérez N, Burgos P, Montufar R, Sandino S, Fuentes-Silva Y, Soriano E. How Did SARS-CoV2/COVID-19 Pandemic Affected Patients with Rheumatic Diseases in Latin America? A Regional Survey from PANLAR [abstract].
Arthritis Rheumatol.
2020; 72 (suppl 10). https://acrabstracts.org/abstract/how-did-sars-cov2-covid-19-pandemic-affected-patients-with-rheumatic-diseases-in-latin-america-a-regional-survey-from-panlar/. Accessed November 26, 2020.
« Back to ACR Convergence 2020
ACR Meeting Abstracts - https://acrabstracts.org/abstract/how-did-sars-cov2-covid-19-pandemic-affected-patients-with-rheumatic-diseases-in-latin-america-a-regional-survey-from-panlar/