Session Information
Session Type: ACR/ARP Abstract Session
Session Time: 2:30PM-4:00PM
Background/Purpose: Physical activity reduces pain and increases physical function in people with knee osteoarthritis (OA), but few achieve recommended levels of physical activity because of pain or functional limitations. High-intensity interval training (HIIT) is a time-efficient exercise strategy with minimal joint impact that requires reduced frequency and duration of exercise compared to traditional long duration low-to-moderate intensity exercise. The purpose of this study was to determine short-term changes in outcomes among patients with symptomatic knee OA participating in a HIIT intervention.
Methods: Twenty-nine participants with symptomatic knee OA enrolled in a single-arm 12-week HIIT intervention. Participants had a mean BMI of 32 kg/m2 (2/3 were obese) and a mean age of 63 (range 44-75 years); 2/3 were women and 62% were White, 24% were Black, and 7% were Hispanic. All training was performed under one-on-one supervision from trained research personnel, 2 times per week for 12 weeks. Participants chose the mode of exercise (e.g., walking, cycling). Each training session consisted of a 3-5 minute warm-up and 10 repetitions of 1-minute bouts at individualized training intensity (based on the participant's peak oxygen consumption [VO2peak test]) with 1-minute rest periods. Baseline, 6-week, and 12-week measures included: performance-based physical function (40 meter fast-paced walk test, 30-second chair-stand test, a stair-climb test, Timed Up and Go Test), WOMAC total and subscale scores, balance measures (single leg stance, side-by-side, semi-tandem, tandem), isometric knee extensor and flexor strength, cardiorespiratory fitness (VO2peak, time to exhaustion, maximum heart rate), and body composition determined from dual energy x-ray absorptiometery (lean body mass, fat mass, visceral fat, leg lean mass, % fat). Separate linear mixed models were fit for each outcome. Fixed effects were time, age, sex, and baseline BMI, and random effects were baseline values (intercepts); correlation among visits was modeled as unstructured. Mean change between baseline, 6-week, and 12-week assessments was estimated for each outcome.
Results: At 6 weeks, statistically significant improvements were noted for all four physical function measures, isometric knee extensor strength, VO2peak, and time to exhaustion (Table). At 12 weeks, these changes continued to increase, and additional statistically significant improvements were observed for the WOMAC, single leg stand, and maximum heart rate (Table). Changes in isometric knee flexor strength and body composition were not statistically significant, although the changes in visceral fat and left leg lean mass at 12 weeks were clinically meaningful.
Conclusion: A 12-week supervised HIIT program improved WOMAC scores, physical function, balance, isometric knee extensor strength, and cardiorespiratory fitness, with most changes occurring as early as 6 weeks.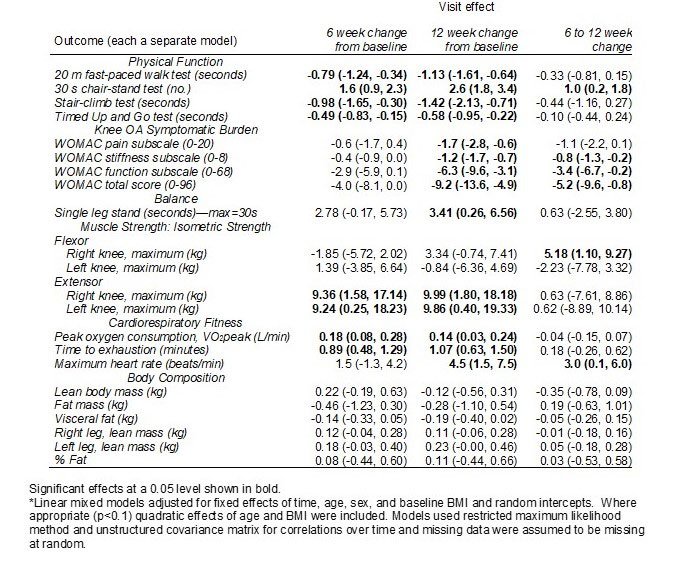 ---
Disclosure: Y. Golightly, None; C. Alvarez, None; M. Blue, None; K. Allen, None; A. Nelson, Flexion Therapeutics, 5, Health Press Ltd, 7, MedScape, 8; A. Smith-Ryan, None.
To cite this abstract in AMA style:
Golightly Y, Alvarez C, Blue M, Allen K, Nelson A, Smith-Ryan A. High Intensity Interval Training for Knee Osteoarthritis: A Pilot Study [abstract].
Arthritis Rheumatol.
2019; 71 (suppl 10). https://acrabstracts.org/abstract/high-intensity-interval-training-for-knee-osteoarthritis-a-pilot-study/. Accessed December 6, 2021.
« Back to 2019 ACR/ARP Annual Meeting
ACR Meeting Abstracts - https://acrabstracts.org/abstract/high-intensity-interval-training-for-knee-osteoarthritis-a-pilot-study/