Session Information
Session Type: Poster Session (Tuesday)
Session Time: 9:00AM-11:00AM
Background/Purpose: Chronic Hepatitis C virus infection (HCV) has been shown to be associated with connective tissue diseases (CTD). It has been hypothesized that HCV can itself induce a clonal B-cell expansion leading to extrahepatic manifestations of HCV such as arthralgia which brings the question of whether the HCV or CTD is the cause of the arthritis. This determination is very important to help guide treatment decisions. Prior studies of CTD in Patients with HCV was on interferon-based immunomodulator therapy, which has inherent immunogenicity resulting in autoimmune diseases. Current therapy for eradication of HCV includes Direct-Acting Antivirals (DAA) which are not immunomodulators. Hence, we wanted to explore the association between HCV and CTD in the current era of DAA therapy.
Methods: This study is a retrospective chart review of 619 patients seen in the Rheumatology Clinic at Ochsner LSU Helath Hospital in Shreveport, LA with a diagnosis of HCV and CTD.
Results: Out of the 9,604 patients seen in Rheumatology clinic, 619 were found to have a positive Hepatitis C Antibody (6.4%), but only 61 patients had chronic HCV infection determined by a positive viral load. In the 61 patients with HCV, the CTD was Osteoarthritis (OA) in 36 % of cases, Rheumatoid Arthritis (RA) in 21.3%; Psoriatic Arthritis (PSA) in 13.1%; Systemic Lupus Erythematosus (SLE) in 6.5% and Seronegative Inflammatory arthritis in 4.9%. There were 1-2 cases of HCV associated with other CTDs (Figure 1). Positive Rheumatoid Factor (RF) and Antinuclear Antibody (ANA) were the most prevalent positive serological markers present in 44% and 31%, respectively (Figure 2). The RF was found to be a false positive (patients did not meet American College of Rheumatology-ACR diagnostic criteria for RA) in 25% of cases with the highest level being 106 IU/ml. Two out of 13 patients diagnosed with RA had a poor response to therapy and both patients were noted to have a high viral load and high anti-citrullinated protein antibody (ACPA). The HCV genotype most commonly associated with CTD was 1A in 61 % of patients. Joint pain was the presenting symptom in 51% of patients that were subsequently diagnosed with HCV. Hydroxychloroquine and Sulfasalazine (18%) were the most commonly prescribed Disease modifying agents and Tumor Necrosis Factor inhibitors (Etanercept and Adalimumab) were used in 16% of patients without relapse of HCV (Figure 3). Corticosteroids were used in 18% of patients.
Conclusion: HCV infection even without the interferon based therapy is associated with a variety of CTDs with RA and OA being the two most prevalent. Patients with CTD would benefit from a 2-stage HCV screening with HCV antibody followed by HCV RNA on same serum sample due to high false positive antibody test in this subset of population. The presence of ACPA and erosions in addition to the ACR diagnostic criteria help diagnose RA in patients with HCV that have a higher incidence of false positive RF and joint pain. Further long term studies are needed to study the response of treating HCV with DAA to the disease course of CTD.

Figure 1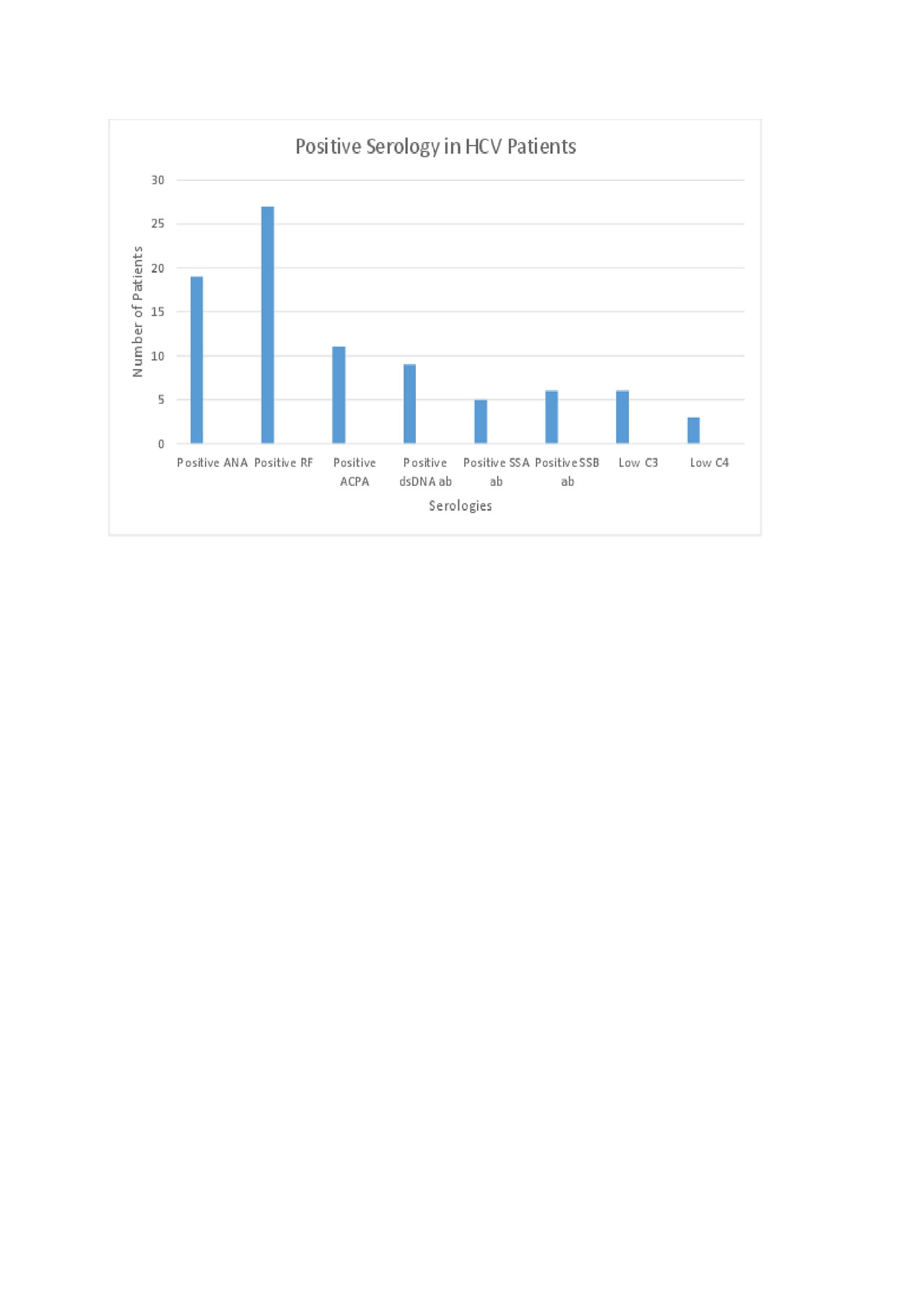 Figure 2

Figure 3
---
Disclosure: M. Malus, None; L. Pham, None; H. Samant, None; M. Katikaneni, None.
To cite this abstract in AMA style:
Malus M, Pham L, Samant H, Katikaneni M. Hepatitis C Affects More Than Just the Liver: A Retrospective Chart Review on the Prevalence of Connective Tissue Diseases and Autoantibodies in Hepatitis C Virus Infections in an Academic Rheumatology Clinic [abstract].
Arthritis Rheumatol.
2019; 71 (suppl 10). https://acrabstracts.org/abstract/hepatitis-c-affects-more-than-just-the-liver-a-retrospective-chart-review-on-the-prevalence-of-connective-tissue-diseases-and-autoantibodies-in-hepatitis-c-virus-infections-in-an-academic-rheumatolog/. Accessed April 11, 2021.
« Back to 2019 ACR/ARP Annual Meeting
ACR Meeting Abstracts - https://acrabstracts.org/abstract/hepatitis-c-affects-more-than-just-the-liver-a-retrospective-chart-review-on-the-prevalence-of-connective-tissue-diseases-and-autoantibodies-in-hepatitis-c-virus-infections-in-an-academic-rheumatolog/