Session Information
Session Type: ACR Poster Session A
Session Time: 9:00AM-11:00AM
Background/Purpose: H Syndrome is an autosomal recessive disorder characterized by cutaneous hyperpigmentation, hypertrichosis, and induration with numerous systemic manifestations. The syndrome is caused by mutations in SLC29A3, a gene located on chromosome 10q23, which encodes the human equilibrative transporter 3 (hENT3). Less than 100 patients with H syndrome have been described in the literature, with the majority being of Arab descent, and only a few from North America. Here we report five pediatric patients from three medical centers in the United States who were identified to have H syndrome by whole exome sequencing as well as their response to treatment.
Methods: All five patients presented to pediatric rheumatologists prior to diagnosis and include two of Northern European descent, bringing the total number of Caucasian patients described to three. Cases were discussed and compared in order to gather more data on H Syndrome and optimize treatment regimens.
Results: The patients were found to share many of the characteristics previously reported with H syndrome, including hyperpigmentation, hypertrichosis, short stature, insulin-dependent diabetes mellitus, arthritis and systemic inflammation, as well as some novel features, including selective IgG subclass deficiency and autoimmune hepatitis. They share genetic mutations previously described in patients of the same ethnic background, as well as a novel mutation. In two patients, treatment with prednisone improved inflammation, however both patients flared once prednisone was tapered. In one of these patients, treatment with tocilizumab alone resulted in marked improvement in systemic inflammation and growth. The other had partial response to prednisone, azathioprine, and TNF inhibition; thus, his anti-TNF biologic was recently switched to tocilizumab due to persistent polyarthritis. Another patient improved on Methotrexate, with further improvement after the addition of tocilizumab.
Conclusion: H syndrome is a rare autoinflammatory syndrome with pleiotropic manifestations that affect multiple organ systems and is often mistaken for other conditions. Rheumatologists should be aware of this syndrome and its association with arthritis. Some patients respond to treatment with biologics alone or in combination with other immune suppressants; in particular, treatment of systemic inflammation with IL-6 blockade appears to be promising. Overall, better identification and understanding of the pathophysiology may help devise earlier diagnosis and better treatment strategies.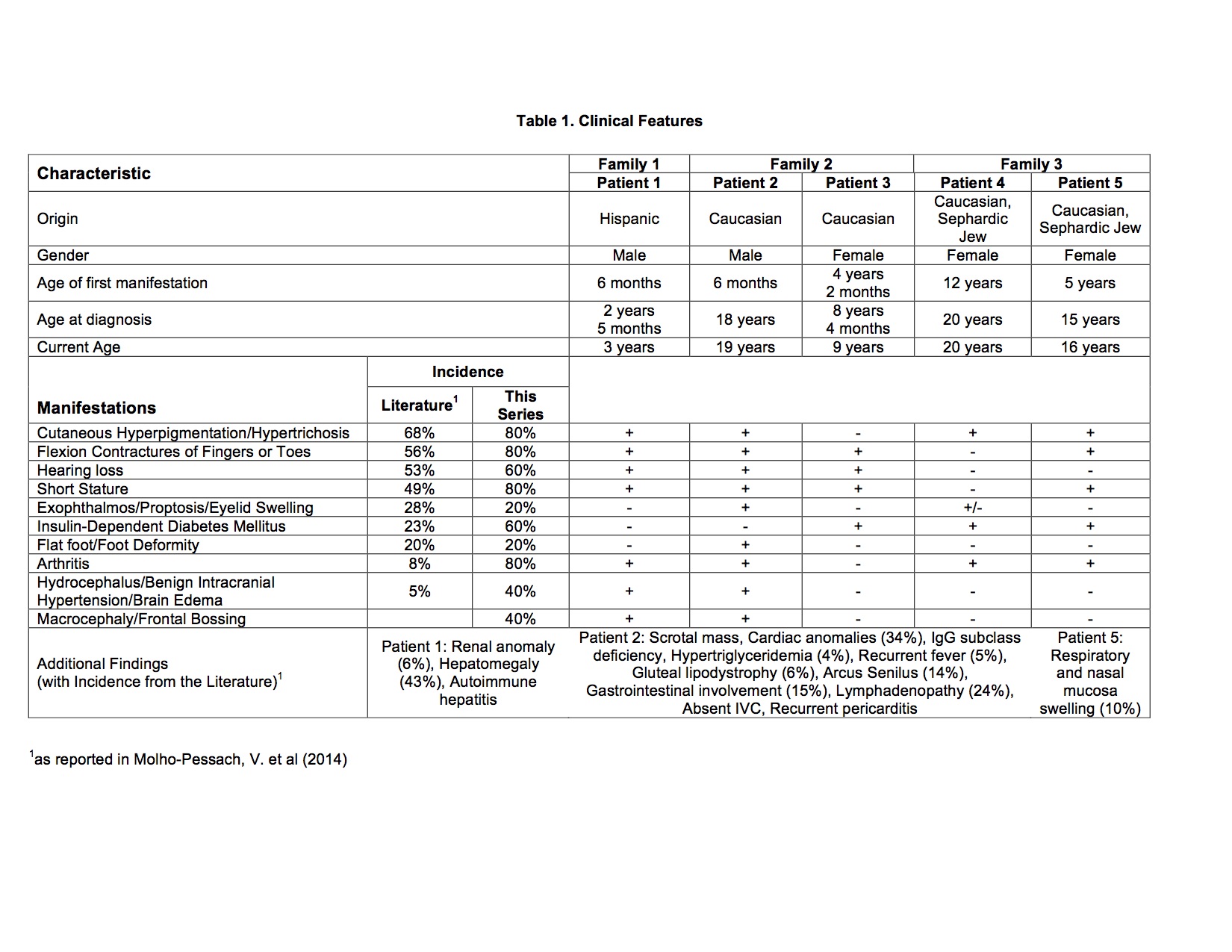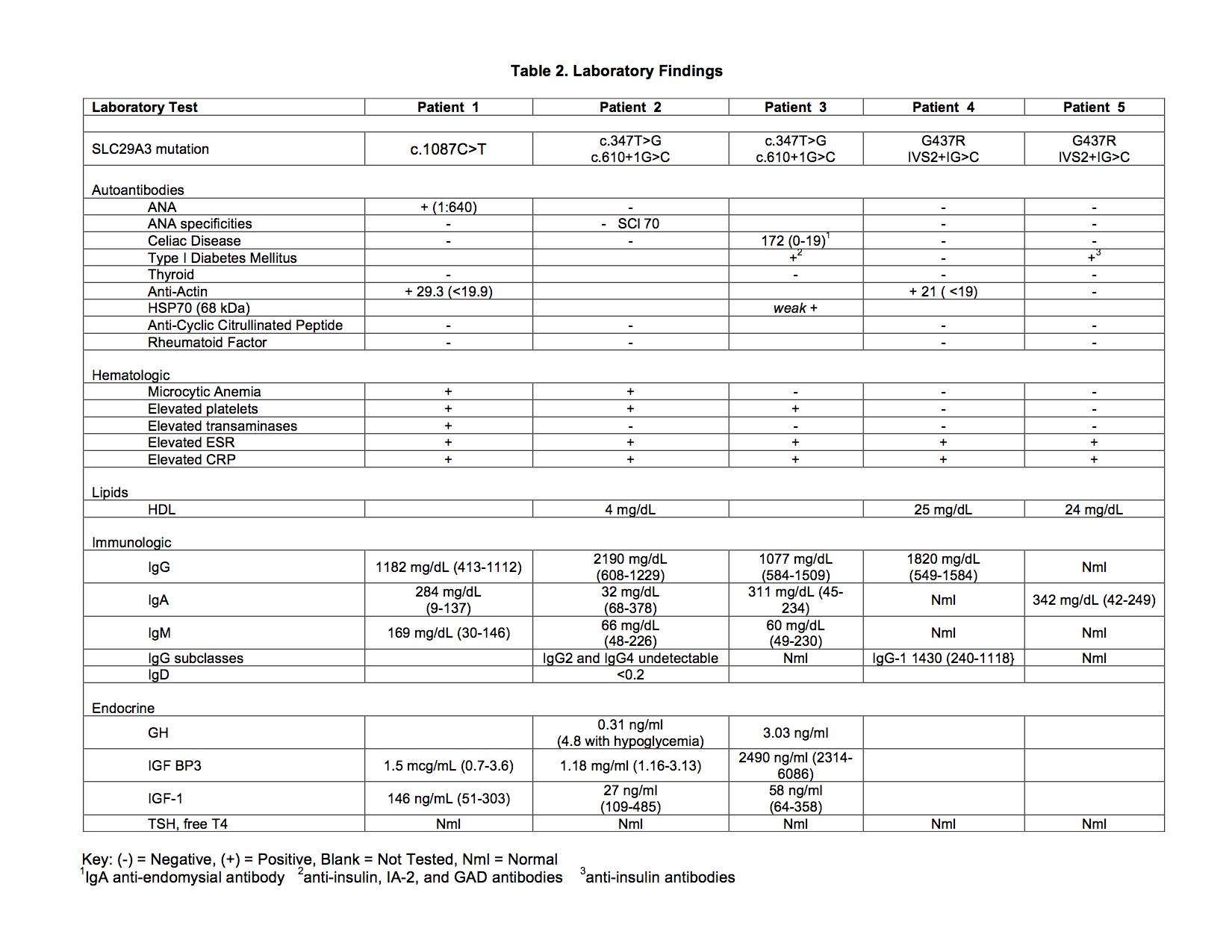 ---
Disclosure: J. Bloom, None; C. Lin, None; L. F. Imundo, None; S. Guthery, None; S. Stepenaskie, None; C. Galambos, None; A. Lowichik, None; J. F. Bohnsack, Various, 2.
To cite this abstract in AMA style:
Bloom J, Lin C, Imundo LF, Guthery S, Stepenaskie S, Galambos C, Lowichik A, Bohnsack JF. H Syndrome: Five New Cases from the United States with Novel Features and Responses to Therapy [abstract].
Arthritis Rheumatol.
2017; 69 (suppl 10). https://acrabstracts.org/abstract/h-syndrome-five-new-cases-from-the-united-states-with-novel-features-and-responses-to-therapy/. Accessed February 3, 2023.
« Back to 2017 ACR/ARHP Annual Meeting
ACR Meeting Abstracts - https://acrabstracts.org/abstract/h-syndrome-five-new-cases-from-the-united-states-with-novel-features-and-responses-to-therapy/