Session Information
Session Type: Poster Session (Tuesday)
Session Time: 9:00AM-11:00AM
Background/Purpose: Giant cell arteritis (GCA) is the most common form of vasculitis in adults and if untreated, may  result in visual impairment. Although the gold standard for diagnosis is the temporal artery biopsy (TAB), it does not detect extracranial large vessel vasculitis. New guidelines recommend early imaging, including ultrasound. Fast Track clinics (FTC) in Europe have reduced the time to rheumatology evaluation, with ultrasound replacing TAB for diagnosis in selected cases. Four rheumatologists and two vascular sonographers were trained to detect GCA by ultrasound and an FTC was established for early diagnosis and treatment of GCA. This retrospective study reports patients suspected of having GCA who went through the FTC vs those who received standard care (SC).
Methods:  
We obtained IRB approval and performed a retrospective review of patients seen through the FTC versus SC from November 2017 through May 2019. FTC inclusion criteria were patients over the age of 50 suspected of GCA who had both ultrasound and TAB. SC included patients over 50 years old suspected of GCA who received TAB. A FTC rheumatologist answered calls to a dedicated pager at a major academic center. Steroids were started immediately if diagnosis of GCA was likely; patients were seen by a rheumatologist within 48 hours and at the rheumatology clinic visit, patients were referred to vascular ultrasound and for TAB (Figure 1). Vascular ultrasound was performed by trained sonographers on a Philips Epiq 7 and interpreted by a vascular surgeon (Figure 2).
Results:  
There were 31 patients who fulfilled FTC criteria (Table 1). There were 7 positive biopsies and 13 positive ultrasounds.  In FTC patients, the median time from referral to rheumatology evaluation was 1 day, time to ultrasound was 1 day and time to TAB was 7 days. There were16 patients in the SC group and the median time to rheumatology evaluation was 3.5 days; initial presentation to TAB was 10 days. Ultrasounds were positive in 8 FTC patients who had negative biopsies, including 4 with halo sign of the temporal artery and 4 with extracranial large vessel vasculitis (LVV).
Conclusion:  
FTCs are new in the United States and may operate differently from European FTCs with some sonographers performing vascular ultrasound rather than rheumatologists. Although FTC and SC groups were not significantly different in time to TAB, vascular ultrasound detected 8 cases of vasculitis in patients with negative TAB. The high rate of positive ultrasounds is likely due to the short turnaround to ultrasound facilitated by FTC as well as detection of extracranial GCA. FTC may improve the rate of GCA and LVV diagnosis and should be considered at major academic centers.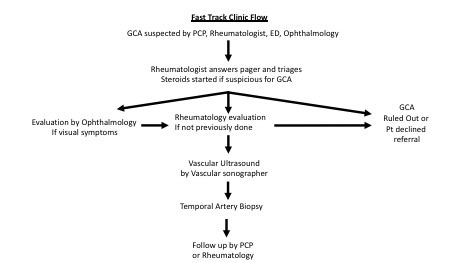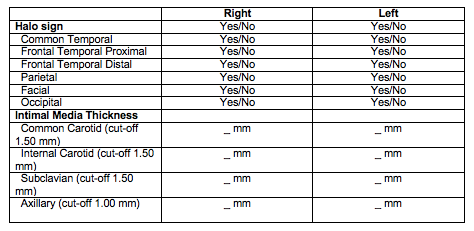 ---
Disclosure: I. Sacksen, None; E. Jernberg, None; S. Pollock, None; J. Liew, None; S. Chung, None; R. Zierler, None; A. Bays, None.
To cite this abstract in AMA style:
Sacksen I, Jernberg E, Pollock S, Liew J, Chung S, Zierler R, Bays A. Fast Track Clinic (FTC) for Giant Cell Arteritis (GCA) – the United States Experience [abstract].
Arthritis Rheumatol.
2019; 71 (suppl 10). https://acrabstracts.org/abstract/fast-track-clinic-ftc-for-giant-cell-arteritis-gca-the-united-states-experience/. Accessed February 25, 2021.
« Back to 2019 ACR/ARP Annual Meeting
ACR Meeting Abstracts - https://acrabstracts.org/abstract/fast-track-clinic-ftc-for-giant-cell-arteritis-gca-the-united-states-experience/