Session Information
Session Type: Abstract Submissions (ACR)
Background/Purpose:
Primary gout is a multifactorial disease, in which genetic background and environmental factors interact with each other. Genetic predisposition is particularly prominent in those seemingly low risk patients, such as the young and females. Women usually do not have gout until menopause, with menses as one of the most well-known protective factors of gout and hyperuricemia. We have found a rare family with three female gout patients, all of whom developed gout before menopause. The concentration of female patient with gout before menopause in this family highly suggests the involvement of genetic factors. The aim of this study is to explore the genetic factors related to gout in this female premenopausal gout family.
Methods:
Medical history, physical examination and laboratory work-up of this family were collected. Allele sharing examination and exon sequencing were carried out to study the causative genes of familial juvenile hyperuricemia nephropathy, including UMOD, RENIN, HNF1B and FJHN3, as well as HPRT1 of Lesch-Nyhan syndrome. Serum uric acid concentration quantitative trait locus ABCG2, SLC2A9, and SLC22A12 were screened by exon sequencing.
Results:
The family was composed of 4 generations and 21 members (figure 1). All three patients were females; none of the male members had gout or hyperuricemia. The proband (III-5) was a female patient who had gout at the age 28; she started allopurinol since the second attack, but her renal function deteriorated. Her mother (II-5) had recurrent acute monoarthritis since the age of 16; she was diagnosed with gout at the age of 38, with obvious decreased renal function. The aunt of the proband (II-1) had gout at the age of 46, when she still had menses. None of the three patients had other known disease prior to gout attack.
RENIN, the causative gene of Hyperuricemic Nephropathy, Familial Juvenile, type2 (HNFJ, MIM: #613092) was found to be shared in this family but not UMOD, HNF1B or FJHN3. Exon sequencing of RENIN and UMOD of patient II-5 was proved to be normal. HPRT1 of the rare Lesch-Nyhan syndrome was excluded by exon sequencing.
Multiple single nucleotide polymorphisms of gene ABCG2, SLC2A9 and SLC22A12 were found in patient II-5, including one locus known to be highly associated with gout, SNP rs2231142 (C>A) of gene ABCG2. Nearly all of the family members carry the risk A allele.
Conclusion:
In this premenopausal gout family, all known causative genes of gout were found to be negative. ABCG2 rs2231142 (C>A) polymorphism was found in both female patients and male healthy members of this family.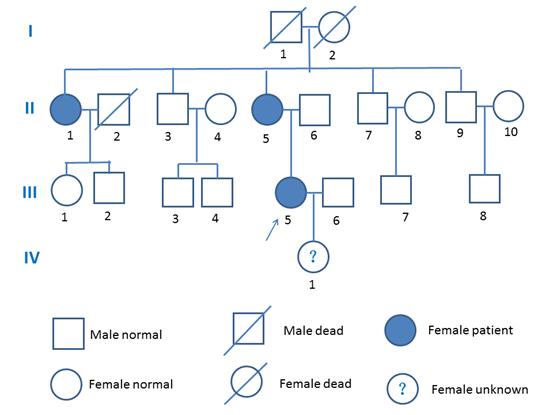 Figure 1 pedigree of the family
---
Disclosure:
B. Zhang,
None;
S. Liu,
None;
N. Si,
None;
Y. Zhang,
None;
X. Zeng,
None.
« Back to 2013 ACR/ARHP Annual Meeting
ACR Meeting Abstracts - https://acrabstracts.org/abstract/familial-aggregation-of-female-premenopausal-gout-monogenic-polygenic-or-clinical-coincidence/