Session Information
Session Type: Abstract Submissions (ACR)
Background/Purpose: Active joint inflammation and structural damage in patients with rheumatoid arthritis (RA) often result in impaired physical function and ultimately work disability.1,2 Lost productivity is associated with higher costs than direct expenditures in determining overall RA costs.3 In a recent multinational database study, more than one third of patients working at the time of onset of RA symptoms reported work disability.2 In a 2006 systematic review, two thirds of employed RA patients reported RA-related loss of productivity in the prior year.4 Despite advances in RA treatment, work disability remains a persistent problem. The objective of the analysis presented here was to assess predictors of impairment in work productivity in patients with moderately active RA (3.2Methods: Patients achieving DAS28 low disease activity (DAS28 ≤3.2, avg wk 12–36 and at wk 36) following 36 wks of open-label treatment with etanercept (ETN) 50 mg QW + methotrexate (MTX; E50/M) were randomized to receive E50/M (n=202), ETN 25 mg QW + MTX (E25/M; n=202), or ETN placebo + MTX (P/M; n=200) as double-blind treatment for 52 wks. The Work Productivity Activity Impairment Questionnaire: Rheumatoid Arthritis (WPAI:RA) was administered at baseline (BL) and wk 88, after double-blind treatment. Correlation (Pearson's r) and linear regression analyses were conducted: the dependent variable was % of overall work impairment in WPAI:RA; independent variables were age, gender, and RA duration at BL, and HAQ score ≤0.5 vs >0.5, PtGA of disease activity, pain score, FACIT-Fatigue score, WPAI:RA score, and treatment at wk 36.
Results: No significant association was observed between patients' age and gender at BL or pain or FACIT-Fatigue scores at wk 36 and % overall work impairment at wk 88 (table). In contrast, disease duration at BL as well as HAQ score >0.5, PtGA of disease activity, and WPAI:RA score at wk 36 were significant predictors of work impairment (P<0.05). After controlling for other factors, in comparison with P/M, E50/M provided greater benefit in improving work productivity at wk 88 (P<0.05), whereas E25/M did not.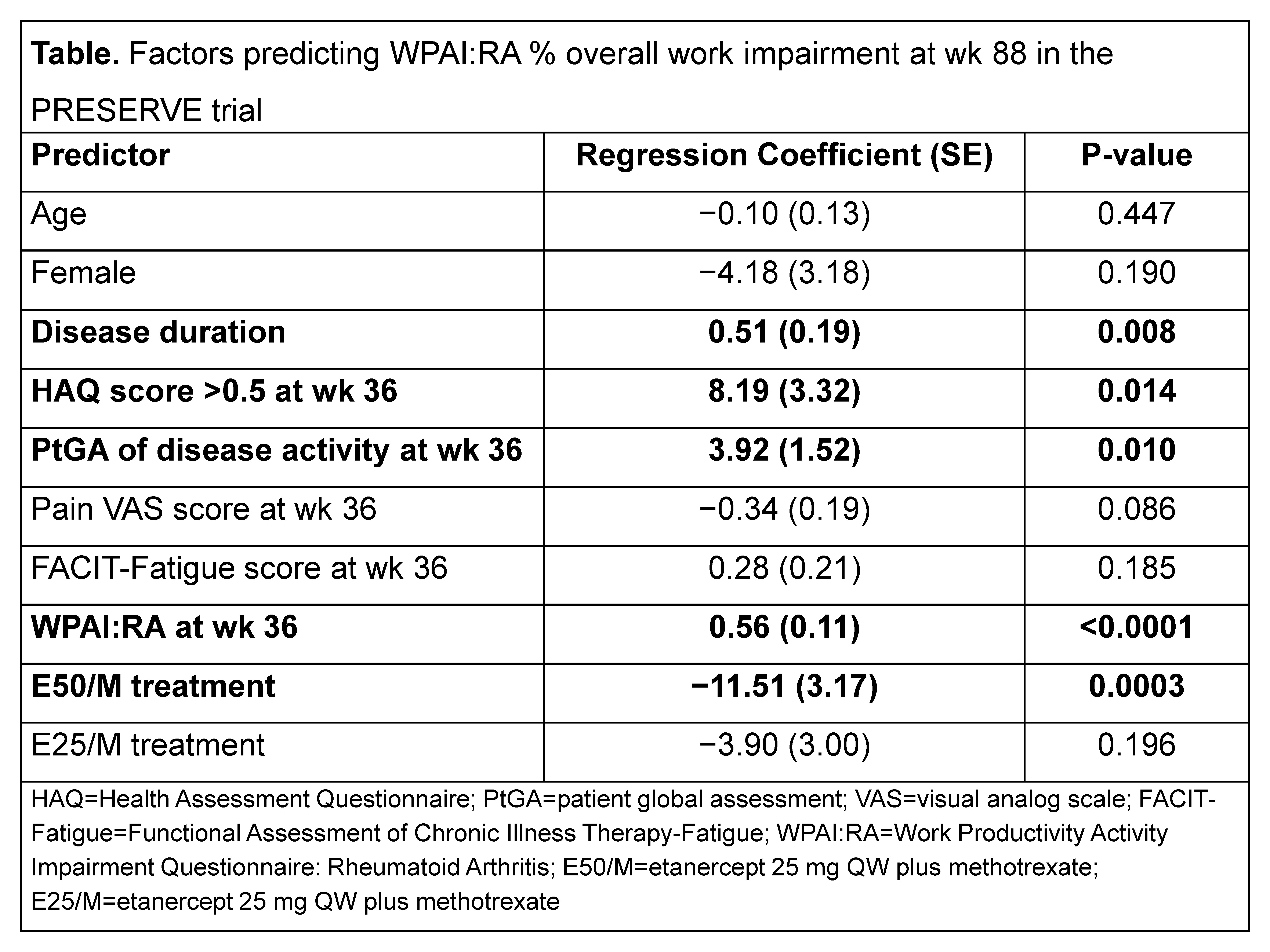 Conclusion: Disease duration, HAQ score >0.5, PtGA, and work impairment at baseline were significant predictors of work impairment at end of the study in this population of patients with moderately active RA. Significant improvement in the overall percentage of work productivity was evident in patients receiving etanercept 50 mg plus methotrexate compared with placebo plus methotrexate.
References:  1. Verstappen SMM, et al. Arthritis Rheum. 2004;51:488–97. 2. Sokka T, et al. Arthritis Res Ther. 2010;12:R42. 3. Ruof J, et al. Ann Rheum Dis. 2003;62:544–50. 4. Burton W, et al. Occup Med. 2006;56:18–27.
---
Disclosure:
V. Strand,
Pfizer Inc,
5;
T. V. Jones,
Pfizer Inc,
1,
Pfizer Inc,
3;
W. Li,
Pfizer Inc,
3;
A. S. Koenig,
Pfizer Inc,
1,
Pfizer Inc,
3;
S. Kotak,
Pfizer Inc,
1,
Pfizer Inc,
3.
« Back to 2012 ACR/ARHP Annual Meeting
ACR Meeting Abstracts - https://acrabstracts.org/abstract/factors-that-impact-work-productivity-in-the-preserve-trial-a-randomized-controlled-trial-of-combination-etanercept-methotrexate-therapy-in-patients-with-moderately-active-rheumatoid-arthritis/