Session Information
Session Type: Poster Session (Tuesday)
Session Time: 9:00AM-11:00AM
Background/Purpose: Knowledge and research results in the field of hand osteoarthritis (hOA) are currently limited, mainly due to the unavailability of tissue samples to develop in vitro studies and lack of animal models of this disease. Cellular in vitro models are important tools to elucidate the molecular mechanisms and pathways that are involved in hOA, but current cell sources present disadvantages. Induced Pluripotent Stem cells (iPSc) generated by genetic reprogramming of somatic cells are considered ideal tools for these purposes, since they allow the use of unlimited cells with chondrogenic differentiation potential. Therefore, the aim of this study was to generate iPSc-lines from patients with hOA and healthy donors, to evaluate the presence of at-risk single nucleotide polymorphisms (SNPs), and to assess their chondrogenic differentiation potential in order to use them as cellular models of hOA.
Methods: Patients with hOA (non erosive hOA with thumb OA) and a healthy donor were selected for the study. Fibroblasts from 3mm skin biopsies of these patients were isolated. For the reprogramming, transcriptional factors Oct4, Sox2, Klf4 and c-Myc were introduced in these cells by using Sendai virus modified vectors. Cell lines obtained were morphologically, phenotypically and functionally characterized (Fig 1A). To evaluate weather these iPSc lines could be used as cellular model of hOA, presence of 10 SNPs within genes previously associated with hOA was studied by Sanger sequencing. Finally, chondrogenic differentiation capacity of the "healthy" and "ill" iPSc-lines was studied by means of histological techniques after 21 days in micromass culture.
Results: Fibroblasts were isolated from skin biopsies of two patients with radiographic hOA and one healthy donor. Embryonic stem cell-like colonies emerged in culture three weeks after reprogramming, which fulfilled the morphologic and phenotypic criteria to be considered pluripotent cells. This means, positivity for alkaline phosphatase activity (Fig 1B) and the pluripotency markers Tra1-81 and Nanog (Fig 1C), high relative expression levels of the pluripotency-related genes OCT4, SOX2, NANOG and CRIPTO, and capacity to give rise to cells from the three germ layers. Regarding SNPs studies, we found sequence variants in 6 out of the 10 genes studied. Interestingly, the at-risk allele within the genes SMAD3 and IL1-R1 was just detected in the "ill" iPSc-lines (Fig 1D). Finally, The "ill" iPSc-line (MOAFiPS 15/645#7) showed worse chondrogenic differentiation than the "healthy" iPSc-line (NFiPS 15/637#7), as shown by the micromasses collagen and proteoglycan content (Fig 1E).
Conclusion: To our knowledge, the generation of iPSc-lines form patients with hOA is reported for the first time. The presence of sequence variants within the studied genes was maintained after fibroblast reprogramming. The generated iPSc-lines showed differences in their chondrogenic differentiation capacity, demonstrating their usefulness to model hOA in vitro, and to deeper study the role of these genetic variants in the pathogenesis of hOA.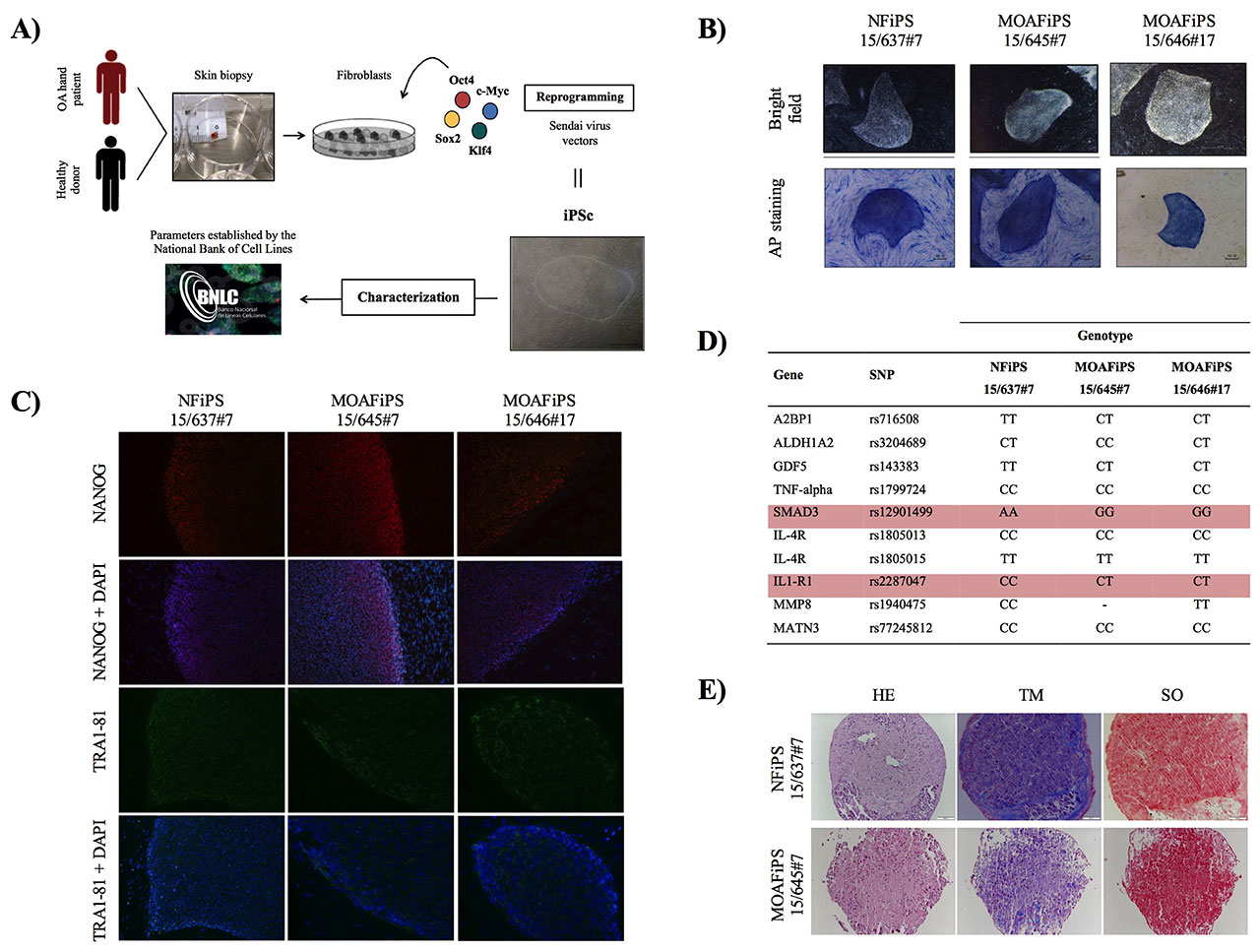 ---
Disclosure: R. Castro-Viñuelas, None; C. Sanjurjo-Rodríguez, None; M. Piñeiro-Ramil, None; S. Rodríguez-Fernández, None; T. Hermida-Gómez, None; F. De Toro, None; I. Fuentes-Boquete, None; F. Blanco, None; S. Díaz-Prado, None.
To cite this abstract in AMA style:
Castro-Viñuelas R, Sanjurjo-Rodríguez C, Piñeiro-Ramil M, Rodríguez-Fernández S, Hermida-Gómez T, De Toro F, Fuentes-Boquete I, Blanco F, Díaz-Prado S. Establishing an in Vitro Model of Hand Osteoarthritis by Generating Induced Pluripotent Stem Cells (iPSc) That Carry Single Nucleotide Polymorphisms Associated with Hand Osteoarthritis Risk [abstract].
Arthritis Rheumatol.
2019; 71 (suppl 10). https://acrabstracts.org/abstract/establishing-an-in-vitro-model-of-hand-osteoarthritis-by-generating-induced-pluripotent-stem-cells-ipsc-that-carry-single-nucleotide-polymorphisms-associated-with-hand-osteoarthritis-risk/. Accessed January 23, 2022.
« Back to 2019 ACR/ARP Annual Meeting
ACR Meeting Abstracts - https://acrabstracts.org/abstract/establishing-an-in-vitro-model-of-hand-osteoarthritis-by-generating-induced-pluripotent-stem-cells-ipsc-that-carry-single-nucleotide-polymorphisms-associated-with-hand-osteoarthritis-risk/