Session Information
Session Type: Poster Session (Monday)
Session Time: 9:00AM-11:00AM
Background/Purpose: Gastro-intestinal (GI) involvement is universal in systemic sclerosis (SSc) and may affect the entire length of the bowel, most commonly the esophagus (1).  The pathogenesis is unknown but it is proposed that vasculopathy, immune-mediated abnormalities, fibrosis and atrophy, all contribute to disruption of GI function in SSc.  Esophageal involvement has been associated with more severe scleroderma-related interstitial lung disease (SSc-ILD), which is a major cause of morbidity and mortality (2,3,4).  Pulmonary function tests (PFT) and high resolution chest CT scan (HRCT) are commonly used to evaluate for SSc-ILD.  Common HRCT findings may include potentially reversible changes such as ground glass opacities (GGO), and irreversible findings such as fibrosis, traction bronchiectasis and honeycombing (5).  We sought to study the association of abnormal endoscopic and HRCT findings in our SSc cohort with ILD.
Methods: We examined the records of 140 SSc outpatients, all of whom met the 2013 ACR criteria for SSc (6).  SSc-ILD was confirmed by HRCT associated with restrictive pattern on PFT.  Descriptive HRCT findings included outcomes of honeycombing, bronchiectasis, and GGO. Pearson chi-square tests and student's t-tests were used to assess differences in distributions of clinical and sociodemographic variable across outcomes, respectively.  Odds ratios of presence of honeycombing, bronchiectasis and GGO were estimated using logistic regression.
Results: A total of 140 SSc patients were enrolled, of whom 71 had endoscopies performed. Among those who were scoped, 68 (96%) had abnormalities detected, of which the majority were gastritis (n=40, 59%) and esophagitis (n=26, 38%).  SSc patients with GGO on HRCT were less likely to have esophagitis than those without GGO (53% vs 25%, p=0.02; table 1).  Patients with gastritis had 3.2 times higher odds of having GGO than patients with esophagitis (95% Confidence interval=0.76-13.41; table 2).  We observed no significant differences in demographics, disease duration or serologic status between SSc patients with and without ILD who had abnormal endoscopies.
Conclusion: Abnormal endoscopies are common in SSc.  Patients with SSc-ILD had a higher prevalence of gastritis relative to esophagitis, and those with gastritis had a higher likelihood of having GGO on HRCT.  Larger prospective studies are needed to elucidate any causal relationship and to better understand the complex relationship between the upper GI tract and pulmonary findings in patients with SSc-ILD.
References:
Tian X. et al: World Journal of Gastroenterology 2013; 19:7062
Wells A. et al: Semin Respir Crit Care 2014; 35: 213
Marie I et al: Arthritis Care & Res 2001; 45: 46
Christmann RB et al: Semin Arthritis Rheum 2010; 40: 241
Yabuuch H et al: Clinical Radiology 2014; 69: 758
Hoogen et al: Arthritis Rheumatol 2013: 65: 2737 and Ann Rheum Dis 2013: 72: 1747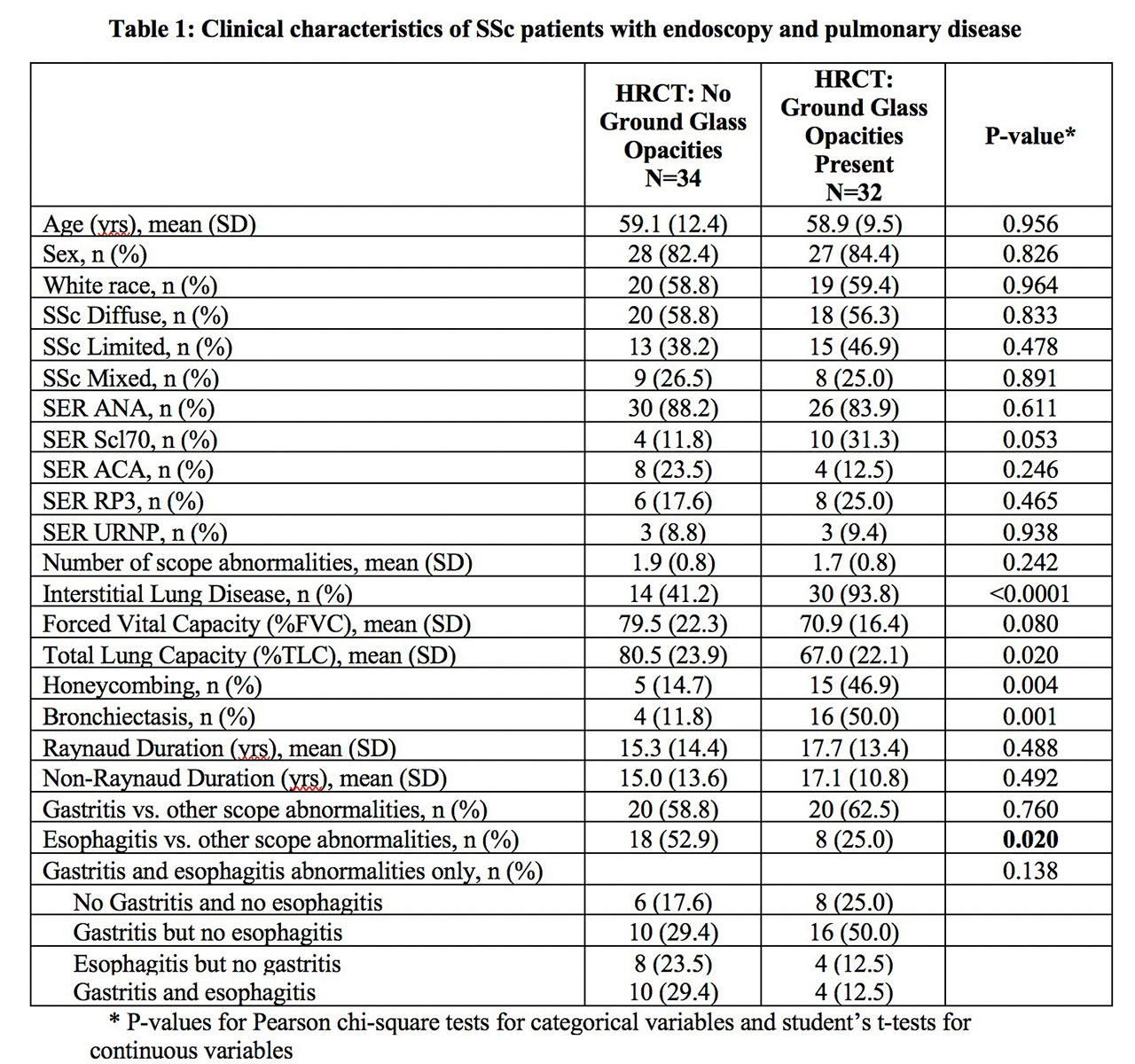 ---
Disclosure: M. Parmar, None; M. Carnaru, None; A. Patel, None; V. Hsu, None.
To cite this abstract in AMA style:
Parmar M, Carnaru M, Patel A, Hsu V. Endoscopic Findings in a Scleroderma Cohort with and Without Interstitial Lung Disease [abstract].
Arthritis Rheumatol.
2019; 71 (suppl 10). https://acrabstracts.org/abstract/endoscopic-findings-in-a-scleroderma-cohort-with-and-without-interstitial-lung-disease/. Accessed January 16, 2021.
« Back to 2019 ACR/ARP Annual Meeting
ACR Meeting Abstracts - https://acrabstracts.org/abstract/endoscopic-findings-in-a-scleroderma-cohort-with-and-without-interstitial-lung-disease/