Session Information
Session Type: ACR Concurrent Abstract Session
Session Time: 2:30PM-4:00PM
Background/Purpose: Vedolizumab therapy for inflammatory bowel disease (IBD) has been associated with mild spondyloarthritis (SpA) related features including sacroiliitis and synovitis. Herein, we report a series of cases demonstrating the emergence of severe SpA associated enthesitis/osteitis following successful IBD therapy with vedolizumab. 
Methods: We evaluated 11 vedolizumab treated patients with IBD across 7 centres that developed severe active SpA and/or enthesopathy with the aim of characterising the vedolizumab associated SpA or entheseal flares. Imaging features demonstrating particularly severe disease were recorded. 
Results: De novo SpA developed in 9 of 11 patients and flare of known SpA in 2 patients with 4 cases requiring hospitalisation due to disease severity.  Available data showed that 1/7 cases were HLA-B27 positive.  The median time from vedolizumab initiation to flare was 12 weeks with IBD well controlled in 7/10 (no data 1 case) at flare.  Severe SpA enthesitis/osteitis was evident on magnetic resonance imaging (MRI) or ultrasound (figure 1) including acute sacroiliitis (n=5), extensive vertebral osteitis (n=1), peri-facetal oedema (n=1), and isolated peripheral enthesitis (n=3). Due to arthritis severity, vedolizumab was discontinued in 9 of 11 cases and a change in therapy including alternative anti-TNF was initiated. Patient characteristics and outcomes are outlined in table 1.
Conclusion: Severe SpA, predominantly HLA-B27 negative, with osteitis/enthesitis, may occur under successful vedolizumab treatment for IBD.  These cases pose the question why in the face of quiescent gut disease do patients develop a severe SpA/ enthesitis? The binding of α4β7 to adhesion molecules to MADCAM-1/ VCAM-1 for T cell transportation into mucosal or vascular tissue, may not be dependent for disease at entheseal or joint tissue and would therefore not hinder adaptive T cell responses at these locations. This proposed model of pathogenesis offers an explanation for these severe SpA flares (figure 2). As we anticipate increasing use of α4β7 inhibition, awareness of this paradoxical reaction and specific phenotype amongst rheumatologists and gastroenterologists alike, can facilitate combined management decisions for effective treatment of IBD and SpA or enthesitis.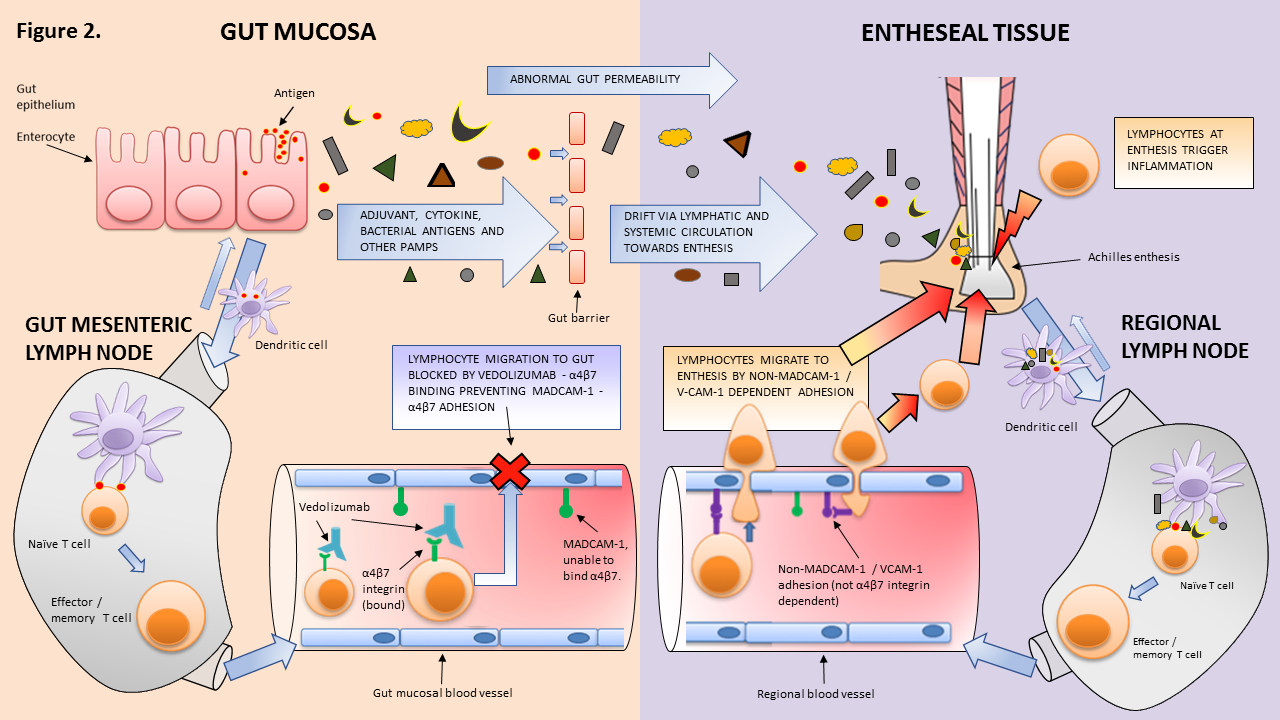 ---
Disclosure: S. Dubash, None; M. Thiraupathy, None; I. Tinazzi, None; T. Al Araimi, None; C. Pagnoux, None; A. Weizman, AbbVie Inc., 5, 8,Takeda, 5, 8,Ferring, 5, 8,Janssen, 5, 8,Pfizer, Inc., 8,Pendopharm, 8; P. Richette, None; M. L. Tran Minh, None; M. Allez, None; A. Singh, None; F. Ciccia, None; J. Hamlin, None; A. L. Tan, None; H. Marzo-Ortega, AbbVie Inc., Celgene, Janssen, Pfizer, Lilly, Novartis, UCB., 2, 5, 8; D. McGonagle, AbbVie Inc., Celgene, Janssen, Pfizer, Lilly, Novartis, UCB., 2, 5, 8.
To cite this abstract in AMA style:
Dubash S, Thiraupathy M, Tinazzi I, Al Araimi T, Pagnoux C, Weizman A, Richette P, Tran Minh ML, Allez M, Singh A, Ciccia F, Hamlin J, Tan AL, Marzo-Ortega H, McGonagle D. Emergence of Severe Spondyloarthropathy Related Entheseal Pathology Following Successful Vedolizumab Therapy for Inflammatory Bowel Disease [abstract].
Arthritis Rheumatol.
2018; 70 (suppl 9). https://acrabstracts.org/abstract/emergence-of-severe-spondyloarthropathy-related-entheseal-pathology-following-successful-vedolizumab-therapy-for-inflammatory-bowel-disease/. Accessed December 9, 2022.
« Back to 2018 ACR/ARHP Annual Meeting
ACR Meeting Abstracts - https://acrabstracts.org/abstract/emergence-of-severe-spondyloarthropathy-related-entheseal-pathology-following-successful-vedolizumab-therapy-for-inflammatory-bowel-disease/