Session Information
The 2020 Pediatric Rheumatology Symposium, originally scheduled for April 29 – May 2, was postponed due to COVID-19; therefore, abstracts were not presented as scheduled.
Session Type: Plenary Session III
Session Time: 11:00AM-12:00PM
Background/Purpose: MAS is a severe complication of rheumatic diseases and occurs most frequently in patients with sJIA. Data from animal models and from observational studies in patients suggest that interferon gamma (IFNy) is a driver of the hyperinflammation and hypercytokinemia observed in MAS. The purpose of this study is to assess the pharmacokinetics, efficacy, and safety of intravenous (IV) infusions of emapalumab, a fully human anti-IFNγ monoclonal antibody, in patients with MAS in the context of sJIA.
Methods: This ongoing, pilot, open-label, single-arm study (NCT03311854) includes patients with MAS (2016 ACR/EULAR criteria) on a background of confirmed, or high presumption of, sJIA, and with inadequate response to high-dose IV glucocorticoids. Emapalumab is initiated at 6 mg/kg (1 dose) and continued at 3 mg/kg twice weekly for a total of 4 weeks, or less upon achievement of complete response (CR). CR is defined as an absence of MAS clinical signs plus white blood cell and platelet counts above the lower limit of normal, LDH, AST and ALT < 1.5 x upper limit of normal, fibrinogen >100 mg/dL, and ferritin decreased by ≥80% or to < 2,000 ng/mL.
Results: We report preliminary data from the first 9 patients (median age [range] 11.6 [2.1–25.3] years) enrolled (7 in Europe and 2 in the USA). All patients had failed high-dose methylprednisolone, of which there were prior treatment failures from cyclosporin A (n=4) and from anakinra (n=4). Treatment with emapalumab resulted in rapid IFNγ neutralization, as demonstrated by the decrease in CXCL9 levels (Figure 1), and subsequent deactivation of T cells, as indicated by the decrease in sIL-2R levels. CR was achieved in all patients after a median of 23 (12-56) days. A progressive improvement in all clinical and laboratory parameters of MAS was observed (Table 1 and Figure 2). Glucocorticoids were tapered in all patients (median % tapering -92%; range -45% to -98% at Week 8). Emapalumab infusions were well tolerated by all patients, with no discontinuation. CMV reactivation was reported in 1 patient as a serious event possibly related to emapalumab and it resolved with antiviral treatment.
Conclusion: Emapalumab administration led to rapid neutralization of IFNy and was efficacious in controlling MAS with a favorable safety profile. These results support the pathogenic role of IFNγ in MAS/sJIA and the therapeutic value of IFNγ neutralization in MAS patients who have failed standard of care.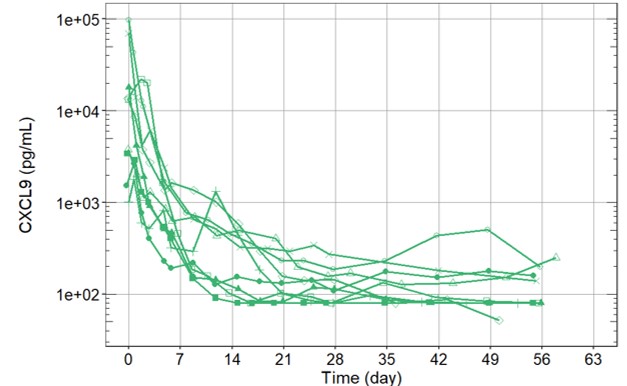 Figure 1: Rapid neutralization of IFNy. Each line represents an individual patient (n=9).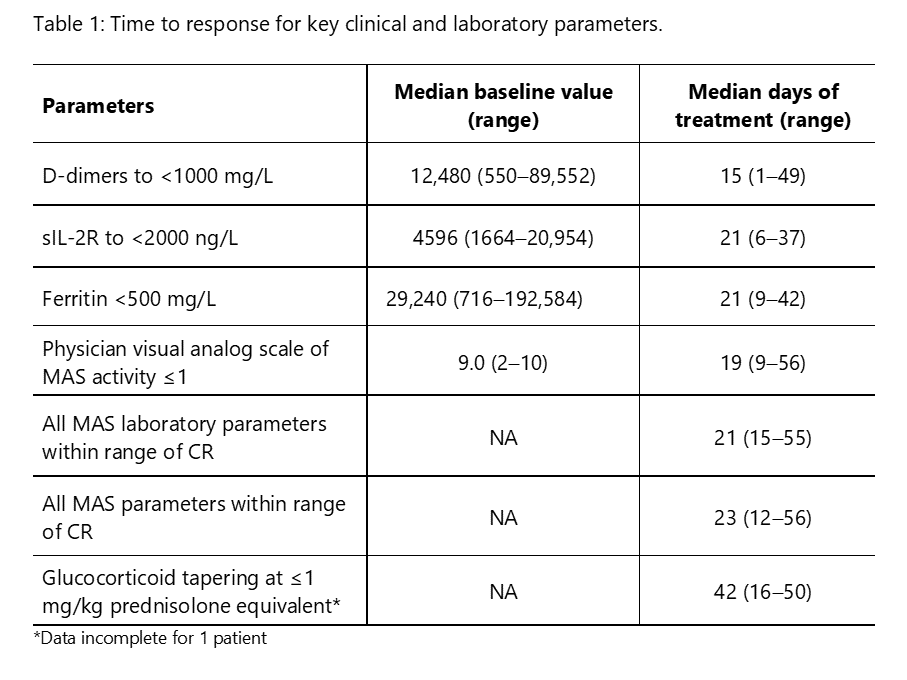 Table 1: Time to response for key clinical and laboratory parameters.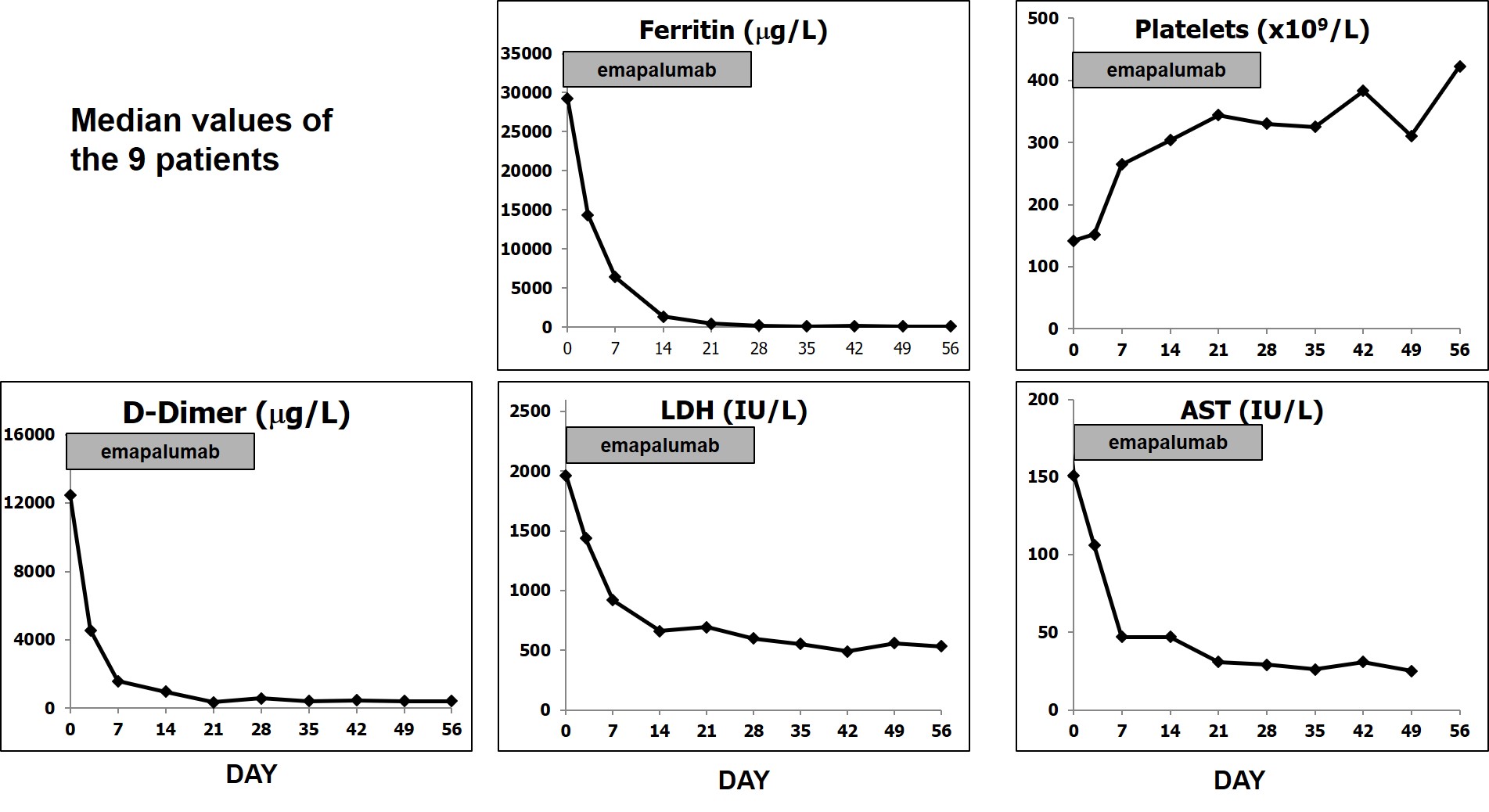 Figure 2: Ferritin levels and platelet counts over time.
---
Disclosure: F. De Benedetti, Novartis, 1, 2, Novimmune, 1, Sobi, 1, 2, Roche, 1, 2, Pfizer, 1, Sanofi, 1, AbbVie, 1, Novimmune/Sobi, 1; P. Brogan, Roche, 1, 2, 3; C. Bracaglia, None; M. Pardeo, None; G. Marucci, None; E. Sacco, None; D. Eleftheriou, Roche, 1, 2, Lilly, 1, 2, Pfizer, 1; C. Papadopoulou, None; A. Grom, Norvatis, 1, SOBI, 1; P. Quartier, Novartis, 1, 2, Sanofi, 1, 2, BMS, 1, Pfizer, 1, Sobi, 1, 2, AbbVie, 1, 2, Chugai-Roche, 1, 2, Lilly, 1, 2; R. Schneider, Novartis, 1, Novimmune, 1, Sobi, 1; P. Jacqmin, Sobi, 1; R. Frederiksen, Sobi, 1; M. Ballabio, SOBI, 1; C. de Min, Sobi, 1.
To cite this abstract in AMA style:
De Benedetti F, Brogan P, Bracaglia C, Pardeo M, Marucci G, Sacco E, Eleftheriou D, Papadopoulou C, Grom A, Quartier P, Schneider R, Jacqmin P, Frederiksen R, Ballabio M, de Min C. Emapalumab (Anti-Interferon-Gamma Monoclonal Antibody) in Patients with Macrophage Activation Syndrome (MAS) Complicating Systemic Juvenile Idiopathic Arthritis (sJIA) [abstract].
Arthritis Rheumatol.
2020; 72 (suppl 4). https://acrabstracts.org/abstract/emapalumab-anti-interferon-gamma-monoclonal-antibody-in-patients-with-macrophage-activation-syndrome-mas-complicating-systemic-juvenile-idiopathic-arthritis-sjia/. Accessed February 3, 2023.
« Back to 2020 Pediatric Rheumatology Symposium
ACR Meeting Abstracts - https://acrabstracts.org/abstract/emapalumab-anti-interferon-gamma-monoclonal-antibody-in-patients-with-macrophage-activation-syndrome-mas-complicating-systemic-juvenile-idiopathic-arthritis-sjia/