Session Information
Session Type: Late-Breaking Abstract Session
Session Time: 11:30AM-11:45AM
Background/Purpose: MAS is a life-threatening complication of rheumatic diseases, occurring most frequently in sJIA. The mainstay of MAS treatment is high dose GCs; however, GCs do not always provide adequate control in all patients. Morbidity and mortality remain high. IFNγ neutralization reverts signs and symptoms of MAS in murine models, and high levels of the IFNγ-induced chemokine CXCL9 strongly correlate with MAS severity, suggesting that IFNγ overproduction is pathogenic in MAS. This trial assessed the efficacy and safety of intravenous infusions of emapalumab, a fully human, anti-IFNγ monoclonal antibody, in sJIA patients with MAS who had failed treatment with high dose GCs.
Methods: Pilot, open-label, single-arm study (NCT03311854) enrolling sJIA patients with MAS (2016 ACR/EULAR criteria) who failed high-dose GCs. Emapalumab was initiated at 6 mg/kg and continued at 3 mg/kg every 3 days until day 15, and twice weekly until day 28. Study duration was at least 8 weeks. Complete response (CR) criteria are shown in Table 1. All patients entered a 1-year follow-up study.
Results: 14 patients (10 females) (median age 11 years, range 2–25) were enrolled (11 in Europe, 3 in the USA). In addition to high-dose GCs, several patients had previously received cyclosporine A and/or anakinra. 6 patients received emapalumab until day 28; in 7 patients, emapalumab was discontinued early due to MAS remission (investigator's assessment); 1 patient received treatment up to day 38. Emapalumab treatment resulted in rapid IFNγ neutralization, as demonstrated by CXCL9 reduction (Figure 1). During the study, 13/14 patients achieved CR, as per study protocol criteria (Figure 2). In the remaining 1 patient (who stopped emapalumab after 3 doses because of achievement of MAS remission as per investigator's assessment), lactate dehydrogenase (LDH) levels remained >1.5× upper limit of normal (ULN) (421 U/L; ULN 243 U/L). At week 8, 11/14 patients had CR; 2 achieved CR during the study but not at week 8 because of 1 laboratory parameter abnormality in each patient [white blood cell count below the lower limit of normal (LLN) (4.77×109/L, LLN 5.5×109/L; LDH levels >1.5× the ULN (741 U/L, ULN 420 U/L)]. By week 8, GCs were tapered in all patients: in 12 patients by at least 50%; in 8 to ≤1mg/kg/day. While emapalumab was effective in controlling MAS, underlying sJIA required additional therapy, including anakinra in 10 patients. Emapalumab was well tolerated, with no discontinuations for safety reasons. 1 cytomegalovirus reactivation was reported as a serious event, possibly related to emapalumab, and resolved with antiviral treatment. All patients were reported alive at the last visit. One episode of MAS recurrence occurred in 1 patient about 12 months after last emapalumab dose: emapalumab was not measurable in the blood.
Conclusion: Emapalumab administration led to rapid IFNγ neutralization, was efficacious in controlling MAS in all patients and was well tolerated with a favorable safety profile. These results support the pathogenic role of IFNy in MAS in sJIA and the therapeutic value of IFNy neutralization in MAS patients who have failed high-dose GCs.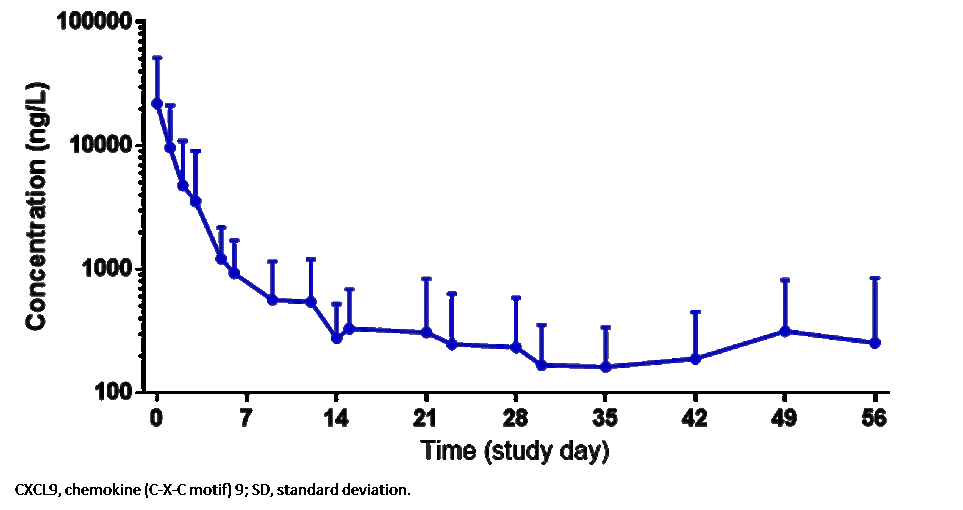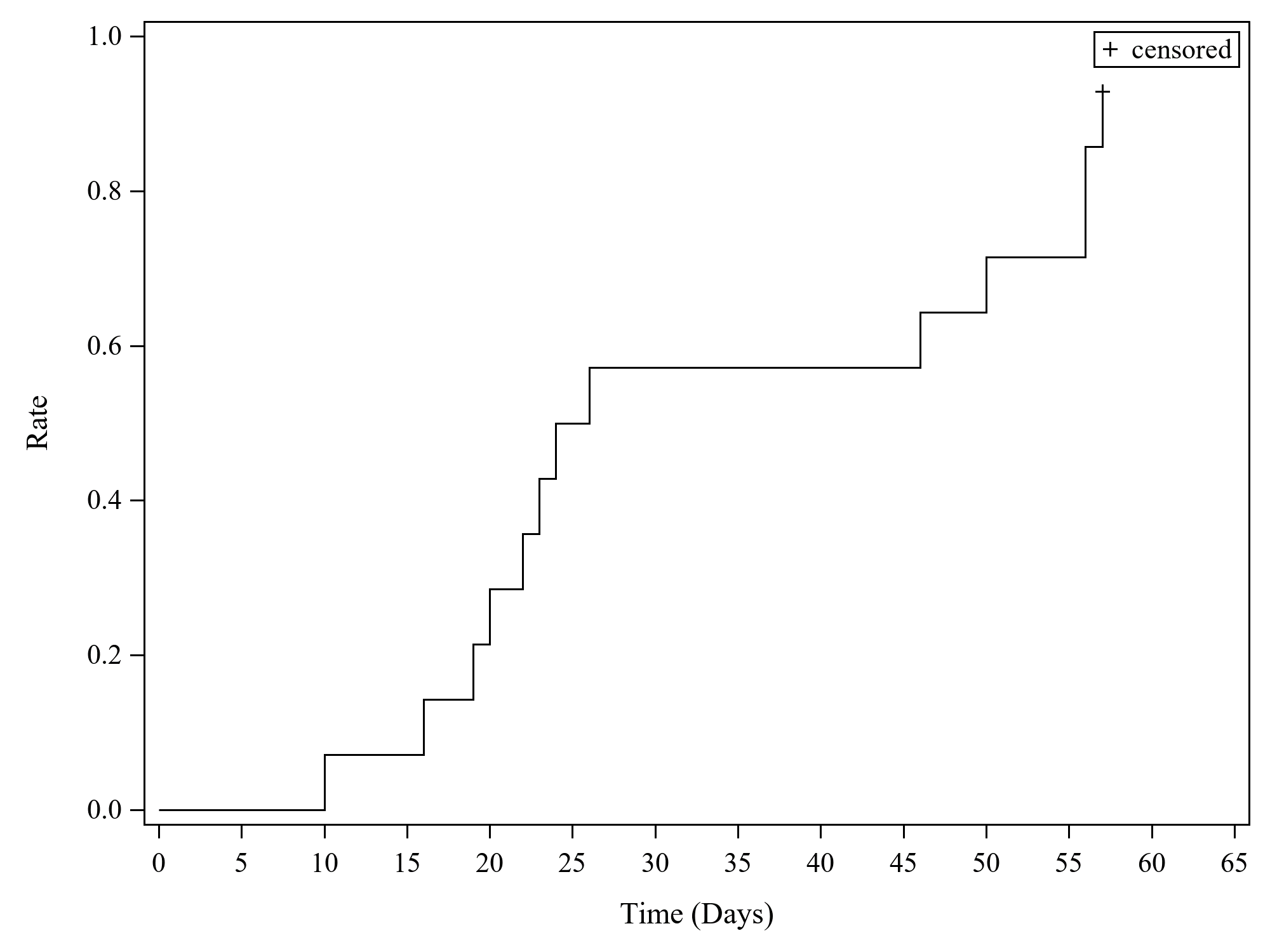 ---
F. De Benedetti, AbbVie, 2, 5, Sobi, 2, 5, Pfizer, 2, 5, Roche, 2, 5, Sanofi, 2, 5, Novartis, 2, 5, NovImmune, 2, 5; A. Grom, Novartis, 2, AB2 Bio, 2; P. Brogan, Sobi, 2, Novartis, 2, Roche, 2, UCB, 2; C. Bracaglia, None; M. Pardeo, None; G. Marucci, None; D. Eleftheriou, Sobi, 6; C. Papadopoulou, Sobi, 6; P. Quartier, AbbVie, 2, 6, Chugai-Roche, 2, 6, Lilly, 2, 6, Novartis, 2, 6, Pfizer, 2, 6, Sobi, 2, 6; J. Antón, Sobi, 2, Novartis, 2, Roche, 2, Pfizer, 2, AbbVie, 2, GSK, 2; R. Frederiksen, Sobi, 3; V. Asnaghi, Sobi, 3; C. De Min, Sobi, 2, Sobi, 3.
To cite this abstract in AMA style:
De Benedetti F, Grom A, Brogan P, Bracaglia C, Pardeo M, Marucci G, Eleftheriou D, Papadopoulou C, Quartier P, Antón J, Frederiksen R, Asnaghi V, De Min C. Efficacy of Emapalumab, an Anti-IFNγ Antibody in Patients with Macrophage Activation Syndrome (MAS) Complicating Systemic Juvenile Idiopathic Arthritis (sJIA) Who Had Failed High-Dose Glucocorticoids (GCs) [abstract].
Arthritis Rheumatol.
2021; 73 (suppl 9). https://acrabstracts.org/abstract/efficacy-of-emapalumab-an-anti-ifn%ce%b3-antibody-in-patients-with-macrophage-activation-syndrome-mas-complicating-systemic-juvenile-idiopathic-arthritis-sjia-who-had-failed-high-dose-glucocortic/. Accessed January 28, 2023.
« Back to ACR Convergence 2021
ACR Meeting Abstracts - https://acrabstracts.org/abstract/efficacy-of-emapalumab-an-anti-ifn%ce%b3-antibody-in-patients-with-macrophage-activation-syndrome-mas-complicating-systemic-juvenile-idiopathic-arthritis-sjia-who-had-failed-high-dose-glucocortic/