Session Information
Session Type: ACR Poster Session B
Session Time: 9:00AM-11:00AM
Background/Purpose: Disease-modifying osteoarthritis drugs with an anabolic mode of action should stimulate the growth of new hyaline cartilage. For instance, recombinant human fibroblast growth factor 18 (FGF18; sprifermin) has been shown to increase cartilage volume in knee OA patients. In vitro studies have also shown that sprifermin stimulates proliferation and the production of hyaline cartilage matrix molecules in articular chondrocytes. Other growth factors, such as insulin-like growth factor 1 (IGF1) and bone morphogenetic protein 7 (BMP7), also exert an anabolic effect on cartilage or cartilage cells in vitro and in vivo. How these three growth factors compare with each other is unknown. The aim of this study was to differentiate the effects of sprifermin, IGF1 and BMP7 on matrix production and cell phenotype in articular chondrocytes.
Methods: Primary bovine chondrocytes were cultured as 3D scaffold-free constructs for 4 weeks with sprifermin 100 ng/mL, IGF1 100 ng/mL or BMP7 300 ng/mL with permanent or cyclic exposure (24h at the beginning of each week) or left untreated (control). Two experiments were made: sprifermin versus IGF1 and sprifermin versus BMP7. At the end of the culture, the 3D constructs were harvested for biochemical (glycosaminoglycan or GAG and hydroxyproline or HPro) and gene expression analysis (N=3-4).
Results: As previously shown, cyclic exposure to sprifermin increased the GAG and HPro content of the 3D constructs while permanent exposure had a lower effect on GAG production and no effect on HPro (Figs. 1 and 2). Similarly, expression of col2a1 (type II collagen) and acan (aggrecan) increased with cyclic exposure. Furthermore, sprifermin reduced col1a2 (type I collagen) expression and had no effect on hypertrophy markers.
IGF1 increased extracellular matrix (ECM) production (GAG and HPro content, Fig. 1) as well as expression of col2a1 and acan, but only with permanent exposure. Col1a2 expression was increased with permanent exposure. Similarly, BMP7 increased ECM production but also increased col1a2 expression (with cyclic exposure) and hypertrophy marker expression.
Conclusion: A similar stimulation of cartilage ECM molecule expression in chondrocytes was obtained with permanent exposure to IGF1, permanent or cyclic exposure to BMP7 and cyclic exposure to sprifermin. However, sprifermin was the only growth factor that both influenced the chondrocytes towards the production of hyaline cartilage and prevented two unwanted phenomena: production of fibrous cartilage (containing type I collagen) and cartilage hypertrophy.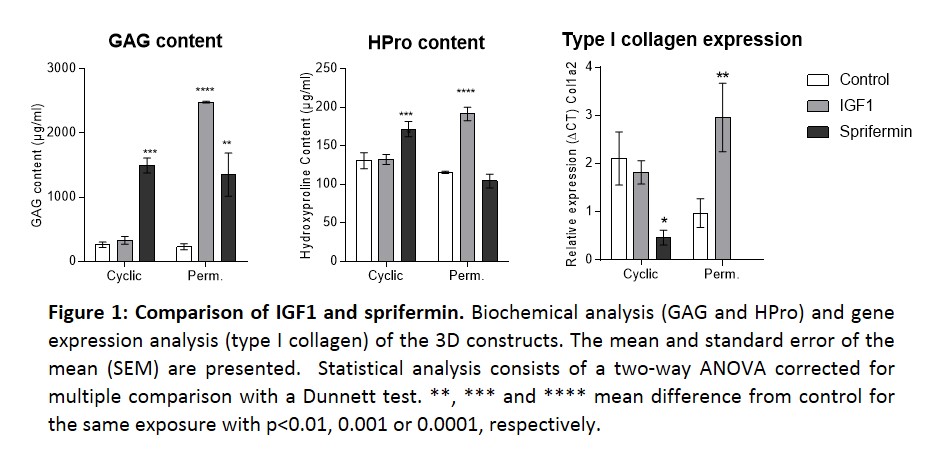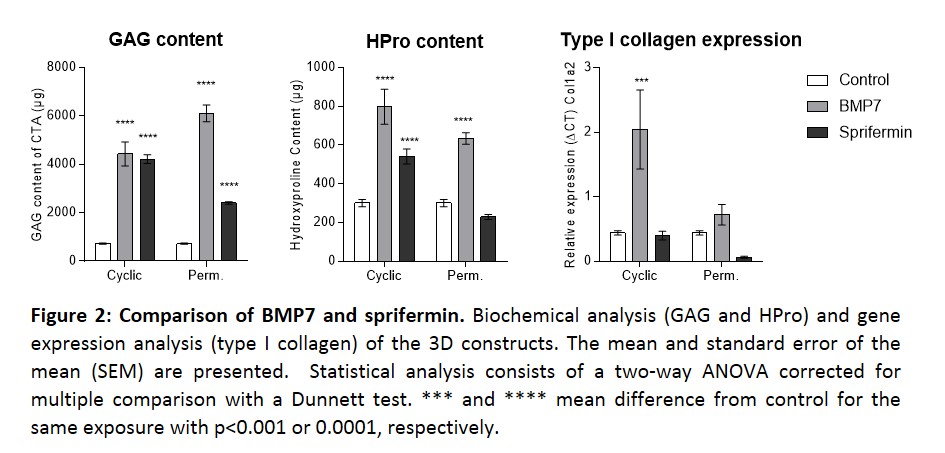 ---
Disclosure: S. Muller, Merck KGaA, 3; M. Michaelis, Merck KGaA, 3; S. Lindemann, Merck KGaA, 3; A. Gigout, Merck KGaA, 3.
To cite this abstract in AMA style:
Muller S, Michaelis M, Lindemann S, Gigout A. Effects of Three Potential Anabolic Disease-Modifying Osteoarthritis Drugs – Sprifermin, Insulin-like Growth Factor 1 and Bone Morphogenetic Protein 7 – on Matrix Production and the Phenotype of Articular Chondrocytes [abstract].
Arthritis Rheumatol.
2018; 70 (suppl 9). https://acrabstracts.org/abstract/effects-of-three-potential-anabolic-disease-modifying-osteoarthritis-drugs-sprifermin-insulin-like-growth-factor-1-and-bone-morphogenetic-protein-7-on-matrix-production-and-the-phenotype-of/. Accessed January 27, 2023.
« Back to 2018 ACR/ARHP Annual Meeting
ACR Meeting Abstracts - https://acrabstracts.org/abstract/effects-of-three-potential-anabolic-disease-modifying-osteoarthritis-drugs-sprifermin-insulin-like-growth-factor-1-and-bone-morphogenetic-protein-7-on-matrix-production-and-the-phenotype-of/