Session Information
Session Type: Poster Session A
Session Time: 8:30AM-10:30AM
Background/Purpose: Gout, a curable musculoskeletal disease, is characterized by the deposition and accumulation of monosodium urate (MSU) crystals within affected joints. Dual-energy computed tomography (DECT), an x-ray-based imaging technique, can non-destructively and non-invasively detect and localize large MSU depositions (i.e. tophi). Two recent advancements have made significant contributions to improve DECT's MSU specificity and sensitivity: (1) software generated virtual pseudo-monochromatic images (VMI); and (2) three-material decomposition (3MD) post-processing algorithms. To our knowledge, no studies have examined the effects of combining these two techniques when applied to MSU. Thus, we propose combining VMI and 3MD to improve DECT's sensitivity to MSU.
Methods: A bone (HA) quality phantom (Quality Assurance in Radiology in Medicine) and in-house MSU phantom were scanned together with a fast-kVp switching (80 and 140 kVp) DECT scan (GE Revolution GSI, GE Healthcare). The HA phantom contained rods of 100, 400, and 800 mgHA. The MSU phantom was created by mixing varying concentrations of MSU with 3% agarose to achieve 0, 0.0344, 0.133, 0.283, and 0.652 g/mL. VMIs at 50 and 65 keV were generated (GE Gemstone Spectral Imaging) and decomposed via 3MD (Tse et al., 2017) into three tissue volumes: soft tissue, bone, and MSU. Results of 3MD + VMI were compared with manufacturer (GE)-based material decomposition (GEMD) and commonly used dual-thresholding.
Additionally, a participant with gout was scanned with above-mentioned DECT protocol, with their foot resting atop both HA and MSU phantoms. Resulting images were decomposed into tissue-specific images via 3MD + VMI and GEMD.
Statistical analysis was performed on mean values acquired from 10 × 10 × 10 voxels placed within identical soft tissue (100% agar), bone (HA phantom), and MSU (MSU phantom) regions-of-interest within each decomposed tissue volume. A statistical significance was noted if p < 0.05.
Results: The combination of 3MD + VMI performed equally to the manufacturer's in-house material decomposition (GEMD), and both techniques appeared to perform better than common dual-thresholding at all HA and MSU concentrations (Table 1). The only exception between 3MD + VMI and GEMD was the highest MSU concentration (0.652 g/mL), in which 3MD + VMI was slightly significantly different from the standard (p = 0.0479).
The combination of 3MD + VMI produced clearer depictions MSU deposition (Fig. 1Aiii), when compared to images generated via GEMD (Fig. 1Bii), due to the decomposition of a third tissue (e.g. soft tissue).
Conclusion: No significant differences between 3MD + VMI vs GEMD were observed when measuring HA and MSU concentrations of phantoms being the only objects within the field-of-view (FOV). A preliminary demonstration of 3MD + VMI's enhanced visualization of soft tissue, bone, and MSU was performed (Fig. 1A). Further analysis is required to determine whether the addition of human anatomy may cause artefacts (e.g. beam hardening) that will affect measurements of lower MSU concentrations. Additionally, further work can determine whether a better pair of VMIs could further improve the available detection limit by maximizing the DECT decomposition ratio.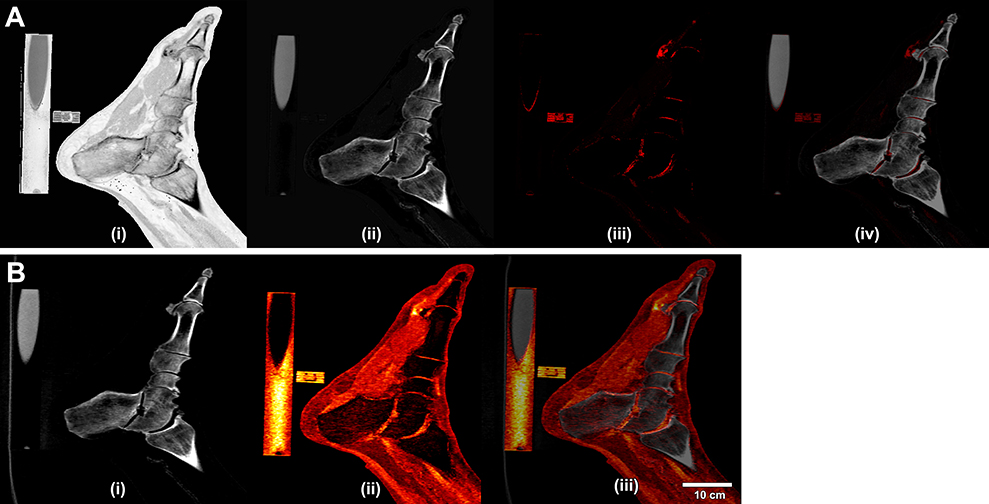 ---
Disclosures: J. Tse, None; D. Kondro, None; Y. Pauchard, None; A. Veljkovic, None; V. Frasson, None; D. Holdsworth, None; S. Manske, None; P. MacMullan, None; P. Salat, None.
To cite this abstract in AMA style:
Tse J, Kondro D, Pauchard Y, Veljkovic A, Frasson V, Holdsworth D, Manske S, MacMullan P, Salat P. Dual-Energy Computed Tomography Three Material Decomposition Improves the Sensitivity of Gout Detection [abstract].
Arthritis Rheumatol.
2021; 73 (suppl 9). https://acrabstracts.org/abstract/dual-energy-computed-tomography-three-material-decomposition-improves-the-sensitivity-of-gout-detection/. Accessed January 27, 2023.
« Back to ACR Convergence 2021
ACR Meeting Abstracts - https://acrabstracts.org/abstract/dual-energy-computed-tomography-three-material-decomposition-improves-the-sensitivity-of-gout-detection/