Session Information
Session Type: Poster Session A
Session Time: 8:30AM-10:30AM
Background/Purpose: To standardize research studies different classification systems are used. Currently, the ACR Giant Cell Arteritis (GCA) 19901 classification criteria is probably the most widely used, but the positive predictive value of these criteria is based on the high specificity of temporal artery biopsy (TAB), but a low sensitivity of TAB has been reported. Therefore, in the last EULAR recommendations for the use of imaging in GCA2, imaging techniques were accepted as useful in the diagnosis of GCA. This means that the GCA classification criteria are currently under discussion and evolution. Meanwhile, the diagnosis is based on the experience and judgment of the clinician. Our main objective was to know, how the diagnosis of GCA was made in our country and if the publication of the EULAR recommendations has influenced in the diagnosis of GCA in our clinical practice.
Methods: ARTESER is a multicenter observational retrospective study promoted by the Spanish Society of Rheumatology with 26 participating centers and in which all patients diagnosed with GCA between June 1 2013 and March 29 2019 were included. The gold standard for the diagnosis of the disease was the opinion of the responsible physician according to the clinical, analytical, imaging and TAB data available. This analysis includes the data collected from TAB and imaging (ultrasound, PET, and MRI/CT-angiography).
Results: 1675 patients with GCA were included, mean age ± SD (76.9 ± 8.1) years, 1178 women (70.3%). 776 patients had a positive TAB (46.3%), 503 (30.0%) positive ultrasound, 245 positive PET (14.6%) and 64 positive MRI/CT-angiography (3.8%). Figure 1 shows the temporal evolution of TAB and imaging techniques in the diagnosis of GCA throught the study time.
When the patients who had several of these positive tests were analyzed as support of clinical diagnosis, it was found that TAB was the only specific test performed in 531 patients (31.7%), ultrasound in 257 (15.3%), PET in 135 patients (8.1%) and MRI/CT-angiography in 14 patients (0.8%). Likewise, the data collected showed that the diagnosis based on clinical criteria or physician's opinion without TAB or imaging tests had been made in 417 patients (24.9%).
Conclusion: TAB is the most widely used diagnostic test to confirm GCA. Following the publication of the 2018 EULAR recommendations, ultrasound has displaced TAB as the first diagnostic test. PET is performed in 20% of patients in recent years. There is a wide margin of improvement in the diagnosis of GCA since the clinical diagnosis, without TAB or additional imaging tests, still supports 25% of the diagnoses.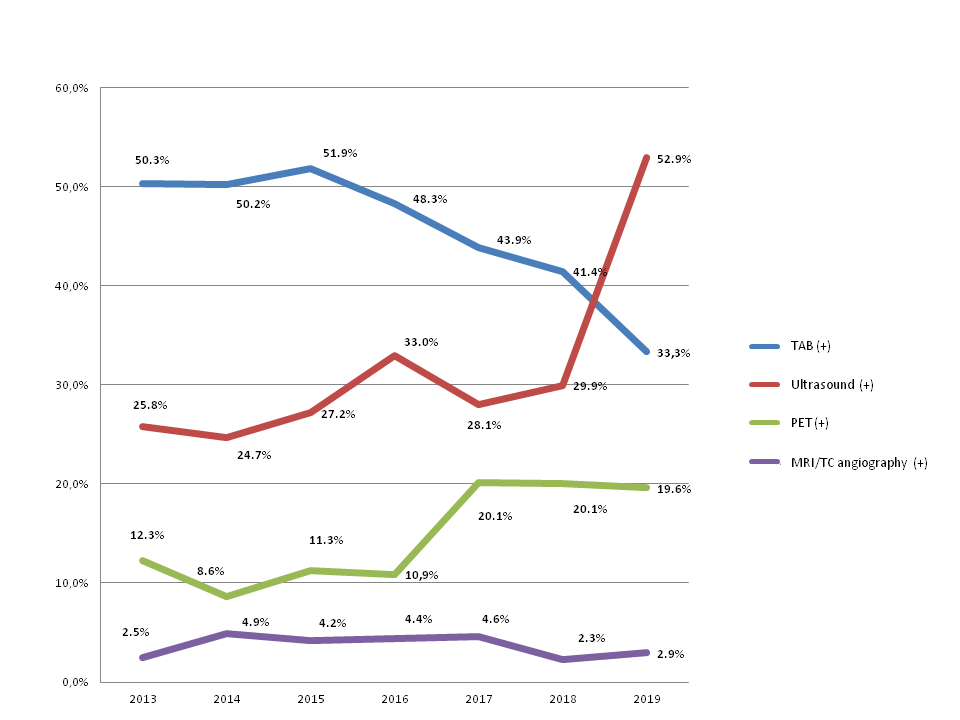 ---
Disclosures: E. De Miguel, Roche, 6, 12, Paid instructor, Abbvie, 2, 5, 6, Novartis, 2, 5, 6, 12, Paid instructor, Pfizer, 2, 5, 6, MSD, 6, BMS, 6, UCB, 6, Grunental, 6, Janssen, 6, 12, Paid instructor, Sanofi, 6, Galapagos, 2; J. Sánchez-Costa, None; J. Narvaez, None; M. gonzalez-Gay, None; N. Garrido-Puñal, None; P. Estrada-Alarcon, None; I. Hernández-Rodríguez, None; E. Fernández-Fernández, None; M. Silva-Diaz, None; J. Valero-Jaimes, None; I. González-Fernández, None; J. Sánchez, None; J. Lluch, None; E. Galindez-Agirregoikoa, None; J. Mendizábal-Mateos, None; L. Rodriguez Rodriguez, None; J. Loricera García, None; A. Muñoz, None; S. Castañeda, None; P. Moya, None; P. Morán-Álvarez, None; V. Navarro-Angeles, None; J. Calvet-Fontova, None; I. Casafont, None; F. Ortiz-Sanjuán, None; S. Labrada-Arrabal, None; C. Campos-Fernández, None; M. Alcalde-Villar, Nordic, 12, Tutor of rheumatology trainee at regional congress; A. Juan-Mas, None; R. Blanco, Brystol Myers Squibb, 6.
To cite this abstract in AMA style:
De Miguel E, Sánchez-Costa J, Narvaez J, gonzalez-Gay M, Garrido-Puñal N, Estrada-Alarcon P, Hernández-Rodríguez I, Fernández-Fernández E, Silva-Diaz M, Valero-Jaimes J, González-Fernández I, Sánchez J, Lluch J, Galindez-Agirregoikoa E, Mendizábal-Mateos J, Rodriguez Rodriguez L, Loricera García J, Muñoz A, Castañeda S, Moya P, Morán-Álvarez P, Navarro-Angeles V, Calvet-Fontova J, Casafont I, Ortiz-Sanjuán F, Labrada-Arrabal S, Campos-Fernández C, Alcalde-Villar M, Juan-Mas A, Blanco R. Diagnosis of Giant Cell Arteritis in Spain: Data from the ARTESER Registry [abstract].
Arthritis Rheumatol.
2021; 73 (suppl 9). https://acrabstracts.org/abstract/diagnosis-of-giant-cell-arteritis-in-spain-data-from-the-arteser-registry/. Accessed February 3, 2023.
« Back to ACR Convergence 2021
ACR Meeting Abstracts - https://acrabstracts.org/abstract/diagnosis-of-giant-cell-arteritis-in-spain-data-from-the-arteser-registry/