Session Information
The 2020 Pediatric Rheumatology Symposium, originally scheduled for April 29 – May 2, was postponed due to COVID-19; therefore, abstracts were not presented as scheduled.
Session Type: ACR Abstract Session
Session Time: 6:00PM-7:00PM
Background/Purpose: Randomized trials for pediatric ANCA-associated vasculitis (ped-AAV) have not been feasible because of its rarity, therefore adult treatment strategies are usually adapted for children. Data on drug efficacy and toxicity specific to the developing child are lacking. The CARRA AAV working group developed a limited set of consensus treatment plans (CTPs) for severe ped-AAV to pragmatically evaluate, through long-term registry follow-up, their comparative effectiveness and safety.
Methods: A core CTP working group (n=~20) was established among CARRA members (rheumatologists & nephrologists) with vasculitis interest/expertise. The target population for the CTPs were children < 18 with new-onset granulomatosis with polyangiitis (GPA), microscopic polyangiitis or renal limited AAV (eosinophilic-GPA was excluded) with presentation confined to those with severe (life- or organ-threatening) disease. A literature review on existing evidence-based treatments/ guidelines for adults with AAV was performed. The first phase of developing CTPs  involved iterative face-to-face meetings and nominal group techniques to achieve > 80% consensus on a limited number of individual treatment alternatives for both remission-induction and remission-maintenance of ped-AAV. Plans for corticosteroid use and assessment methods (disease severity, activity, outcomes) were also determined. Guidance for consensus making was taken from adult evidence and its alignment with current practice of CARRA members as inferred from existing pediatric vasculitis registry data, and a recent international clinician survey on practice variation for treating ped-AAV. Standardized treatments and dosing regimens developed by the working group were considered as provisional CTPs requiring CARRA-wide endorsement in a second phase and as determined through survey of 100 randomly selected members.
Results: The ped-AAV working group determined by consensus  (a) two alternative CTPs for induction: cyclophosphamide (Table 1) versus rituximab regimens (Table 2), and (b) two alternative CTPs for maintenance: rituximab versus either azathioprine or methotrexate (Table 3). A proposed corticosteroid-weaning regimen for induction and maintenance was also determined A core dataset and outcome measures for comparative evaluation were defined with proposed data collection at 4-6, 12, and 24 months after therapy initiation.
Of the 100 randomly selected member emails provided for survey: 3 were invalid, 12 members did not respond to the email survey request (88% [88/97] survey response rate); 5 of 85 responders who did not see AAV patients excluded themselves. Among the 80 valid responders, the "CARRA-wide" vote to accept the proposed CTPs for induction and maintenance was respectively 94% (75/80) and 98% (78/80. Even if all 12 non-responders "disagreed" with the CTP proposals, endorsement  would respectively be 82% and 85%.
Conclusion: Consensus methodology established  standardized CTPs for treating severe ped-AAV. These limited CTP alternatives, developed to facilitate registry-based comparative evaluation, were endorsed in principle by over 80% of CARRA physician members who treat ped-AAV.
AAV CTP Table 1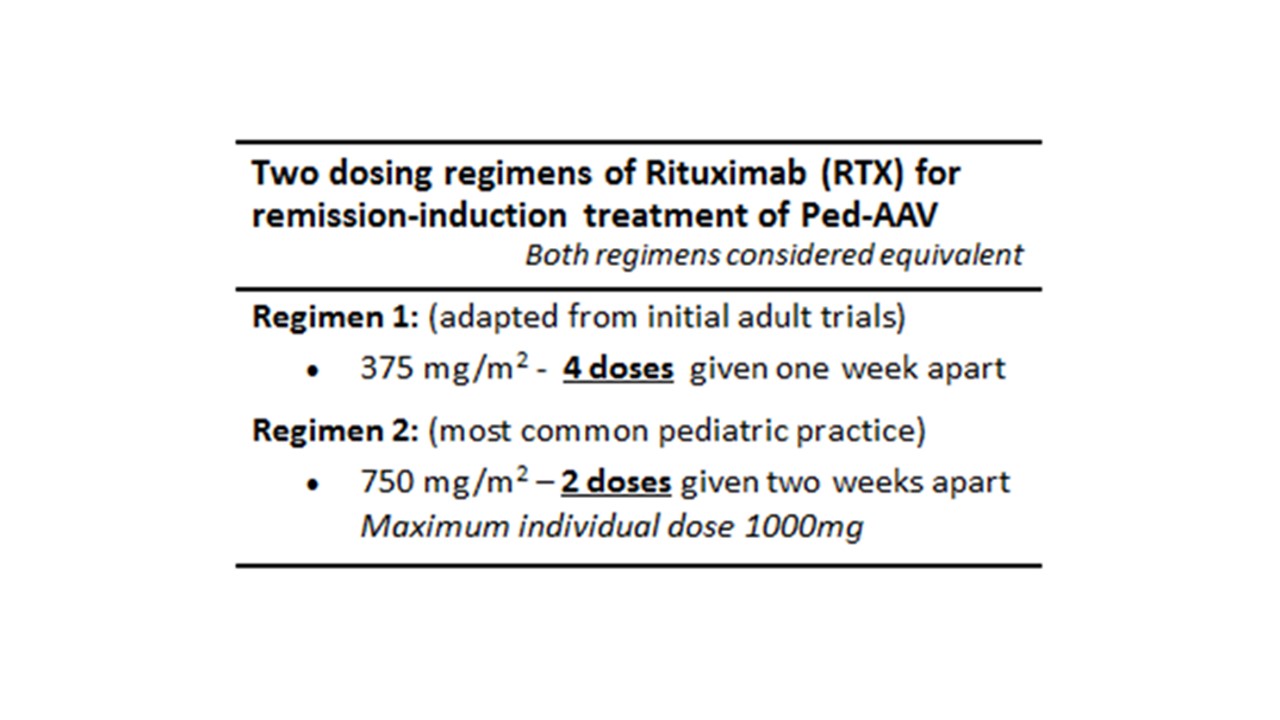 AAV CTP Table 2
AAV CTP Table 3
---
Disclosure: L. Wagner-Weiner, None; V. Sivaraman, None; K. James, None; E. Yen, None; K. O'Neil, None; D. Gerstbacher, None; A. Szymanski, None; K. Morishita, None; D. Cabral, None.
To cite this abstract in AMA style:
Wagner-Weiner L, Sivaraman V, James K, Yen E, O'Neil K, Gerstbacher D, Szymanski A, Morishita K, Cabral D. Development of CARRA Consensus Treatment Plans for Severe ANCA-associated Vasculitis – Final CARRA-wide Consensus [abstract].
Arthritis Rheumatol.
2020; 72 (suppl 4). https://acrabstracts.org/abstract/development-of-carra-consensus-treatment-plans-for-severe-anca-associated-vasculitis-final-carra-wide-consensus/. Accessed May 30, 2023.
« Back to 2020 Pediatric Rheumatology Symposium
ACR Meeting Abstracts - https://acrabstracts.org/abstract/development-of-carra-consensus-treatment-plans-for-severe-anca-associated-vasculitis-final-carra-wide-consensus/