Session Information
Session Type: Abstract Submissions (ACR)
Background/Purpose:   Scleroderma renal crisis (SRC) is a devastating complication of SSc.   The introduction of effective treatment with ACE inhibition (ACE-I) in 1979 dramatically reduced death as a near-immediate consequence of SRC.  However, poor outcomes still occur with great frequency including chronic or temporary dialysis or death.  Individuals with early, rapidly progressive diffuse disease and RNA polymerase III antibody positivity are at high risk for SRC.  Prophylactic use of ACE-I in high risk patients has not demonstrated improved outcomes and may have negative consequences.  Our goals were to identify associative causes of poor outcome and develop a targeted preventive intervention to address in accordance with findings.
Methods: A retrospective chart review at Royal Free Hospital scleroderma clinic between 1994-1999 identified and stratified 44 cases of SRC for long term outcomes (death, long-term dialysis, short-term dialysis, and no dialysis).  Cases were then assessed for factors potentially related to outcomes: onset of symptoms, time to medical attention, and therapeutic management.  Results directed development of SRC preventive intervention.
Results: Death or long-term dialysis was the outcome in approximately 50% of the cases reviewed.  Three subgroups emerged as associative with poor outcomes:  
1. SSc patients with no previously established SSc diagnosis presenting as "malignant hypertension"
2.  SSc patients with an established SSc diagnosis but uninformed about SRC and misinterpreted symptoms or failed to recognize the urgency of seeking medical attention 
3.  SSc patients who presented promptly for urgent outpatient medical care informing physician of SSc diagnosis, but were incorrectly treated with therapies other than ACE-I or initiation of ACE-I was without sufficiently rapid dose adjustment to achieve blood pressure control.
Poor outcomes were correlated to delayed therapy, rather than drug failure.  All patients in the 'no dialysis/death' group were treated with ACE-I according to protocol.  From these findings, a "scleroderma renal crisis prevention card" was developed.  See image.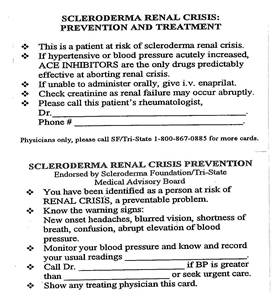 Conclusion:  Despite availability of effective therapy, SRC is associated with poor outcomes  often consequential to treatment delay and lack of knowledge of initial treating physicians.   A "renal crisis prevention card" may improve health outcomes of high-risk patients as a method of educating patients and health care providers. 
---
Disclosure:
L. S. Shapiro,
None;
L. A. Saketkoo,
None;
J. F. Farrell,
None;
K. Fligelstone,
None.
« Back to 2014 ACR/ARHP Annual Meeting
ACR Meeting Abstracts - https://acrabstracts.org/abstract/development-of-a-renal-crisis-prevention-card-as-an-educational-tool-aimed-at-improving-outcomes-in-high-risk-patients-with-systemic-sclerosis/