Session Information
Session Type: Abstract Submissions (ACR)
Background/Purpose: The role of HLA-B27 in modulating host response to infection is undefined, yet has important implications for the mechanism whereby B27 confers susceptibility to arthritis. Despite co-dominant expression of class I MHC (MHC-I) alleles, immune response to viral infections is characterized by a phenomenon called immunodominance (ImDc). The exact mechanisms of ImDc are not clear. Defining factors contributing to ImDc has proved difficult due to multiple MHC-I allele co-expression in humans and normal mice.
Methods: To overcome this limitation, we generated human MHC-I transgenic (Tg) mice which are deficient for endogenous mouse MHC-I molecules (i.e., H2-K-/-/D-/-, DKO) and express only one human MHC-I allele. To assess whether co-expression of additional MHC-I alleles influences the pattern of anti-flu CTL epitope recognition and ImDc, novel double MHC-I Tg mice were established on a DKO background.
Results: In flu-infected, double Tg HLA-A2/B7 or HLA-A2/B27 mice, IFN-γ ELISpot assays with the flu epitopes M1.58-66 (HLA-A2-specific) and NP418-426 (HLA-B7-specific) or NP383-391 (HLA-B27-specific) showed specific recognition of both peptides by both alleles respectively. In contrast, in flu-infected HLA-B7/B27 Tg mice a significantly reduced NP383-restricted CTL response was detected while there was no change in the response level of NP418-restricted CTL. Subsequent flu-specific studies revealed that co-expression of B7 and B27 is associated with i) a partial deletion of Vβ8.1+ B27/NP383-restricted CD8+ T cells and ii) a failure of Vβ12+ CD8+ T cell expansion following flu infection in B7/B27 Tg mice. Using chimeric mice, we confirmed that the lower number of naive B27-restricted CD8+ T cells in B7/B27 Tg mice, compared to single Tg B27 mice, is due to negative selection of B27-restricted Vβ8.1+ CD8+ T cells.
Conclusion: The pattern of allele co-expression critically influences the flu CTL response. The selective deletion of B27-restricted T cells has important implications for models defining the role that HLA-B27 plays in susceptibility to reactive arthritis and ankylosing spondylitis.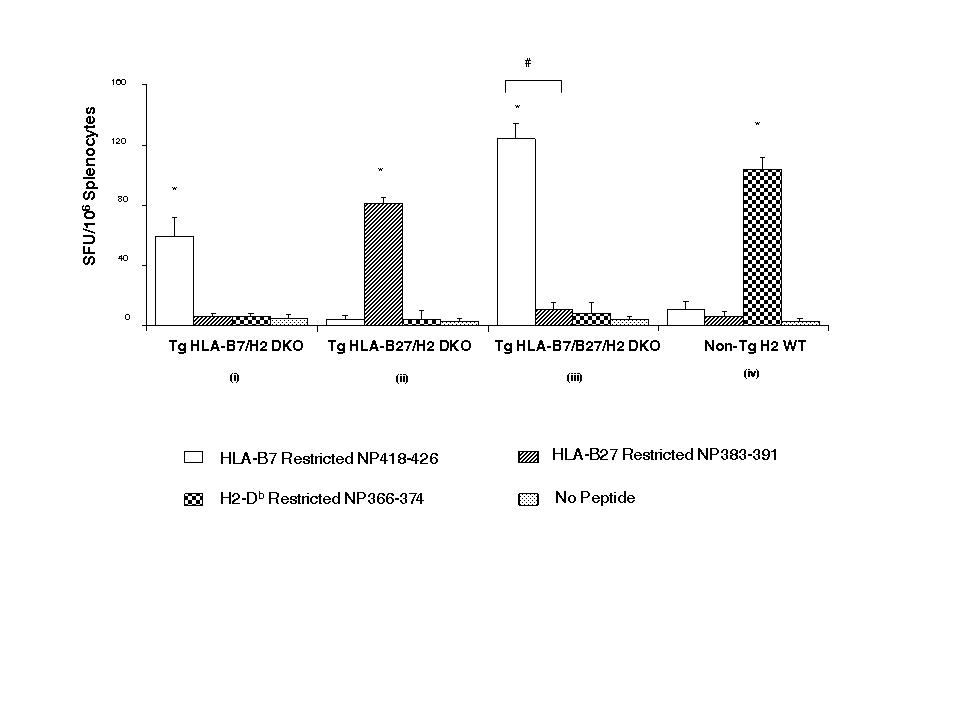 ---
Disclosure:
A. Akram,
None;
R. D. Inman,
Abbott, Amgen, Merck, Pfizer, Sanofi-Aventis ,
5.
« Back to 2012 ACR/ARHP Annual Meeting
ACR Meeting Abstracts - https://acrabstracts.org/abstract/deletion-of-hla-b27-t-cells-underlies-the-immunodominant-response-to-influenza-infection-on-class-i-mhc-transgenic-mice/