Session Information
Session Type: Poster Session (Sunday)
Session Time: 9:00AM-11:00AM
Background/Purpose: Different types of cells play pathogenic roles in Rheumatoid Arthritis (RA). The immunogenetics of RA suggests a key role of aberrant pathways of T cell activation in the onset and/or perpetuation of the disease. The differentiation of the naïve CD4 T cell is aimed at differentiating into Th1, Th2 and Th17. These molecules probably play a key role in the local generation of specific autoantibodies participating in the autoimmune cascade. Biological treatments for RA interfere different signaling pathways (CD28/CTLA4 system, TNF-α inhibitor, CD20 B cell depleting, IL-6 inhibition, JAKs inhibitors). There are no reports dealing about the impact of serological expression of cytokine profile in RA patients.
Methods: RA patients treated with DMARDs ( >3 months) (Methotrexate) and/or biological drugs (Abatecept, Certolizumab pegol, Rituximab, Tocilizumab, Tofacitinib and Baricitinib) attending to two rheumatology outpatient clinics were recruited. Blood sample were analyzed by the LEGENDplex Human Inflammation Panel method to perform the profile of cytokines. Disease activity was measured by DAS28-ESR scale, physical functionality with HAQ questionnaire and quality of life of the patient through the EuroQol 5-D questionnaire.
Statistical analysis: Data were presented as numbers, percentage, mean±SD. ANOVA test was performed to compare treatment between groups. P value ≤ 0.05 were considered statistical significant.
Results: Seventy-two RA patients were included, 64 (89%) were female and 19 (26%) smokers. Patients had different comorbidities: 6 (8%) diabetes mellitus, 14 (19%) high blood pressure, 4 (5%) ischemic cardiopathy and 10 (14%) osteoporosis. Ninty-eigth percent were positive for rheumatoid factor and 96% for anti-CCP. Treatment for RA were as follow: Abatacept 11 (15%), Certolizumab nine (13%), Rituximab 11 (15%) Tocilizumab nine (13%), Tofacitinib 10 (14%), Baricitinib 11 (15%), and Methotrexate monotherapy 11 (15%). Cytokine profile according to treatment is presented in Table 1.
Conclusion: Tofacitinib seems to have a better performance inhibiting the cytokine profile in RA patients. More studies and bigger sample are needed to replicate these finding.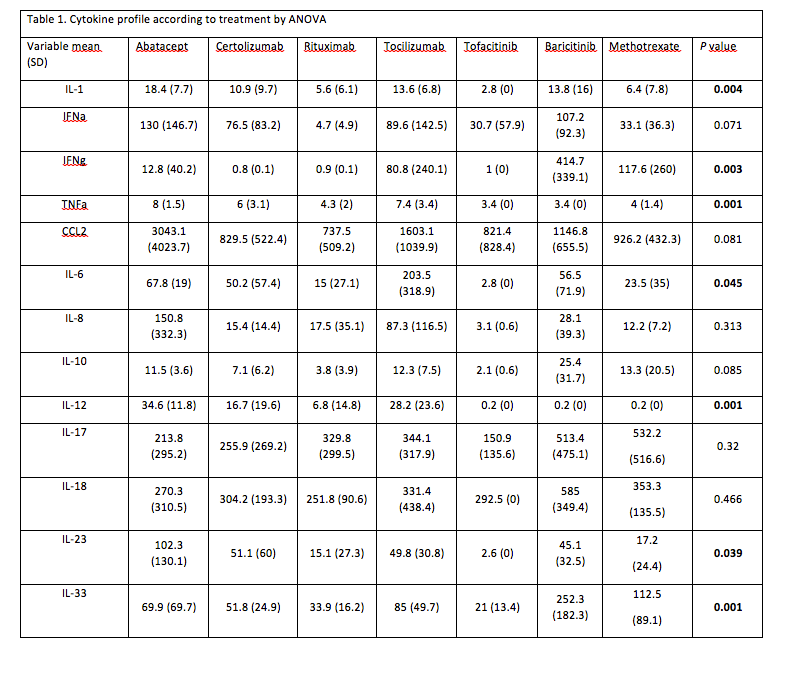 ---
Disclosure: S. Duran-Barragan, None; E. Chavarria-Avila, None; M. Esesarte-Rodriguez, None; R. Valenzuela-Marrufo, None; K. Arrona-Ríos, None; J. Aguilar-Arreola, None; O. Pizano Martínez, None; M. Vazquez-del Mercado, None.
To cite this abstract in AMA style:
Duran-Barragan S, Chavarria-Avila E, Esesarte-Rodriguez M, Valenzuela-Marrufo R, Arrona-Ríos K, Aguilar-Arreola J, Pizano Martínez O, Vazquez-del Mercado M. Cytokine Signaling Pathways Inhibited by Different Biologics in Rheumatoid Arthritis Patients [abstract].
Arthritis Rheumatol.
2019; 71 (suppl 10). https://acrabstracts.org/abstract/cytokine-signaling-pathways-inhibited-by-different-biologics-in-rheumatoid-arthritis-patients/. Accessed November 26, 2022.
« Back to 2019 ACR/ARP Annual Meeting
ACR Meeting Abstracts - https://acrabstracts.org/abstract/cytokine-signaling-pathways-inhibited-by-different-biologics-in-rheumatoid-arthritis-patients/