Session Information
Session Type: Poster Session C
Session Time: 9:00AM-11:00AM
Background/Purpose: Ancient Eastern medicine has valued the Curcuma longa (turmeric) plant for its powerful medicinal properties. Curcumin is suggested to possess potent anti-inflammatory, antioxidant, antimicrobial, anticarcinogenic, and anticoagulant properties. There is currently no research relating symptom exacerbation or alleviation with curcumin therapy in patients with Rheumatoid Arthritis (RA) and Psoriatic Arthritis (PsA). The focus of this study is on determining the prevalence and perceived efficacy of curcumin in RA and PsA populations.
Methods: We conducted an observational, cross-sectional study of patients with active RA and PsA who visited a rheumatology outpatient clinic from October 2019 to March 2020. We used a voluntary, brief and anonymous Qualtrics survey questionnaire of concrete questions regarding curcumin use, source, form, method, and dosage, as well as patient perceptions of efficacy and any experienced side effects. Descriptive and correlation analyses were performed.
Results: A total of 291 patients were included. 84.9% RA, 5.1% PsA. 82.3% women and 17.7% men. 37.2% of patients reported having taken curcumin supplementation. No statistical differences between demographics (age, gender and diagnosis) were found in patients taking vs not taking curcumin. The majority of patients sourced the curcumin from a local store (54.3%), supplemented once a day (53.4%) in the form of capsules (59.2%), and took either 0-200 mg/day or 200-500 mg/day of Curcumin. Amongst those who chose not to supplement, the majority of patients reported potential side effects as being the main deterrent to supplementation.
Pain scores were significantly decreased after curcumin therapy was started (P < 0.0001). Patients who were taking curcumin for years perceived improvement of symptoms (pain, swelling, stiffness, and fatigue) and better symptomatic control when compared with patients taking it for months (P 0.01), weeks (P 0.02) or days (P 0.02). There was a significant difference in symptom improvement in patients taking 200 to 1000 mg when compared with patients taking < 200 mg (P 0.01). Patients taking curcumin once or twice daily reported significant symptom improvement when compared with patients taking it rarely. Symptomatic improvement was reported as follows: pain (35.7%), swelling (25%), stiffness (23.21%) and fatigue (16.07%).
Conclusion: Patients with RA and PsA who were taking curcumin in the study population perceived associated improvement in pain and other symptoms. There is an interesting association between perception of symptomatic improvement in patients taking curcumin and treatment's frequency, dosages (200-1000mg), and length (years). These result suggest curcumin's efficacy for symptom alleviation in patients with RA and PsA.  
Statistically Significant difference between patient pain perception (scores from 1 to 10) reported before vs after Curcumin therapy. Paired t test (P < 0.0001 r2 0.36).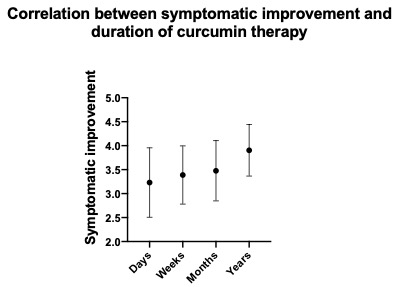 ---
Disclosure: N. Bhaskar, None; L. Otalora Rojas, None; T. Jehu, None; S. Beg, None; N. Bhanusali, None.
To cite this abstract in AMA style:
Bhaskar N, Otalora Rojas L, Jehu T, Beg S, Bhanusali N. Curcumin: Prevalence and Perceived Efficacy in the Treatment of Rheumatoid and Psoriatic Arthritis [abstract].
Arthritis Rheumatol.
2020; 72 (suppl 10). https://acrabstracts.org/abstract/curcumin-prevalence-and-perceived-efficacy-in-the-treatment-of-rheumatoid-and-psoriatic-arthritis/. Accessed July 3, 2022.
« Back to ACR Convergence 2020
ACR Meeting Abstracts - https://acrabstracts.org/abstract/curcumin-prevalence-and-perceived-efficacy-in-the-treatment-of-rheumatoid-and-psoriatic-arthritis/