Session Information
Session Type: Abstract Submissions (ARHP)
Background/Purpose: Rheumatoid arthritis is a chronic autoimmune disease that has a major impact on functioning, health and well-being. Concepts which determine health in a positive way are often not addressed in a busy clinical setting. The aim of this study is to explore which concepts determine health in a positive way and are meaningful to patients with RA. Furthermore we wanted to analyse whether they are covered by patient-reported outcome (PRO) instruments, and which of them could be recommended for clinical use and/or research.
Methods: We conducted a qualitative narrative biographic study consisting of three steps (see figure): people with RA were asked to tell their life stories which were analysed with the biographical narrative interpretative method afterwards. Hereinafter, we linked concepts which determine health in positive way derived from a systematic literature search to the perspective of patients. Finally, we explored whether these concepts were covered by PROs identified in another systematic literature search. The evaluation of the PROs' coverage was based on the model of the WHO International Classification of Functioning, Disability and Health (ICF).
Results : 15 people with RA with a median age of 52,5 years (IQR 35.75 – 62,5) and median disease duration of 24.50 months (IQR 10 – 59,25) participated in the qualitative study. Occupational balance, social support, participation and coping were the most frequently mentioned meaningful concepts (see table). While coping was mentioned by a higher number of men (83% of all men), optimism and vocational gratification were only important for women (78 resp. 67%). The concept of work-life balance did not appear in the qualitative data. Secondary gain from illness was found in only in 2 participants (13%). 28 PROs were derived from the systematic literature search. The concepts coping, self-efficacy, participation, optimism and social support were covered particularly.  
Conclusion: Several concepts which determine health in a positive way show a gender difference. Social support and coping should get more attention in clinical routine and research of people with RA. Therefore the use of MOS social support survey (Sherbourne & Stewart 1991) and the arthritis self-efficacy scale (Lorig et al. 1989) is recommended.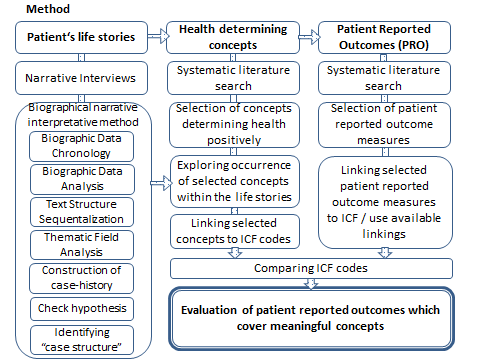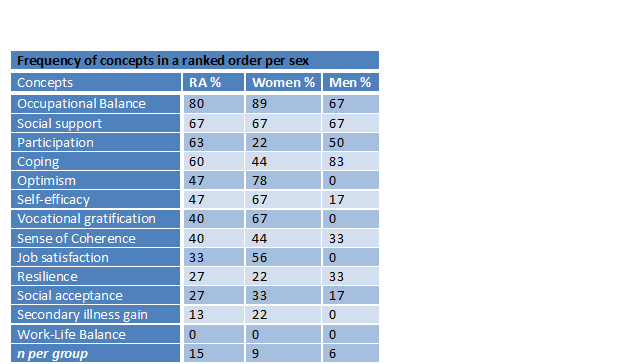 ---
Disclosure:
M. Dür,
None;
M. Coenen,
None;
J. S. Smolen,
None;
T. A. Stamm,
None.
« Back to 2012 ACR/ARHP Annual Meeting
ACR Meeting Abstracts - https://acrabstracts.org/abstract/concepts-which-determine-health-in-a-positive-way-are-important-to-people-with-rheumatoid-arthritis-and-are-covered-by-some-patient-reported-outcome-instruments/