Session Information
Session Type: Poster Session (Tuesday)
Session Time: 9:00AM-11:00AM
Background/Purpose: Rhupus is the overlap of SLE and RA. While a few studies have been conducted among Rhupus patients, no studies have focused on Black population with Rhupus. Our aim was to describe the clinical, laboratory, radiographic and therapeutic profiles of predominantly Black patients with Rhupus and to compare this group with age and sex-matched patients with SLE and with RA.
Methods: Retrospective chart review of SLE and RA overlap patients followed at 2 large urban hospitals. Rhupus patients were identified by ICD codes and compared to age and sex matched cohort of SLE only and RA only groups. Descriptive statistics using SPSS® version 24 were applied to analyze the differences between the three cohorts.
Results: 38 patients met the ACR criteria for both RA and SLE (Rhupus) with 94.7% being women, mean age of 50.9±14.4 (SEM). Blacks represented 81.6% with a BMI of 28.6±7.3Kg/m2.  50% had hypertension, 71.1% had at least one cardiovascular (CV) risk factor and 26.3% had 3 or more CV risk factors. Mean ESR = 58.28 ± 5.45 and CRP = 28.94 ± 8.8. There were no significant differences in CV risk factors, CV outcomes and inflammatory markers between the three cohorts. The rate of leukopenia and CRP levels were significantly higher in the Rhupus compared to the SLE and RA groups.
Compared to RA only group there were higher rates of smoking and ANA positivity among Rhupus populations. Leukopenia and positive RF and ACPA rates were frequent among Rhupus patients compared to RA only cohort. Corticosteroids, MTX, and biologic DMARDs use did not differ between Rhupus and RA cohorts. Rate of utilization of other-than-MTX DMARDs and the combination of steroid with DMARDs was higher among the Rhupus compared to the RA only cohort.
When comparing Rhupus and SLE patients, the rates of mucocutaneous lesions, serositis, neurologic manifestations, and laboratory values including autoantibodies were no different between the groups. Smoking, arthritis, hand XR abnormalities, erosions, seropositive RA were more frequent among the Rhupus vs. SLE patients.  However, lupus nephritis and RNP antibodies were less frequent in Rhupus compared to SLE only group.  Corticosteroids, MTX, conventional and biologic DMARDs and combination therapy were more frequently used in Rhupus compared to SLE population.
Conclusion: In our predominantly Black population, Rhupus patients had higher rates of smoking and ANA positivity compared to RA patients. It also had lower rate of positivity for RF or ACPA.  Rates of smoking, arthritis, erosions, positivity for RF, ACPA and aCL antibodies were higher among Rhupus compared to SLE patients.  These results suggest smoking to be a potential risk factor for Rhupus and might play a role in the underlying pathophysiology of this overlap syndrome. Further studies are needed to confirm our findings and elucidate risk factors and predictors of Rhupus to help develop preventive and therapeutic strategies for this important disease entity.

Table 1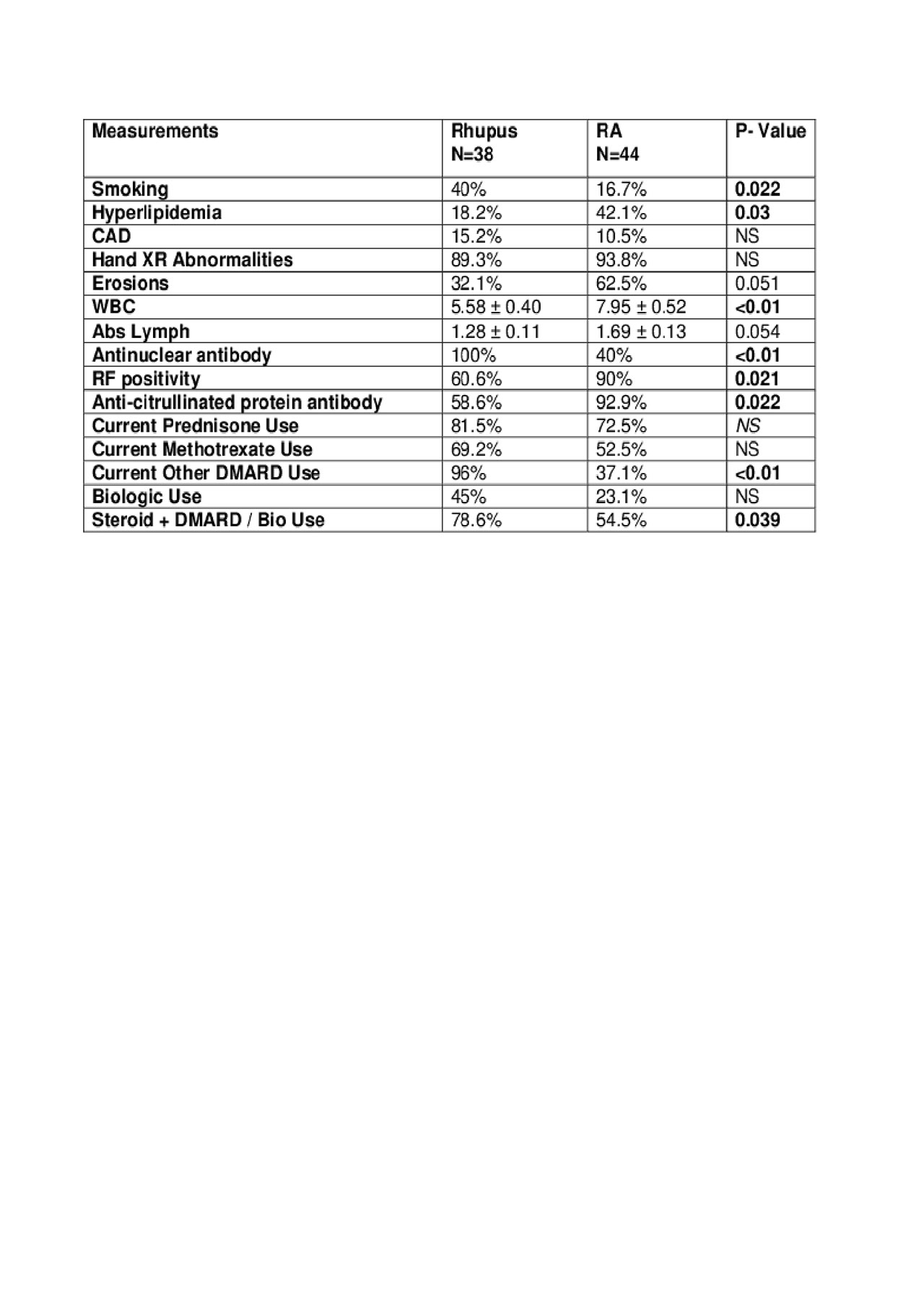 Table 2

Table 3
---
Disclosure: N. Kabani, None; J. Pathiparampil, None; M. Abduraimova, None; L. Freeman-Beman, None; S. Terebelo, None; A. Hasan, None; C. Grant, None; J. Salgado, None; M. Bhamra, None; T. James-Goulbourne, None; K. Amin, None; Y. Homsi, None; I. McFarlane, None.
To cite this abstract in AMA style:
Kabani N, Pathiparampil J, Abduraimova M, Freeman-Beman L, Terebelo S, Hasan A, Grant C, Salgado J, Bhamra M, James-Goulbourne T, Amin K, Homsi Y, McFarlane I. Comparative Analysis of Clinical, Laboratory and Therapeutic Strategies Among Blacks with Rhupus, SLE and RA [abstract].
Arthritis Rheumatol.
2019; 71 (suppl 10). https://acrabstracts.org/abstract/comparative-analysis-of-clinical-laboratory-and-therapeutic-strategies-among-blacks-with-rhupus-sle-and-ra/. Accessed December 5, 2020.
« Back to 2019 ACR/ARP Annual Meeting
ACR Meeting Abstracts - https://acrabstracts.org/abstract/comparative-analysis-of-clinical-laboratory-and-therapeutic-strategies-among-blacks-with-rhupus-sle-and-ra/