Session Information
Session Type: Poster Session (Sunday)
Session Time: 9:00AM-11:00AM
Background/Purpose: Previous systemic lupus erythematosus (SLE) studies have identified potential clusters of SLE clinical manifestations. 
To describe the presentation of SLE across different cohorts of patients and describe standard of care within clusters.
Methods: Cross-sectional study of 263 rheumatologists in the US and EU5. Data were collected from the Adelphi Real World 2015 Lupus Disease Specific Programme. Physicians completed patient record forms (PRFs) for the next 5 patients consulting with SLE; these patients completed patient self-completion (PSC) forms describing how SLE affected them. PRFs data include patient's characteristics and management history. PSCs focused on similar data collection, including patient reported outcome measures on the humanistic burden.  Principal-component factor analysis reduced 39 unique SLE symptoms to 8 factors. These factors were used as covariates in latent class cluster analysis to provide discrete cohorts of patients. Chi-squared and Kruskal-Wallis tests compared patient outcomes across clusters.
Results: Data were extracted from 1376 PRFs. Factor analysis resulted in 8 clusters of concurrent symptoms; joint, haematological, constitutional/mental health, skin, circulatory, cardiovascular, renal, and muscular symptoms respectively. The four-cluster solution was selected. Cluster 1 displayed the lowest symptom burden, characterised by low skin involvement. Cluster 2 is characterised by joint and skin involvement. Cluster 3 & 4 had a high frequency of all factors, with cardiovascular involvement high in cluster 3 and renal/constitutional involvement high in cluster 4 (table 1). Significant between-cluster differences were observed when comparing clinical and humanistic outcomes; physician/patient satisfaction were greatest in cluster 1 (physician satisfied 94.2% vs. 2: 90.8%, 3: 85.2%, 4: 74.4%, p< 0.0001; patient 94.7% vs. 2: 93.9%, 3: 91.5%, 4: 79.2%, p< 0.0001), whilst disease progression (deteriorating slowly 2.5% vs. 2: 12.9%, 3: 9.8%, 4: 25.5%, p< 0.0001) and flaring in the last 12 months (flared 30.0% vs. 2: 54.8%, 3: 62.2%, 4: 70.8%, p< 0.0001) differed significantly with worst outcomes seen in cluster 4. Significant differences were also observed between clusters in relation to treatment proportions; anti-malarials (highest cluster 1: 70.5%), biologic DMARD (highest cluster 3: 17.5%), glucocorticoid and immunosuppressants (highest cluster 4: 85.5%, 74.5%).
Conclusion: This study adds to the evidence demonstrating the heterogenous nature of SLE experienced within distinct patient clusters. Significant proportions of SLE patients experience high symptom burden and low levels of satisfaction. Additional analysis to understand limited biologic use in more severe patients is needed.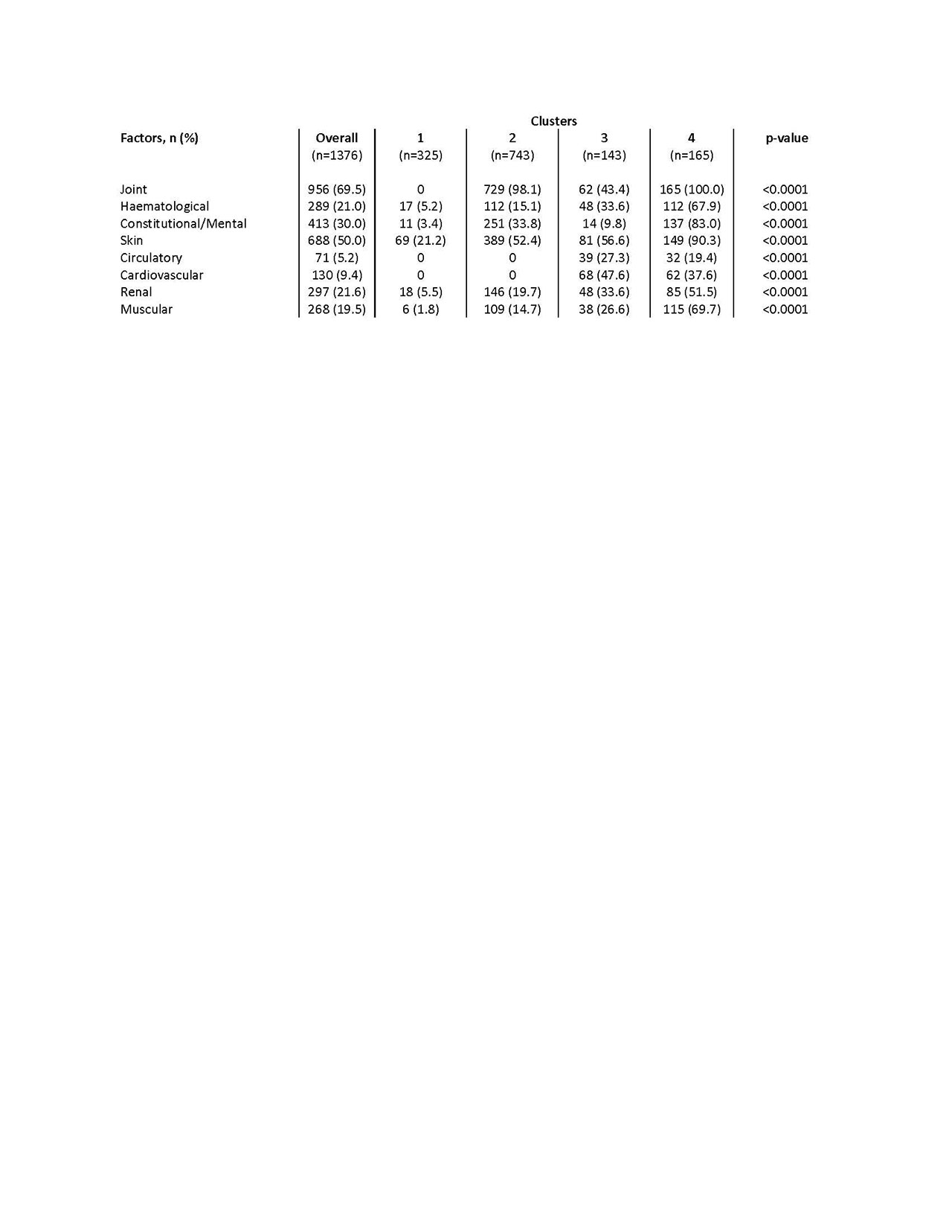 ---
Disclosure: Z. Touma, Janssen Research & Development, LLC, 2, Janssen Scientific Affairs, LLC, 2; B. Hoskin, Janssen Scientific Affairs, LLC, 5; C. Atkinson, Janssen Scientific Affairs, LLC, 5; D. Bell, Janssen Scientific Affairs, LLC, 5; O. Massey, Adelphi Real World, 3, Janssen Scientific Affairs, LLC, 5; J. Lofland, Janssen Scientific Affairs, LLC, 3; P. Berry, Janssen Scientific Affairs, LLC, 3; C. Karyekar, Abbott, 3, BMS, 3, Janssen, 1, 3, Janssen Scientific Affairs, LLC, 3, Novartis, 3; K. Costenbader, Astra-Zeneca, 2, Glaxo Smith Kline, 2, Janssen Scientific Affairs, LLC, 2, Lupus Foundation of America, 2, Lupus Research Alliance, 2, Merck, 2.
To cite this abstract in AMA style:
Touma Z, Hoskin B, Atkinson C, Bell D, Massey O, Lofland J, Berry P, Karyekar C, Costenbader K. Cluster Profiling of Patients in a Real-World Data Set with Systemic Lupus Erythematosus and Their Associated Treatments [abstract].
Arthritis Rheumatol.
2019; 71 (suppl 10). https://acrabstracts.org/abstract/cluster-profiling-of-patients-in-a-real-world-data-set-with-systemic-lupus-erythematosus-and-their-associated-treatments/. Accessed December 5, 2020.
« Back to 2019 ACR/ARP Annual Meeting
ACR Meeting Abstracts - https://acrabstracts.org/abstract/cluster-profiling-of-patients-in-a-real-world-data-set-with-systemic-lupus-erythematosus-and-their-associated-treatments/