Session Information
The 2020 Pediatric Rheumatology Symposium, originally scheduled for April 29 – May 2, was postponed due to COVID-19; therefore, abstracts were not presented as scheduled.
Session Type: Poster Breakout Session
Session Time: 4:30PM-5:00PM
Background/Purpose: Chronic Atypical Neutrophilic Dermatosis With Lipodystrophy And Elevated Temperature (CANDLE) Syndrome is an autoinflammatory interferonopathy caused by mutations in the genes encoding for components or chaperone proteins required for proteasome assembly. CANDLE Syndrome is characterized by inflammatory and metabolic manifestations. Long-term outcomes, especially after introduction of treatment with JAK-inhibitors, are little known. Our aim is to describe the clinical disease manifestations and laboratory findings in patients with CANDLE, before and after treatment with a JAK-inhibitor.
Methods: Medical records of 22 patients with genetically confirmed CANDLE Syndrome were retrospectively reviewed. The IFN score was calculated as previously described [1].
Results: Twenty-two patients were included in the study, 12 (55%) were females. The p.T75M homozygous mutation in PSMB8 was the most common genotype (50%). Disease always presented in the first year of life, mostly within the first month (68%) and with rash (90.9%). Median age at last evaluation was 12 years (range 1-30). Table 1 summarizes the clinical and laboratory features that occurred over time. Table 2 displays clinical and laboratory features at disease presentation and at last visit. Steroids were administered in 19/21 patients. Fifteen patients were treated with a JAK-inhibitor (10 with baricitinib, 4 with tofacitinib, 1 with ruxolitinib), for a median period of 4.29 years (range 0.75-7.09). In the majority of treated patients, rash, fever, musculoskeletal pain and fatigue resolved. Metabolic syndrome and hepatic steatosis occurred both before and after starting JAK-inhibitor treatment and improved in 2 patients who adopted lifestyle changes and received specific treatment (fenofibrate and/or metformin). Four patients deceased, of whom two had been treated with a JAK inhibitor, for 9 months and 1.5 years respectively. One had already developed significant pulmonary hypertension when treatment was started; the other had stopped baricitinib due to renal insufficiency. Outcomes are summarized in Table 3.
Conclusion: While fever, rash and increased inflammatory markers are universal features CANDLE Syndrome, other findings vary significantly among patients, without a clear genotype-phenotype correlation. Hepatic steatosis and pulmonary hypertension were unrecognized at presentation. Treatment with JAK inhibitors can decrease inflammatory manifestations. Metabolic abnormalities did not appear to be improved by JAK-inhibitor treatment, while lifestyle changes, and treatments with lipid-lowering agents and targeting insulin resistance, resolved metabolic syndrome and hepatic steatosis in 2 patients.
Funding for this study was provided by the Division of Intramural Research, NIAID, NIH
Kim H, de Jesus AA, Brooks SR, Liu Y, Huang Y, VanTries R., et al.Development of a validated interferon score using nanostring technology. J Interferon Cytokine Res 2018; 38: 171–85.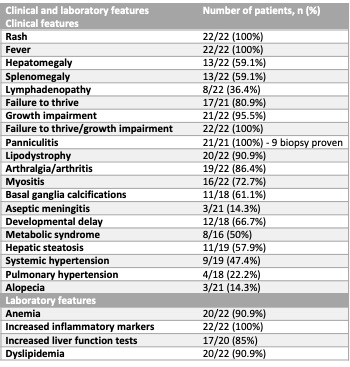 Table 1. Clinical and laboratory features of CANDLE patients included in the study. For each item, the denominator indicates the number of patients with available data.
Table 2. Clinical and laboratory features at disease presentation and at last visit. For each item, the denominator indicates the number of patients with available data.
Table 3. Outcomes in patients treated and not treated with JAK_inhibitors. For each item, the denominator indicates the number of patients with available data.
---
Disclosure: S. Torreggiani, None; P. Pillet, None; F. de Oliveira Poswar, None; A. Kozlova, None; A. Shcherbina, None; M. De Guzman, None; J. Mitchell, None; G. Montealegre Sanchez, None; K. Townsend, None; K. Johnson, None; A. Almeida de Jesus, None; R. Goldbach-Mansky, Lilly, 1.
To cite this abstract in AMA style:
Torreggiani S, Pillet P, de Oliveira Poswar F, Kozlova A, Shcherbina A, De Guzman M, Mitchell J, Montealegre Sanchez G, Townsend K, Johnson K, Almeida de Jesus A, Goldbach-Mansky R. Clinical Features and Outcomes in Chronic Atypical Neutrophilic Dermatosis with Lipodystrophy and Elevated Temperature (CANDLE) Syndrome: Before and After JAK-inhibition [abstract].
Arthritis Rheumatol.
2020; 72 (suppl 4). https://acrabstracts.org/abstract/clinical-features-and-outcomes-in-chronic-atypical-neutrophilic-dermatosis-with-lipodystrophy-and-elevated-temperature-candle-syndrome-before-and-after-jak-inhibition/. Accessed March 27, 2023.
« Back to 2020 Pediatric Rheumatology Symposium
ACR Meeting Abstracts - https://acrabstracts.org/abstract/clinical-features-and-outcomes-in-chronic-atypical-neutrophilic-dermatosis-with-lipodystrophy-and-elevated-temperature-candle-syndrome-before-and-after-jak-inhibition/