Session Information
Session Type: ACR Concurrent Abstract Session
Session Time: 4:30PM-6:00PM
Background/Purpose: The central nervous system (CNS) manifestations of SLE remain poorly understood. Although potentially neuropathic autoantibodies have been identified in the serum, lupus patients show inconsistent correlations between these and neuropsychiatric SLE (NPSLE). This is likely due to the highly restrictive nature of the blood brain barrier and the variability between patients in barrier dysfunction and humoral immune transmission into the CNS.
Methods: We used the MRL/MpJ-Faslpr/lpr mouse, a well-established model of lupus associated neuropsychiatric deficits, to evaluate the immune effectors responsible for CNS disease. We performed RNA sequencing, immunofluorescent phenotyping, and light and electron microscopy of brain tissue to identify signaling pathways and cellular contributors to NPSLE.
Results: We found extensive cellular infiltrates in the MRL/MpJ-Faslpr/lpr choroid plexus by 16 weeks of age, when these mice display profound cognitive deficits and depression like behavior (Figure 1). Transcriptome analysis of the choroid plexus revealed an expression signature driving tertiary lymphoid structure (TLS) formation, including elevated Cxcl13, Lta/b (lymphotoxin α/β), Ccl19, and a host of other cytokines and chemokines related to lymphoid organization. Additionally, gene ontology assessment revealed transcriptional profiles closely related to various stages of lymphocyte activation and germinal center formation. Immunofluorescent evaluation of the choroid plexus defined the cellular infiltrate in NPSLE mice to include locally proliferating B and T cells, extensive T-cell activation, and evidence of in-situ somatic hypermutation and class switch recombination and IgG+ plasma cells. Finally, the choroid plexus was found to be important in trafficking lymphocytes into the CNS, as evidenced by the routine presence of intra-epithelial lymphocytes on transmission electron microscopy. Evaluation of human lupus choroid plexus tissue is in progress.
Conclusion: Collectively, we not only determined a potential new pathway underlying neuropsychiatric lupus, we identified TLS formation in the choroid plexus as a novel mechanism through which the immune system may bypass the blood brain barrier.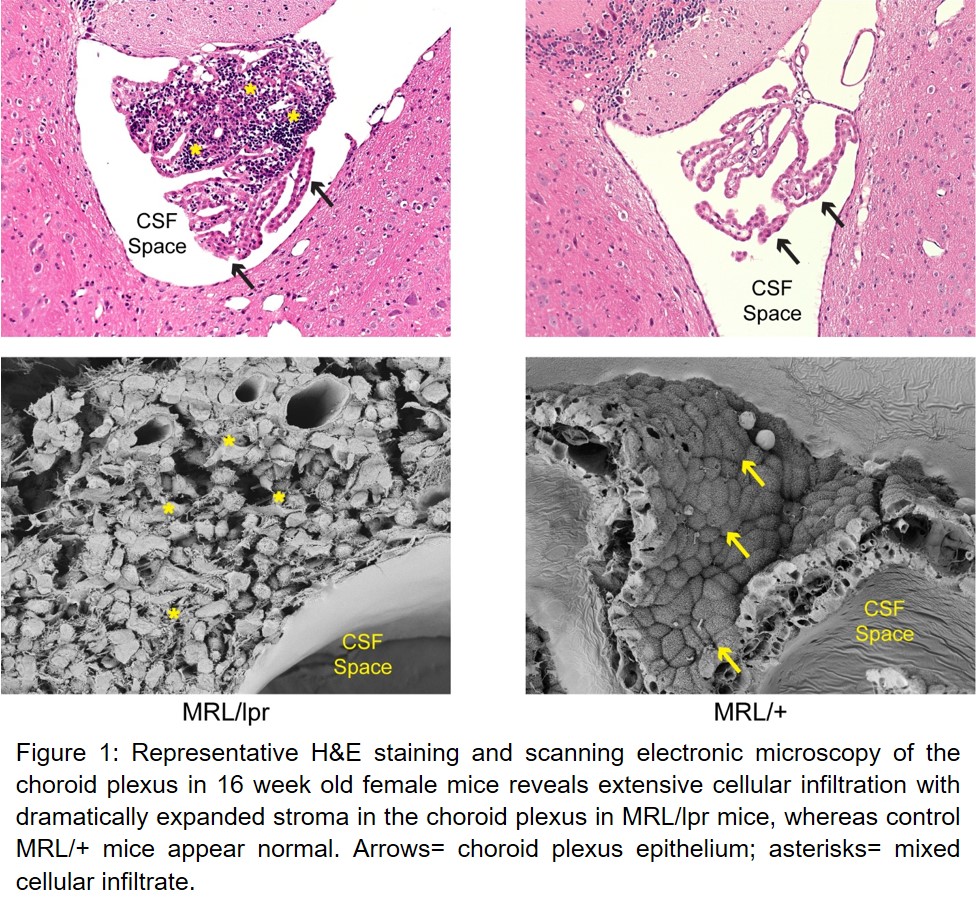 ---
Disclosure: A. Stock, None; E. Der, None; S. Gelb, None; A. Ben-Zvi, None; C. Putterman, None.
To cite this abstract in AMA style:
Stock A, Der E, Gelb S, Ben-Zvi A, Putterman C. Choroid Plexus Tertiary Lymphoid Structures in Lupus: A Novel Neuro-Immune Interface [abstract].
Arthritis Rheumatol.
2017; 69 (suppl 10). https://acrabstracts.org/abstract/choroid-plexus-tertiary-lymphoid-structures-in-lupus-a-novel-neuro-immune-interface/. Accessed June 5, 2020.
« Back to 2017 ACR/ARHP Annual Meeting
ACR Meeting Abstracts - https://acrabstracts.org/abstract/choroid-plexus-tertiary-lymphoid-structures-in-lupus-a-novel-neuro-immune-interface/