Session Information
The 2020 Pediatric Rheumatology Symposium, originally scheduled for April 29 – May 2, was postponed due to COVID-19; therefore, abstracts were not presented as scheduled.
Session Type: ACR Abstract Session
Session Time: 5:00PM-6:00PM
Background/Purpose: Juvenile Idiopathic Arthritis (JIA) progression leads to growth disturbances in affected joints. Fibroblast-like synoviocytes (FLS) play a key role in JIA pathogenesis; however, the communication mechanisms between FLS and growth plate chondrocytes is not well described. Previously, we showed that JIA FLS overexpress BMP4, promoting chondrocyte hypertrophy [1, 2]. Here, we examine chondrocytes (Ch) influence on diseased FLS to interrogate its effect on bony overgrowth seen in JIA.
Methods: Cell media supernatants were collected from three control FLS (CFLS) and three JIA FLS (JFLS) cell lines at 6, 12, and 24 h. Additionally, media supernatants were collected from three CFLS and three JFLS cell lines cultured in Ch-conditioned media (CFLS-Ch and JFLS-Ch) at 6, 12, and 24 h. ELISA was performed on these samples and protein amount was calculated using protein standards.
Results: Noggin, a potent inhibitor of BMP signaling, expression decreases in JFLS cultured in Ch-conditioned media compared to JFLS (Fig1A). Chordin, a negative regulator of Ch maturation, is overexpressed in JFLS compared to CFLS (Fig1B). Gremlin and Follistatin, both of which are normally expressed at low levels during chondrogenesis, are downregulated in JFLS-Ch compared to JFLS (Fig1C and D). There were no significant changes in collagen II (COL2), a marker of chondroprogenitor cells, expression when FLS were cultured in Ch-conditioned media (Fig2A). Expression of collagen X (COLX), a hypertrophic Ch marker, decreases in JFLS-Ch when compared to JFLS and CFLS-Ch (Fig2B). JFLS-Ch increased expression of Alkaline Phosphatase (ALP), a marker secreted by hypertrophic Ch and osteoblasts, when compared to untreated JFLS (Fig2C).
Conclusion: BMPs play an important role in bone growth. We previously reported that JFLS overexpress BMP4, a member of the TGFβ superfamily that is central to chondrogenesis. Ch influences JFLS to downregulate expression of BMP antagonists, suggesting that Ch have mechanisms that delay cell maturation. Interestingly, JFLS-Ch decreased expression of COLX, a marker of chondrocyte hypertrophy, indicating that Ch influence JFLS to remain in a proliferative state. Other studies showed that bone-type ALP derived from the synovium and synovial fluid of RA patients can contribute to increased diseased activity [3]. Our data reveals that, specifically, JFLS express ALP, a novel finding. We also demonstrate that, although JFLS are primed to follow chondrocyte differentiation path, their progression is delayed via abrogation of BMP signaling when influenced by Ch and may contribute to the bony overgrowth seen in JIA affected joints.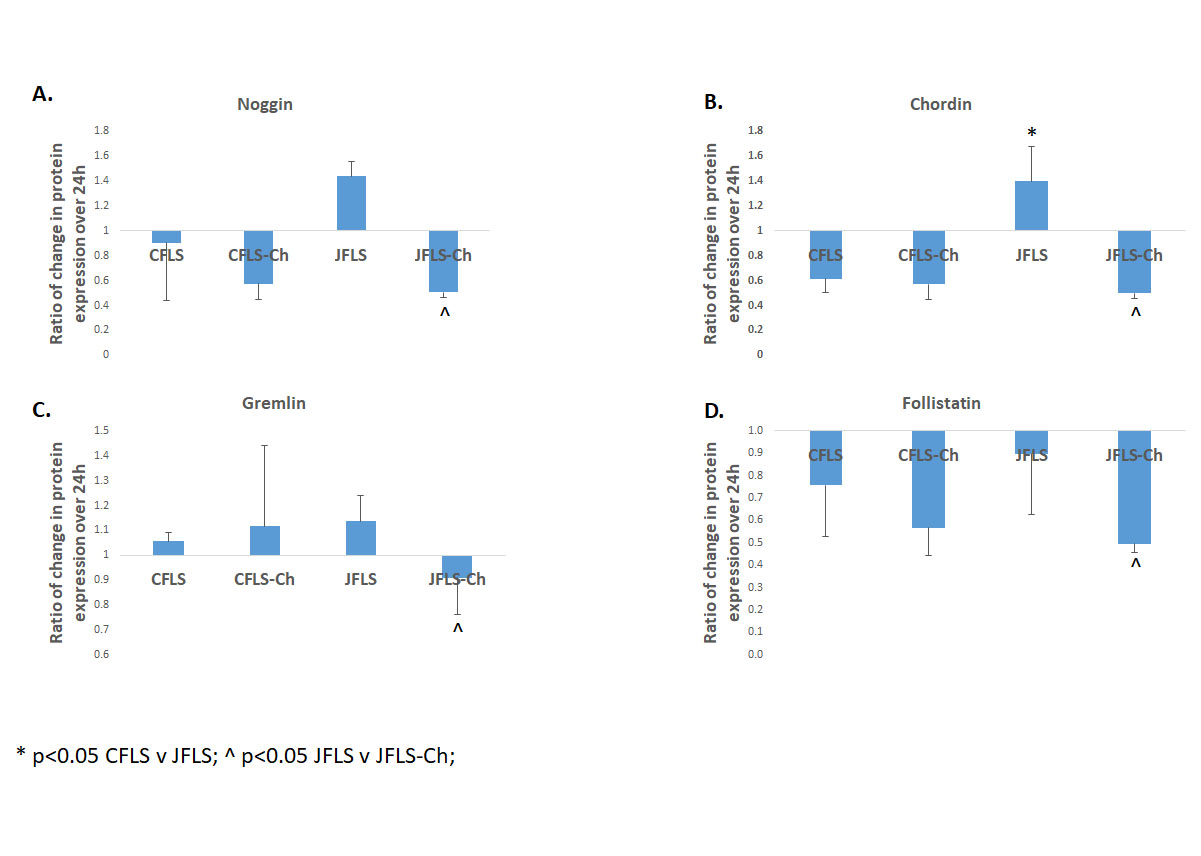 Figure 1. Protein expression of BMP antagonists. Using ELISA, it was determined that noggin significantly decreases in expression when JFLS are treated with Ch_conditioned media (A). Chordin expression significantly increases in JFLS compared to CFLS but is downregulated in JFLS_Ch when compared to untreated JFLS (B). Both gremlin and follistatin are significantly downregulated in JFLS cultured in Ch_conditioned media when compared to untreated Ch (C and D).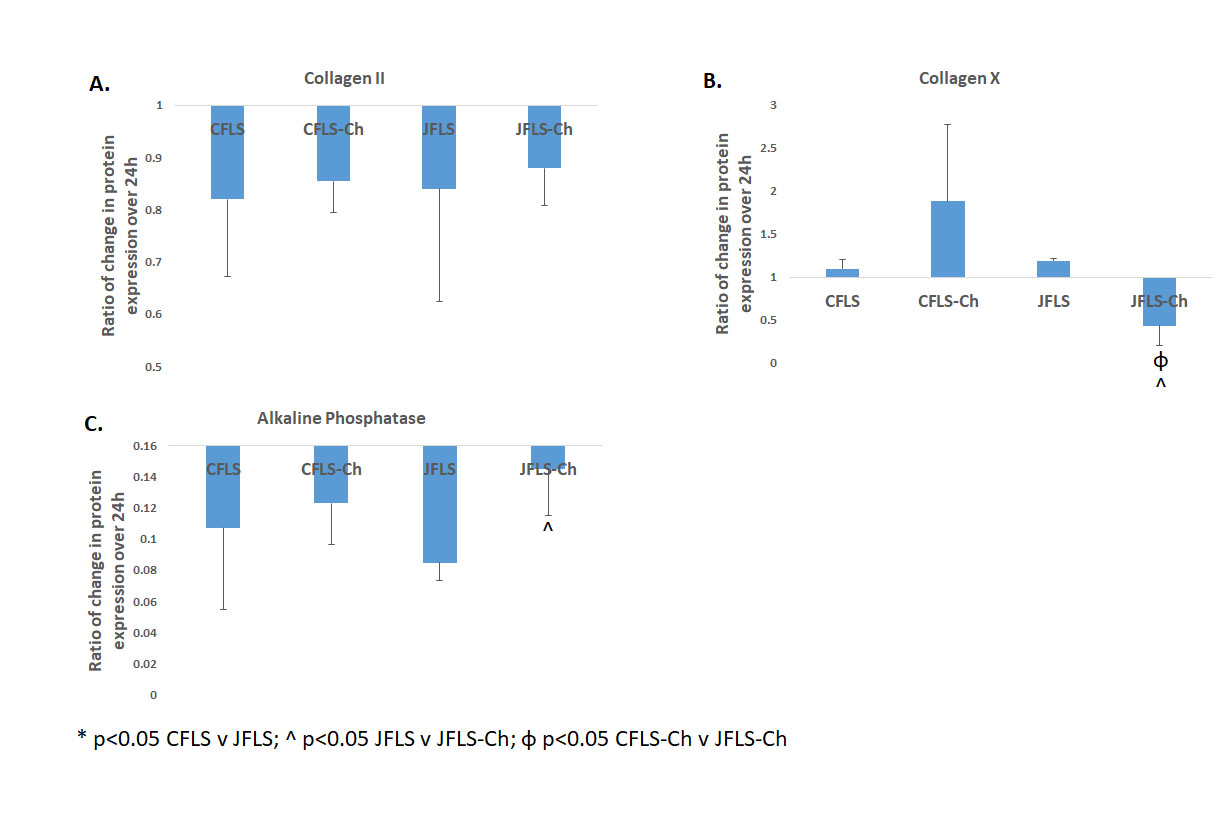 Figure 2. Protein expression of chondrocyte differentiation markers. Using ELISA to detect protein quantities, there were no detectable signifcant differences in COL2 expression. COLX is downregulated in JFLS_Ch when compared to untreated JFLS and significantly decreases in JFLS_Ch compared to CFLS cultured in Ch_conditioned media (B). JFLS cultured in Ch_conditioned media significantly overexpress ALP when compared to untreated JFLS (C).
---
Disclosure: M. Simonds, None; A. Schlefman, None; K. Sullivan, Immune deficiency foundation, 1, UpToDate, 1, Elsevier, 1; C. Rose, None; A. Brescia, None.
To cite this abstract in AMA style:
Simonds M, Schlefman A, Sullivan K, Rose C, Brescia A. Chondrocytes Influence Fibroblast-like Synoviocytes from Patients with Juvenile Idiopathic Arthritis, Through the Abrogation of BMP Signaling, to Delay Cell Differentiation and Maturation [abstract].
Arthritis Rheumatol.
2020; 72 (suppl 4). https://acrabstracts.org/abstract/chondrocytes-influence-fibroblast-like-synoviocytes-from-patients-with-juvenile-idiopathic-arthritis-through-the-abrogation-of-bmp-signaling-to-delay-cell-differentiation-and-maturation/. Accessed March 28, 2023.
« Back to 2020 Pediatric Rheumatology Symposium
ACR Meeting Abstracts - https://acrabstracts.org/abstract/chondrocytes-influence-fibroblast-like-synoviocytes-from-patients-with-juvenile-idiopathic-arthritis-through-the-abrogation-of-bmp-signaling-to-delay-cell-differentiation-and-maturation/