Session Information
Session Type: ACR Poster Session C
Session Time: 9:00AM-11:00AM
Background/Purpose: Systemic Sclerosis (SSc) is characterized by progressive
fibrosis of skin and multiple internal organs, severe alterations in the
microvasculature, and numerous immunological abnormalities. Recently it has
been suggested that endothelial to mesenchymal transition (EndoMT) may be involved
in SSc vasculopathy and tissue fibrosis. Exosomes are 30-150 nm lipid bilayer
bound microvesicles released from all human cells into their surrounding
intercellular space and into the circulation and contain numerous
macromolecules including mRNAs, miRNAs, proteins, cytokines, chemokines and
growth factors. Exosomes are capable of carrying complex signals to sites
removed from the cell of origin. We propose that EndoMT-activated EC induce
phenotypic changes in normal/healthy fibroblasts and EC and that these effects
are mediated by exosomes released into the circulation that reach normal
fibroblasts and EC, fusing with them, and transferring their miRNA contents
rendering them profibrotic. We examined here whether exosomes isolated from Endo-MT-activated
normal human dermal and lung microvascular EC display alterations in their
miRNA content that may be capable of inducing a profibrotic phenotype in normal
fibroblasts and EC.
Methods:
Normal human dermal or lung microvascular EC were expanded in monolayer
cultures until reaching confluency, then they were cultured under control
conditions or in the presence of 10 ng/ml of TGF-β1 or TGF-β2 for 48h
to induce EndoMT. Following treatment the cells were washed and incubated in
exosome-free culture media for additional 24h. The culture media were collected
and exosomes were isolated using the ExoQuick polymer exosome purification
procedure. The exosomes were pelleted by centrifugation.  Exosome miRNA were
isolated by lysis of the pellet and RNA purification using SeraMir RNA spin
columns. cDNA was synthesized by polyadenlyation of RNA followed by reverse
transcription substituting a miRNA 3′ adaptor oligonucleotide in place of
Oligo-dT. The resulting single-stranded miRNA-derived cDNA was utilized in qPCR
profiling of profibrotic and antifibrotic miRNAs.  Exosomal miRNA levels were
normalized to levels of the small nucleolar RNA SNORD25.
Results:
Exosomes were successfully isolated from culture media samples and sufficient
RNA was extracted for RTPCR performance and relative miRNA quantification. The
quantification of profibrotic and antifibrotic miRNA in the exosomes isolated
from the culture media of both cell types is shown in Figure 1.
Conclusion: Exosomes
were successfully isolated and purified from the culture media of human
EC. TGF-β1 or TGF-β2-mediated in vitro induction of EndoMT in
normal human dermal or lung microvascular EC resulted in a marked increase in
profibrotic miRNA and a marked decrease in antifibrotic miRNA contained in
exosomes released by these cells into the culture media.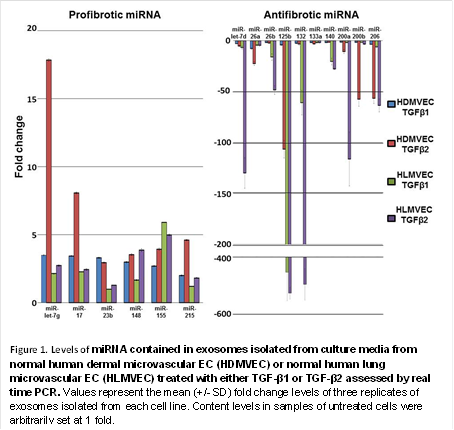 ---
Disclosure: S. A. Jimenez, None; S. Piera-Velazquez, None; P. J. Wermuth, None; K. Fasino, None.
To cite this abstract in AMA style:
Jimenez SA, Piera-Velazquez S, Wermuth PJ, Fasino K. Characterization of the Profibrotic/Antifibrotic Profile of microRNA Contained in Exosomes Isolated from Cultured Normal Human Dermal and Lung Microvascular Endothelial Cells Undergoing Endothelial Mesenchymal Transition in Vitro [abstract].
Arthritis Rheumatol.
2015; 67 (suppl 10). https://acrabstracts.org/abstract/characterization-of-the-profibroticantifibrotic-profile-of-microrna-contained-in-exosomes-isolated-from-cultured-normal-human-dermal-and-lung-microvascular-endothelial-cells-undergoing-endothelial-me/. Accessed June 6, 2020.
« Back to 2015 ACR/ARHP Annual Meeting
ACR Meeting Abstracts - https://acrabstracts.org/abstract/characterization-of-the-profibroticantifibrotic-profile-of-microrna-contained-in-exosomes-isolated-from-cultured-normal-human-dermal-and-lung-microvascular-endothelial-cells-undergoing-endothelial-me/