Session Information
The 2020 Pediatric Rheumatology Symposium, originally scheduled for April 29 – May 2, was postponed due to COVID-19; therefore, abstracts were not presented as scheduled.
Session Type: ACR Abstract Session
Session Time: 4:15PM-5:15PM
Background/Purpose: The New CARRA Registry of Juvenile Myositis (JM) was developed in 2017 to collect 10-year longitudinal data to increase knowledge of the course of JM and facilitate clinical and translational research studies.  We describe the clinical and demographic characteristics of JM patients enrolled in the first 2 years.
Methods: Prospective data collection began at 70 North American sites in Nov, 2017.  To develop an inception cohort, enrollment criteria required that patients be within 6 months of diagnosis and within 3 months of treatment.  Enrolled subjects had study visits every 6 months.  Biospecimen collection began in Jan, 2019 at 61 sites.  Descriptive statistics were used to summarize characteristics of patients enrolled in the first 2 years. 
Results: As of Dec, 2019, 160 JM subjects were enrolled.  There were at least 90 follow up visits at 6 months, 43 at 12 months and 20 at 18 months with open data collection windows for many patients.  Demographic features are summarized in Table 1 and are similar to other JM cohorts in terms of age, sex, and race.  All patients were classified as dermatomyositis and 31.3% as skin-predominant.  Most patients presented with symmetric proximal muscle weakness, elevated muscle enzymes and classic rashes with Gottron's, malar and heliotrope rashes as well as periungual capillary changes most commonly observed.  MRI was the most common diagnostic test performed in 65%.  Myositis-specific antibodies (MSA) were tested in ~40% of the cohort, of which anti-MJ/NXP2 and anti-p155/140/TIF1-𝛄 were most commonly positive (Table 1).  Clinical features present during the disease course are shown in Table 2.  Global assessment scores indicated overall mild disease, including muscle and skin disease, however, 47% had received some treatment and ~20% were beyond 6 months of disease duration at enrollment.  A little under half, 46.2%, had some element of extramuscular disease activity (excluding skin disease), though there was low completion of organ-specific disease activity scores.  Assessments of muscle strength and skin disease activity showed mild scores that improved over time, but these were performed in few numbers of patients (Table 3).  For treatment, about 2/3 of patients were treated using CARRA consensus treatment plans (CTP).  About 75% were following the "Moderate JDM" CTP and about 25% the "Skin Predominant" CTP.  Since Jan, 2019, 34 biosamples were collected at baseline and 13 at 6 months from 16 sites.
Conclusion: The New CARRA Registry of JM enrolled 160 patients in the first 2 years.  Subjects, overall, appear to have similar demographic and clinical features compared to other JM cohorts.  Future analysis is needed to characterize the phenotypes and understand the heterogeneity of this cohort.  The longitudinal nature of this data will provide a rich resource for learning about the trajectory of JM as data collection continues.  The high proportion of physicians utilizing the CTPs demonstrates they are practical to implement in practice and future data could be used for pragmatic clinical trials.  The low completion rates of organ-specific VAS scores, assessment tools, and biospecimen collection highlight areas for future improvement.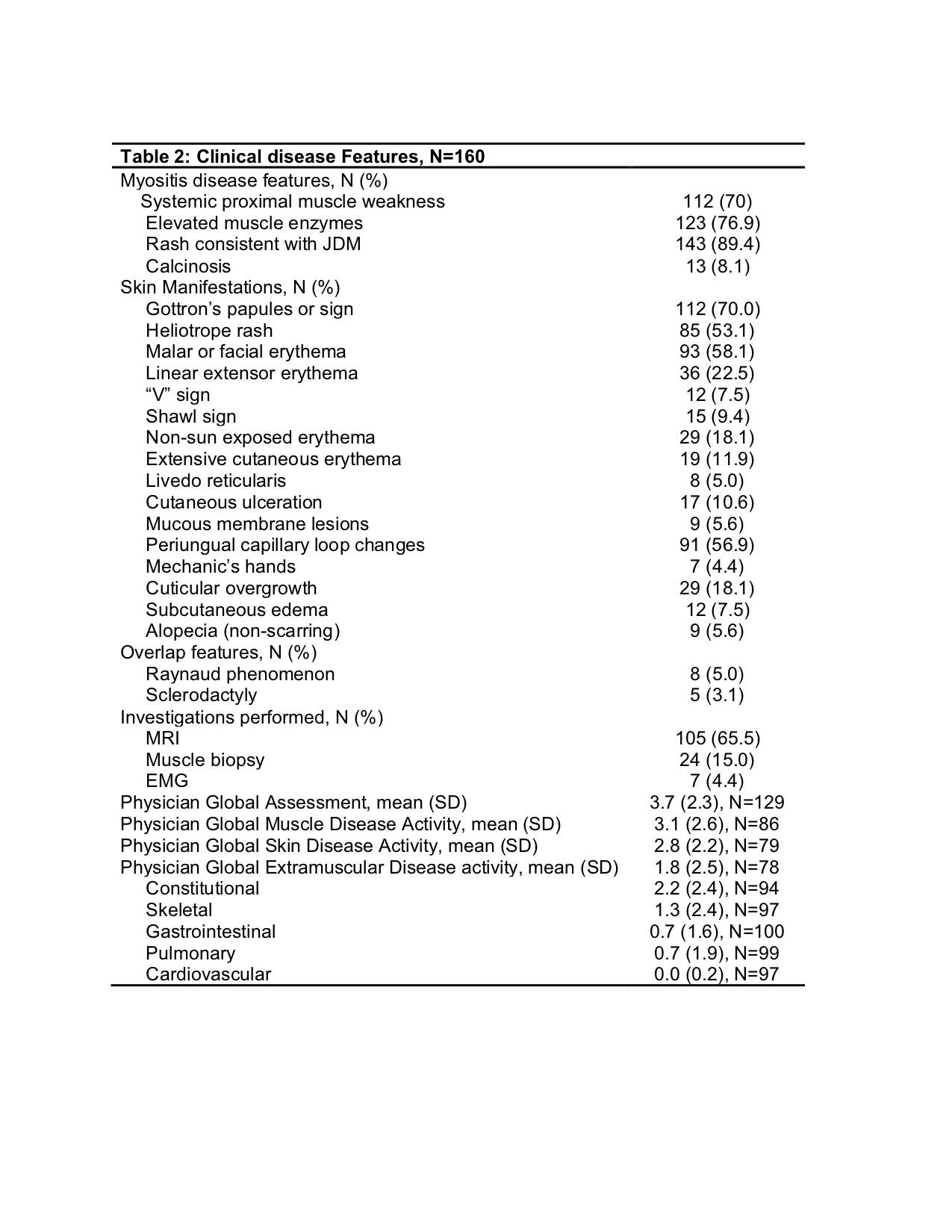 ---
Disclosure: J. Neely, None; A. Huber, None; S. Kim, None.
To cite this abstract in AMA style:
Neely J, Huber A, Kim S. Characteristics of the New Childhood Arthritis and Rheumatology Research Alliance Registry of Juvenile Myositis Patients Enrolled in the First Two Years [abstract].
Arthritis Rheumatol.
2020; 72 (suppl 4). https://acrabstracts.org/abstract/characteristics-of-the-new-childhood-arthritis-and-rheumatology-research-alliance-registry-of-juvenile-myositis-patients-enrolled-in-the-first-two-years/. Accessed February 5, 2023.
« Back to 2020 Pediatric Rheumatology Symposium
ACR Meeting Abstracts - https://acrabstracts.org/abstract/characteristics-of-the-new-childhood-arthritis-and-rheumatology-research-alliance-registry-of-juvenile-myositis-patients-enrolled-in-the-first-two-years/