Session Information
Session Type: ACR Concurrent Abstract Session
Session Time: 2:30PM-4:00PM
CD11b+Gr1dim tolerogenic Dendritic Cell-like Cells Suppress the Progression of Interstitial Lung Disease in SKG Mice
Background/Purpose: SKG mice develop interstitial lung disease (ILD) resembling rheumatoid arthritis-associated ILD (RA-ILD) in human. We identified a new cell population, CD11b+Gr1dim cells, in the lung of zymosan A (ZyA)-treated SKG mice. The purpose of this study is to elucidate the origin and the function of CD11b+Gr1dim cells, in the pathogenesis of ILD in SKG mice.
Methods: We assessed the severity of ZyA-induced ILD in SKG mice histologically, and examined lung-infiltrating cells by flow cytometry. Total lung cells and isolated monocytic myeloid-derived suppressor cells (M-MDSCs) were cultured in vitro with GM-CSF (and IL-4). The proliferation of CSFE-labeled naïve T cells co-cultured with isolated CD11b+Gr1dim cells and MDSCs was evaluated by flow cytometry. In vitro-generated CD11b+Gr1dim cells were transferred to ZyA-treated SKG mice.
Results: Histological analysis revealed that ZyA-treated mice developed various severity of ILD; HS1: 25%, HS2: 50% and HS3: 25%. MDSCs, Th17 cells, and group 1 and 3 innate lymphoid cells (ILC1s and ILC3s) were increased in the lungs; the proportion of these cells varied with ILD severity. In this process, we found that a unique cell population, CD11b+Gr1dim cells, was expanded in the lungs with diffusely affected area greater than 60%. About half of the CD11b+Gr1dim cells expressed CD11c, and the cells were morphologically DC-like. The CD11b+Gr1dim cells were induced from M-MDSCs with GM-CSF in vitro and were considered tolerogenic because they suppressed T-cell proliferation and expressed high levels of PD-L1. The regulatory function of CD11b+Gr1dimcells was partially canceled by addition of Anti-TGF-beta neutralizing antibody when generating them. The CD11b+Gr1dim cells have never described previously and termed CD11b+Gr1dim tolerogenic dendritic cell-like cells (CD11b+Gr1dim tolDC-LCs). Furthermore, adoptive transfer of CD11b+Gr1dim tolDC-LCs significantly suppressed the progression of ILD in SKG mice.
Conclusion: CD11b+Gr1dim tolDC-LCs were differentiated from M-MDSCs, and could suppress the progression of ILD in SKG mice.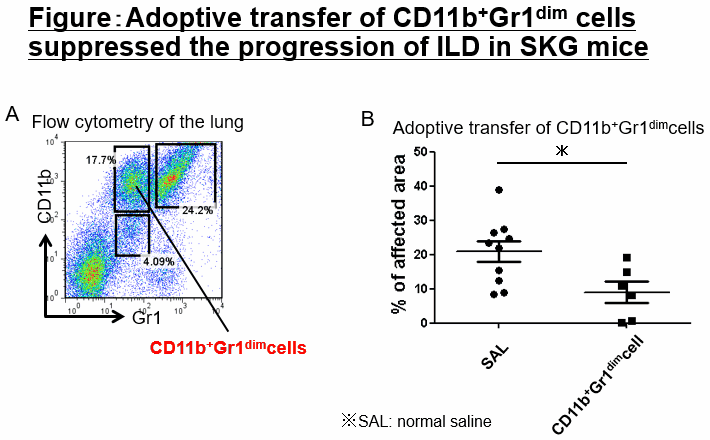 ---
Disclosure: S. Sendo, None; J. Saegusa, None; H. Yamada, None; Y. Ichise, None; I. Naka, None; Y. Ueda, None; T. Okano, None; S. Takahashi, None; K. Akashi, None; A. Onishi, None; A. Morinobu, None.
To cite this abstract in AMA style:
Sendo S, Saegusa J, Yamada H, Ichise Y, Naka I, Ueda Y, Okano T, Takahashi S, Akashi K, Onishi A, Morinobu A. CD11b+Gr1dim tolerogenic Dendritic Cell-like Cells Suppress the Progression of Interstitial Lung Disease in SKG Mice [abstract].
Arthritis Rheumatol.
2017; 69 (suppl 10). https://acrabstracts.org/abstract/cd11bgr1dim-tolerogenic-dendritic-cell-like-cells-suppress-the-progression-of-interstitial-lung-disease-in-skg-mice/. Accessed September 24, 2023.
« Back to 2017 ACR/ARHP Annual Meeting
ACR Meeting Abstracts - https://acrabstracts.org/abstract/cd11bgr1dim-tolerogenic-dendritic-cell-like-cells-suppress-the-progression-of-interstitial-lung-disease-in-skg-mice/