Session Information
Session Type: Poster Session (Tuesday)
Session Time: 9:00AM-11:00AM
Background/Purpose: Shorter life expectancy in RA patients has in part been associated with an increased incidence of cardiovascular disease (CVD). This literature review summarizes the current understanding of CVD in the RA population, focusing on the role of risk factors and auto-antibodies.
Methods: A systematic literature review was conducted by searching MEDLINE, Embase, and Cochrane CENTRAL (inception-Jan 15, 2019) supplemented by a search in ACR, EULAR, and US and European clinical trial registries (2017 to 2019). Eligible studies included literature reviews, meta-analyses, clinical trials, and observational studies that investigated auto-antibody status related to CVD in the context of RA. This was supplemented by a comprehensive search using Doctor Evidence LLC's proprietary search platform (DOC Search) containing MEDLINE, clinicaltrials.gov, WHO-ICTRP, EPAR, Daily Med, and RSS feeds, targeting literature on epidemiology and risk factors associated with development of CVD in RA.
Results: The results of search and screening yielded 69 publications: 49 on CVD epidemiology and risk factors in RA, and 20 on cardiovascular outcomes stratified by auto-antibody status (Figure 1).
Eligible epidemiological studies reported higher risk of developing CVD and an increased burden of CVD co-morbidities in RA patients compared to the general population, with a 48% increased CVD incidence, a 60% increased risk of cardiovascular death, and reduced life expectancy of 3 to 10 years or more in RA vs. non-RA. The reported prevalence of CVD in RA patients varied across countries. Eastern European populations reported more than twice the prevalence of CVD in RA vs. US populations (21.3% vs. 8.5%); while India had a lower prevalence (5.6%). The risk of developing CVD was also significantly different between sexes, with men having a higher 10-year cumulative incidence of CVD compared to women (20.9% vs. 11.1%). However, the risk of CVD in women with RA increased following menopause. Specifically, women that underwent early menopause (< 45 yrs) were shown to be at significantly higher risk of CVD events compared to women who did not (HR 1.56, 95% CI 1.08-2.26).
The risk factors for CVD in RA can be separated into the traditional CVD risk factors as observed in the general population, and RA-specific risk factors (Table 1). Several studies noted that the risk factors for CVD often predate the onset of RA, suggesting that subclinical inflammatory processes facilitating both RA and atherosclerosis may be developing before patients become RA symptomatic.
Four types of auto-antibodies were identified showing association with cardiovascular events –RF, anti-CCP, aPL, and anti-lipoprotein auto-antibodies – with risk profiles varying across different types of auto-antibodies (Table 2).
Conclusion: Review of the current published literature suggests that a higher risk of CVD in RA populations is in part the result of shared inflammatory processes between the two, and that the presence of auto-antibodies could potentially be associated with increased risk of specific cardiovascular outcomes.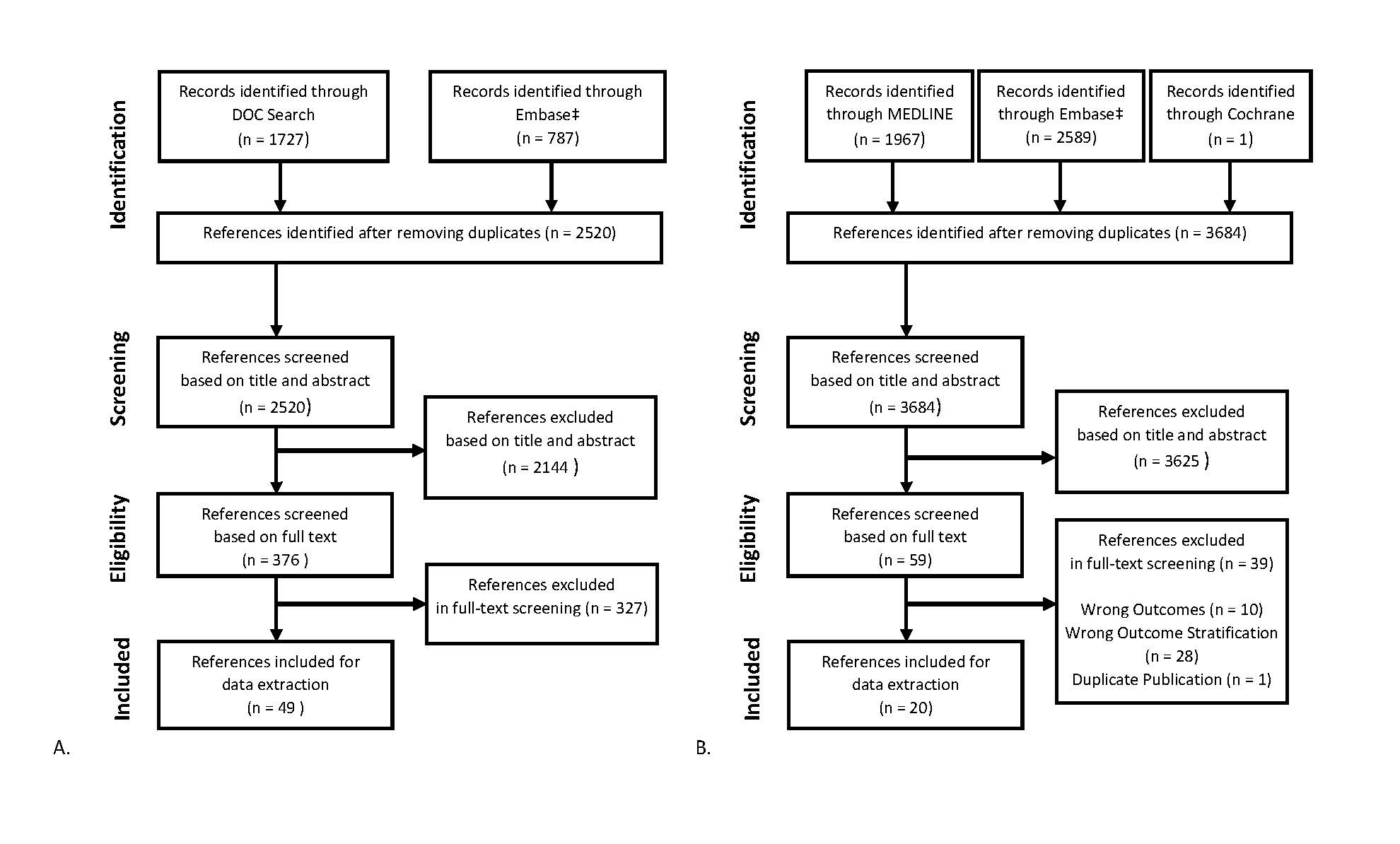 Fig 1-3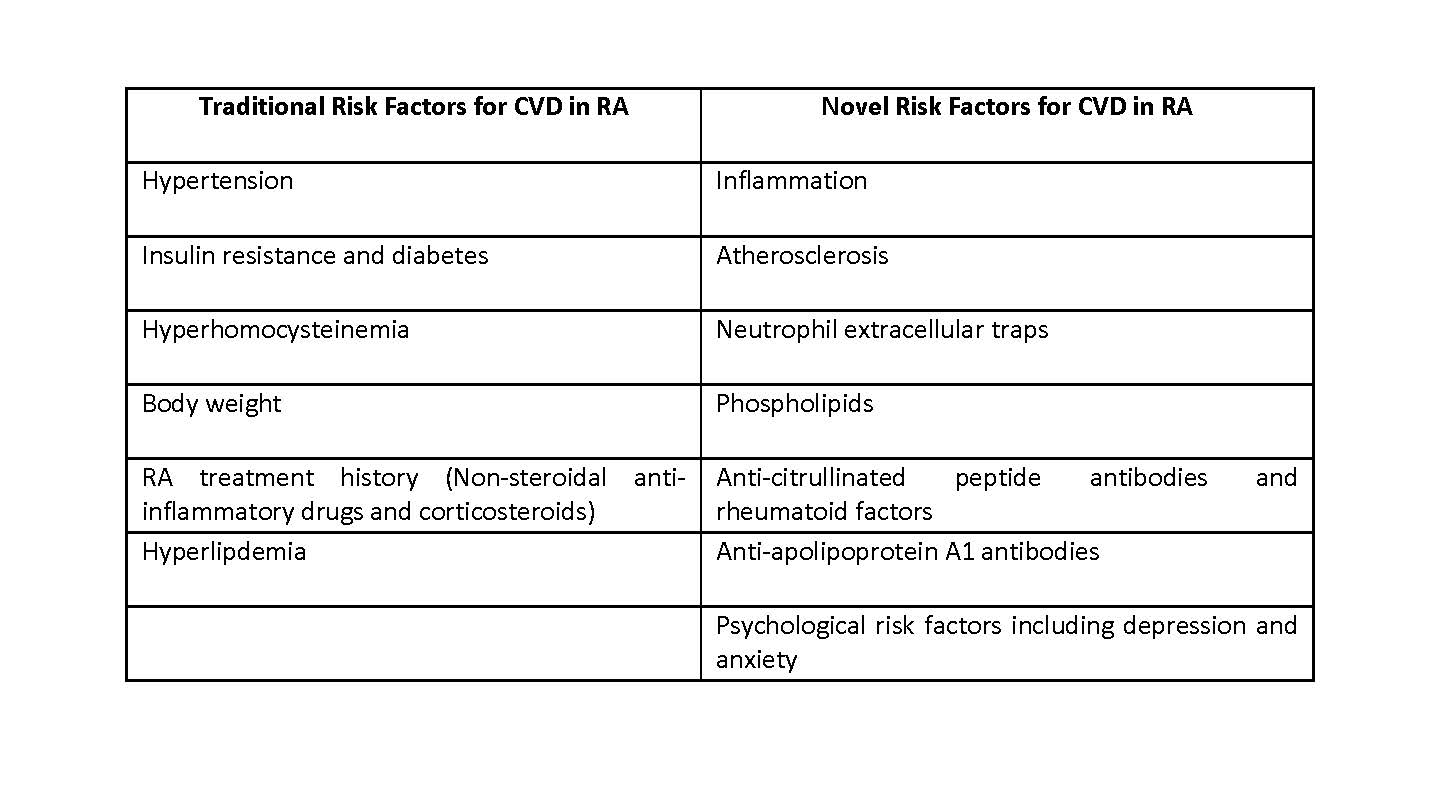 Table 1 -3

Table 2- 3
---
Disclosure: L. Ferri, Bristol-Myers Squibb, 1, 3, 4, Bristol-Myers Squibb Company, 1, 3; G. Crocket, Bristol-Myers Squibb, 9, Rutgers University, 3; Y. Kuang, Doctor Evidence, 3; B. Breznen, Doctor Evidence, 3; M. Fazeli, Doctor Evidence, 3.
To cite this abstract in AMA style:
Ferri L, Crocket G, Kuang Y, Breznen B, Fazeli M. Cardiovascular Disease in Rheumatoid Arthritis: Risk Factors and the Role of Auto-antibodies [abstract].
Arthritis Rheumatol.
2019; 71 (suppl 10). https://acrabstracts.org/abstract/cardiovascular-disease-in-rheumatoid-arthritis-risk-factors-and-the-role-of-auto-antibodies/. Accessed May 30, 2023.
« Back to 2019 ACR/ARP Annual Meeting
ACR Meeting Abstracts - https://acrabstracts.org/abstract/cardiovascular-disease-in-rheumatoid-arthritis-risk-factors-and-the-role-of-auto-antibodies/