Session Information
Session Type: Poster Session B
Session Time: 8:30AM-10:30AM
Background/Purpose: Patients with SLE have significantly worse health-related quality of life (QOL) at an earlier age compared to patients with other chronic diseases. This highlights the importance of measuring and addressing patient-reported outcomes (PROs) to improve outcomes and QOL in SLE. Yet, QOL tools are lengthy and offer limited guidance to clinicians on use to impact disease-related outcomes in SLE. There is a need to improve feasibility such as using global short-form QOL measures. Therefore, we examined the feasibility of collecting global and lupus specific QOL measures in an academic SLE center and their correlation with disease-related outcomes.
Methods: Our study included all consecutive SLE follow-up visits at the UW SLE Clinic between 3/2019-5/2021. At each visit: 1) patients completed both the Patient Reported Outcome Measure Information System (PROMIS) Global Short Form and the LupusQOL; 2) physicians completed SLE disease activity index (SLEDAI) and SLICC-ACR damage index (SLICC DI). We calculated Pearson's correlation between PROMIS – Global physical and mental health scores, and LupusQOL domain scores and a total LupusQOL score. Next, we tested correlation between SLEDAI and PROMIS – global physical and mental health scores and LupusQOL domain and total scores, and SLICC-DI and both QOL scores.
Results: Between 1/1/19-4/1/21, there were 250 consecutive follow-up patient-visits of 75 patients with confirmed SLE at our clinic. Patients (Table 1) were 93% female, 69% White, and mean age at SLE diagnosis was 37 years. We noted that LupusQOL was completed in 106 patient visits (43%), PROMIS – Global was completed in 100 patient visits (40%), and SLEDAI, SLICC-DI completion rates were each 72%.
We found moderate correlation between both PROMIS-Global physical and mental health scores and total LupusQOL domain score (r = 0.55, p < 0.001; r = 0.52, p < 0.001) (Table 2). Further, PROMIS-Global physical health scores had moderate correlation with LupusQOL pain (r = 0.56, p < 0.001) and physical health (0.60, p < 0.001) domains (Table 2). While PROMIS-Global mental health scores only moderately correlated with all LupusQOL domains except the burden domain. Next, we noted statistically significant correlation between high SLEDAI and low total LupusQOL scores (r = -0.31, p 0.0029), low LupusQOL emotional health scores (r = -0.30, p 0.004) and low LupusQOL fatigue scores (r=-0.31, p 0.002) (Table 3). We noted statistically significant but low correlation between high SLICC-DI and low LupusQOL pain score (r = -0.30, p 0.0023) (Table 3.). No correlations were noted between PROMIS and SLEDAI, and PROMIS and SLICC-DI.
Conclusion: Our findings highlight that specific LupusQOL domains correlate with disease-related outcomes which could be targeted in busy clinical settings to improve QOL. Further, the PROMIS global short-form moderately correlates with key LupusQOL domains thus, this could be utilized in busy practices to assess QOL. Given a moderate QOL completion rate, future studies are required to develop short, actionable tools to incorporate key specific LupusQOL domains that correlate with disease scores to improve disease and patient outcomes in SLE.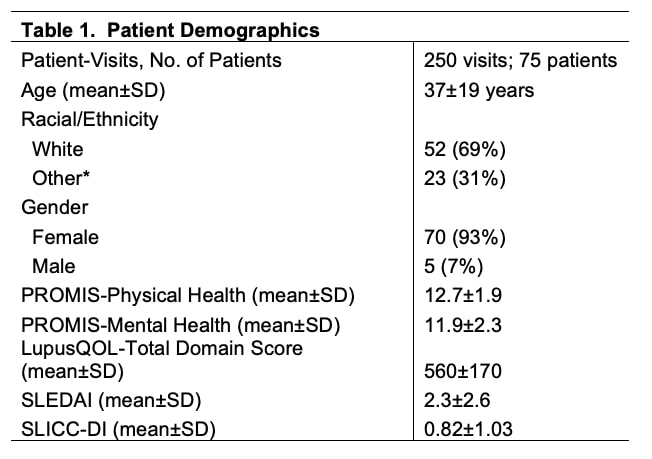 ---
Disclosures: S. Garg, None; C. Bartels, Pfizer, Independent Grants for Learning and Change, 5.
To cite this abstract in AMA style:
Garg S, Bartels C. Bridging the Gap Between Patient-Reported Outcomes and Disease-Related Outcomes in Lupus – a Feasibility Study [abstract].
Arthritis Rheumatol.
2021; 73 (suppl 9). https://acrabstracts.org/abstract/bridging-the-gap-between-patient-reported-outcomes-and-disease-related-outcomes-in-lupus-a-feasibility-study/. Accessed January 27, 2023.
« Back to ACR Convergence 2021
ACR Meeting Abstracts - https://acrabstracts.org/abstract/bridging-the-gap-between-patient-reported-outcomes-and-disease-related-outcomes-in-lupus-a-feasibility-study/